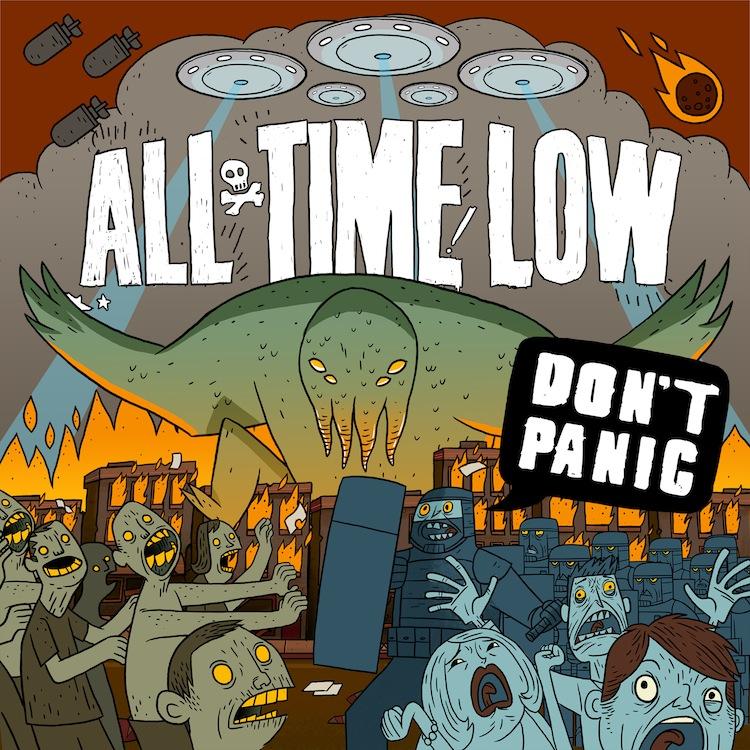 When All Time Low first revealed that they were in the process of recording "Don't Panic," many people wondered what direction the band's newest album would take – the top 40's pop sound of their previous album "Dirty Work" or a return to the pop-punk roots of all their works that came before ("So Wrong, It's Right," "Nothing Personal").  Where "So Wrong, It's Right" gave the band their fan base and "Nothing Personal" launched them to a commercial label, "Dirty Work" was a disappointing debut that left both fans and critics ready to write off the band.  "Don't Panic" became the deciding factor for the rest of All Time Low's career, and in the opening notes of the album, it's strikingly clear which road they took.
The album sounds a lot like what should have been the proper transition after their earlier albums.  The opening track, "The Reckless and the Brave" is most obviously a power-rock anthem for the band and its fans.  "Somewhere in Neverland" uses Peter Pan references to capture the stay-young vibe of old All Time Low right next to a big hook and catchy chorus.
Outside influences are also easy to hear without sounding disconnected to the rest of the work.  Co-written by Patrick Stump, "Outlines" sounds like the perfect mix of All Time Low and Fall Out Boy to keep fans nostalgic for both bands.  Cassadee Pope's mellow vocals on "Backseat Serenade" fit in nicely with the song's haunting instrumentals, and Anthony Raneri on "So Long Soldier" brings just the right amount of punk to balance out the pop and rock.
"Don't Panic" isn't without its missteps.  "The Irony of Choking on a Lifesaver" sounds too much like too little, almost too "I Feel Like Dancin'" to have any real substance both musically and lyrically.  The album also has a distinct lack of the slow ballads All Time Low is known to usually rock (and rock well), like "Therapy" or "Remembering Sunday."
Still, All Time Low nailed it with "Don't Panic," bringing just the right amount of their old sound back without losing all of their innovation. Their next album can hopefully maintain the trend "Don't Panic" leads the band towards.