A New Chapter for Nighttime Television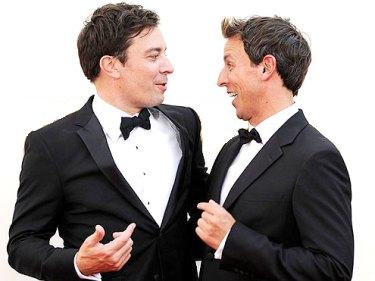 Hang on for a minute...we're trying to find some more stories you might like.
With the debut of the new "Tonight Show starring Jimmy Fallon," there's a lot going on in the world of nighttime talk show television. Yes, we have Jimmy Kimmel, Conan, and many more stars with their own shows beyond 10pm, but none as prominent as this. "Tonight" and "Late Night" are starting anew with familiar faces to the nighttime television lineup. Here's what you need to know.
The Tonight Show starring Jimmy Fallon
Yes, "starring" Jimmy Fallon. A title not used since the show starred the likes of Jack Paar and Johnny Carson. This is only one of the major changes that hit the channel, the most important being it's move back to New York. Even with these changes big and small, is it going to be a different show?
If last week's first run is any indication, it's not. Fallon is still that bubbly, almost over-excited host who can tap into a humor that is silly and fun. It's his combination of ridiculous games and infectious giddiness that brings celebrities to get comfortable enough to play along in a way the audience adores. His stint on "Late Night" unleashed a whole new kind of talk show that he's brought with him to "Tonight." Instead of the boring old routine of just listening to people talk, Fallon prefers a variety type show where celebrities get wildly competitive playing Pictionary or President Obama takes the time to slow jam about current issues.
The Feb. 17 premiere at his new time slot, 11:30, felt like "Late Night" got a makeover. A new set complete with wood paneling, two new additions to the Roots, and a larger set for audience seating. Fallon knows what works and delivered it with the same enthusiasm he served across the hall. He even performed the "evolution of hip-hop dancing" with Will Smith, a familiar bit previously done with the First Lady. There was also a rapid parade of other celebrities that passed Fallon's desk, including big names like Lindsay Lohan, Lady Gaga, Mike Tyson, and Stephen Colbert who lovingly showered Fallon with $100 worth in pennies with a, "Welcome to 11:30, b**ch!"
It's more than apparent the show is going to be taken care of, even as Joan Rivers joined the parade of celebrities that supposedly owed Fallon $100 bucks (a bet he claims stems from the doubt he would ever host "Tonight"). 49 years earlier to the day Rivers had made her first appearance on "The Tonight Show starring Johnny Carson" in that same studio. She had not appeared on "Tonight" since 1987 when she was banned by Carson because she was hosting her own short-lived show on Fox.
If all that isn't enough, his musical guest U2 performed against the New York cityscape from the observation deck atop the building. They rocked out to "Invisible" in the cold above the city's lights, a beautiful backdrop to bring a close to the beginning of a new era of "Tonight."
Late Night with Seth Meyers
Here's the wild card. Seth Meyers has been a well-loved "Saturday Night Live" regular for the past eight years, reporting the Weekend Update alongside Amy Poehler before taking on a solo position. Now he's left the show to take Fallon's seat at the helm of "Late Night", but is this sketch comedian ready for the live interviews and expectations Fallon left behind?
Sure, Fallon wasn't great at the beginning either. Time is required to grow into these positions. However, there is a underlying higher expectation for Meyers. His experience on Weekend Update should make monologues making fun of the news a breeze, but can he manage to harness the same fun attitude as Fallon that could get celebrities to talk? While he could have hilarious conversations with Stefan or Drunk Uncle, those were scripted and rehearsed.
Can Meyers make it past his SNL fame? Already his house band is going to be led by Fred Armisen, Stefon's scheduled to make an appearance or two (I mean, he has to support his "husband," right?), and a fair number of other fake guests and SNL cast from just down the hall. While this draws on the SNL fanbase, it'll be difficult to sustain if Meyers is unable to come into his own. It's a gamble, but an exciting one.
"Late Night with Seth Meyers" will have it's first show tonight, Feb. 24, with Meyers' old Weekend Update co-anchor, Amy Poehler, as a guest alongside Vice President Joe Biden with musical guest A Great Big World.
And… Jay Leno?
These transitions are great, but it wouldn't be fair to exclude the legend that will be lost within the change. Leno finished his last week on "Tonight" with its largest overall audience (averaging 8.29 million) in the more than 20 years, according to Nielsen estimates. Leno brought his show full circle with Billy Crystal, who was his first guest in May 1992 and his last guest Thursday. Leno's 22 years presiding over "Tonight" was second in length, only to Johnny Carson's 30 years. So, is a new TV show in sight?
The answer is no. Instead Leno is taking the time to get back to his roots, filling his now-empty schedule with back-to-back stand up touring. The 59-year-old was content to hand over the keys to his beloved show to his successor, because he knows that Fallon can cross that generational gap that has stretched too far for him to jump. He doesn't seem interested in a big comeback. It's almost a been-there-done-that mentality, since his return in 2010 after Conan O'Brien's tank hosting "Tonight." But you never know.
As Jack Black sang so eloquently in a "Sound of Music" type farewell, "So long, farewell, auf wiedersehen, goodbye. If Fallon tanks you'll be back here next year."
It's a new generation of night time television, and you don't want to miss out.
About the Contributors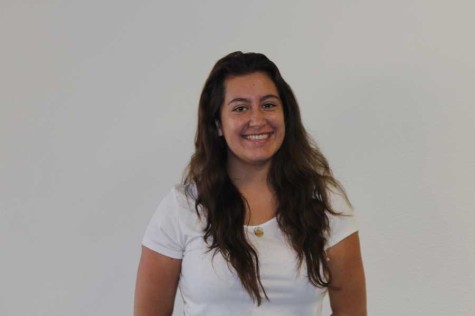 Sierra Soto, Staff Writer
Hi, my name is Sierra Soto and I'm a senior here at West Ranch. I moved here from Colorado last year and no, I don't ski or snowboard. But I do love...