Our Entertainment is Swinging on Vines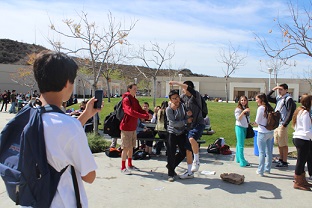 Ever since it was introduced to the world on Jan. of last year, the Vine app has grown into a go-to center for light-hearted entertainment. For those of you living under rocks, Vine is a different type of social media that allows users to share six-second looped stop-motion videos. As boring or simple as it may sound, the millions of "Viners" who use this Twitter-affiliated app have discovered an infinite number of ways to utilize those precious seconds.
                  Whether it's singing, dancing, comedy, sports, magic tricks, or public pranks, Vine covers it all. And the beauty of the app is in the fact that all of these things can be covered in a mere six seconds, allowing users to potentially watch 200 or more vines in 30 minutes.
                  "I think I spend about an hour on Vine every day," said freshman Dawson Souisa. "There's always new videos to make me laugh."
Whereas YouTube turned movies into minutes, Vine has turned them into seconds. Because of the succinct nature of the video, "Viners" are essentially forced into providing their viewers a punchline as soon as the video starts.
"The good [Vines] are all really funny or amusing," explained sophomore Kobe Damaso. "And if you come across one that is boring, you can just skip it and move on."
Many people have risen to fame due to this app and are now considered celebrities in the world of Vine. Some, like Brittany Furlan, KC James, and DeStorm have become famous for their contagious senses of humor, while others, like Boris Laursen, have amassed "fans" for obnoxious self-confident parades. Many more have accumulated cult followings for unique musical talents
Both Souisa and Damaso have also gathered fans with videos of their own.
"I usually Vine me messing around and pranking my friends," said Souisa. "It started off with just my friends watching, but I guess other people thought it was funny too."
As evidenced by the millions of "Viners" recording themselves joking, singing, dancing, pranking, and smack-camming, Vine has become a prime source of entertainment especially for the high school audience. Fans and critics expect the app to evolve into a much more developed project within the next few months.
While Vine has proved itself as a worthy form of entertainment in its first year of existence, the upcoming years will determine if it will last and become a household name, joining Youtube.
"It will be popular as long as people can make creative and funny videos," said Damaso. "It'll be big for a long time."
                  With the combination of quick paced punchlines and loops, Vine has found an unprecedented formula unmatched by any other forms of social media today.