Album Review: Maroon 5
Hang on for a minute...we're trying to find some more stories you might like.
Released on Sept 2, Maroon 5's newest, full album still ranks high on music charts. "V," the band's fifth studio album, is a follow-up from their fourth studio album in which fans can expect to see a new side to Maroon 5.
During an interview with USA Today, singer Adam Levine talked about the new album. He stated,"It's more along the lines of where we started…There's more depth and it's a different tone, it's not as self-aware."
The band's lead single "Maps" is currently in the Top 10 on iTunes. With an alluring electric guitar sound and addicting bridge of "Oh's" and "Ah's," Levine sings of a rough relationship with his lover. The singer conveys the confusion and heartbreak a male experiences in this "pre-breakup" relationship.
The album's second single also does not disappoint. The song "Animals" takes on a completely different style than "Maps," due to its strong bass sound and heart-thumping beats. The lyrics illustrate a guy seductively chasing after a girl. While "Maps" possesses more of a soft vibe, "Animals" attacks listeners with a fierce sound.
Maroon 5's new album offers various types of songs. For those who prefer upbeat tunes, songs "Sugar" and "Feelings" on the new album are great options to consider. On the other hand, those who enjoy soft and slow tunes, songs "Unkiss Me" and "My Heart Is Open" are wonderful songs to relax to. Maroon 5 and Gwen Stefani's collaboration in "My Heart Is Open" has been gaining attention for its awesome sound.
As a music addict, I give this album a 4 out of 5. Maroon 5's album proves to be very versatile and recommended for those searching for a new sound. For die-hard, hardcore fans of Maroon 5, its deluxe version of "V" includes three additional songs titled "Shoot Love," "Sex and Candy," and "Lost Stars."
About the Writer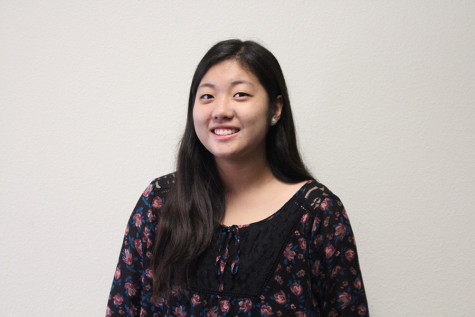 Sydney Chang, Opinions Editor
Hello I'm Sydney Chang, a senior and co-editor of the Opinions fam! I love to eat, eat, and eat. Hit me up if you want to go to Disneyland. I am so excited...