DIY Peppermint Party
February is all about candy hearts. October is all about the pumpkin spice. December? Peppermint!
  Here are two easy guides that you can follow to make this holiday season especially spiced up.
Dessert: Peppermint Bark
  If you have white chocolate and candy canes lying around, this simple treat is a must-make. If candy canes aren't at home, go to any grocery store. Walmart sells packs of candy canes for one dollar each.       
  Yield: Two pounds of chocolate
  Ingredients:
white chocolate chips (two pounds)

candy canes 

(depends on your preference of how much peppermint flavor you want; I used four candy canes)

cooking/wax paper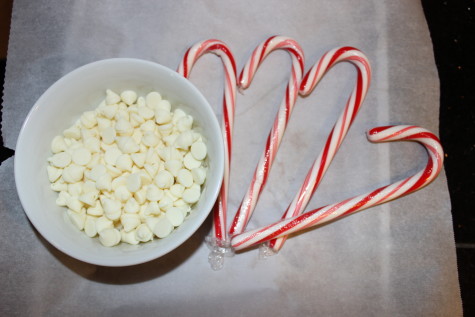 Minju Kang
Place your candy canes (desired amount) into a Ziploc bag and crush until they are ¼- inch pieces. 

Melt the chocolate using a double broiler or a microwave. 

To use a double boiler, fill the bottom pot with water and set the top pot over. Place over heat and fill the upper part with the chocolate chips. The simmering water will eventually melt the white chocolate. I divided my chips into two bowls and microwaved each for roughly two minutes.

Add the candy cane pieces into the melted chocolate and stir. 

If you want to really taste the mint, make sure to sprinkle all your pieces with an even coat. 

Then, pour mixture onto the cookie sheet and top with leftover candy cane chunks.

Place in refrigerator for 45 minutes.

After it hardens, break into pieces and enjoy! 
Drink: Peppermint Oreo Milkshake
  While waiting for your peppermint bark to harden, you might as well create a delicious drink to slurp down with your chocolate snack. Skip the typical seasonal Starbucks drinks and try making a peppermint Oreo milkshake at home.  
   Yield: 2 cups
   Ingredients:
2 cups vanilla ice cream, softened

½ cup milk

4 Winter Oreos, broken into pieces

1 candy cane, crushed

whipped cream for topping, optional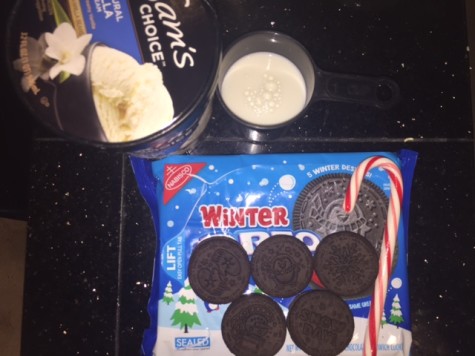 Let ice cream sit out to soften f

or around 20 minutes. The ice cream should be very smooth and easy to scoop out.

Crush candy cane into bits.

Measure out the ingredients.

Place the softened vanilla ice cream, milk, candy cane pieces, and Oreos into the blender.
Blend until smooth and top with whipped cream if you'd like.