A Chorus of Voices Takes Over Valencia Marketplace
  On March 19, West Ranch Encore Choir performed at the Valencia Marketplace, entertaining the audience with several jazz and spiritual songs such as "Harlem Nocturne," "Java Jazz," and "Hold Me, Rock Me."
  Outside the theater and concert halls, the choir loosened themselves from their usual formal attire and sang freely, their hands repeatedly drumming their legs to the rhythm of the music.
  For the West Ranch choir, performing together as a group isn't a competition to see which student is the potential Celine Dion or Mariah Carey; if anything, it is performing as a whole that pushes them to work harder. The West Ranch choir's ability to interact with one another and push past any problems by thinking of possible solutions is what builds their friendly, comfortable environment.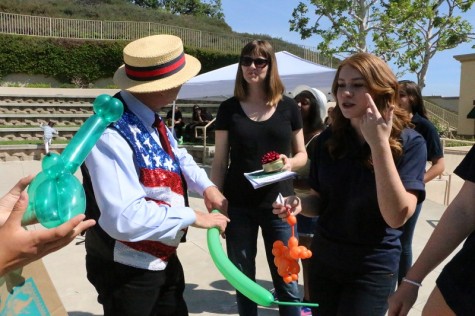 "I like that we're a close-knit family, and our love of music brings us together and it makes us so close. People that would never be friends are all of a sudden together," said sophomore Chloe Koons.
  For a still environment where the only sounds came from children playing tag across stairs and women and men gushing silently over the new Cherry Blossom drink from Starbucks, it was the sound of sharp notes that stirred a positive response from the audience. A family sitting at a table not too far away raised their eyebrows, and two elderly men who were previously chatting away silenced themselves to enjoy the singing.
  "I really liked it. I mean, I didn't expect a group of teenagers to start singing, and it really brings some kind of, of vividness into this place where not much really happens except for people coming in and out of Starbucks and Jamba Juice to get foods and drinks. So yeah, go music!" said passerby Christopher Jones.
  Music is art, and art is unpredictable.  It's the West Ranch  choir's passion for singing that made March 19 a special afternoon for those who were there.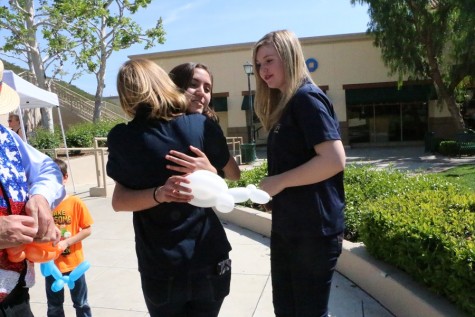 "I think that sometimes when me and my friends are walking down the street or something, we just like start harmonizing and just singing a song, and someone's beatboxing," said member Leila Bathke. "People think that it's really cool."
   Art comes in many forms. Whether it be theater or a quartet of strings or maybe a small group of teenagers who want to sing, it is art that can paint a little bit of color in some of the dullest corners. In this case, West Ranch Choir certainly brought excitement to the Valencia Marketplace.