The Great All-American Musical (Movie) Disaster
  Anything can happen, and in the West Ranch High School theatre, the play "The Great All-American Musical (Movie) Disaster" performed on April 14, 15, and 16. This comedic tale presented by West Ranch High School's Theatre Arts Department was a gem; both crew and cast members worked their magic touch all the way to the final bows and the last applause.
  "The Great All-American Musical (Movie) Disaster" centers on outrageous yet strong-minded movie producer June Dover (Delanie McGinn), who is set on putting together a successful film after her last flop, "Zombies of the Stratosphere." She thus devises a plan to con six major stars, leading them to believe that they are each the main star in the upcoming movie when in reality, they are being fooled by June's cunning arrangements of shooting schedules and separate, individual scripts. Though June plans to keep her scheme a secret, by the play's title itself, it's common sense to say that a great disaster in her upcoming film is about to happen.
  While the plot itself was an entertaining spoof of Hollywood's typical character stereotypes, it was more of the the cast's notable performance on the overall characters' originality and vibrant natures that intrigued audience members.
  "It's really relieving because sometimes people don't have the best lives, so to be able to step out of yourself and become someone else and have just a better time and know no one is really judging you, I think it's a really cool thing," said Faith Myskowski who plays an ensemble role.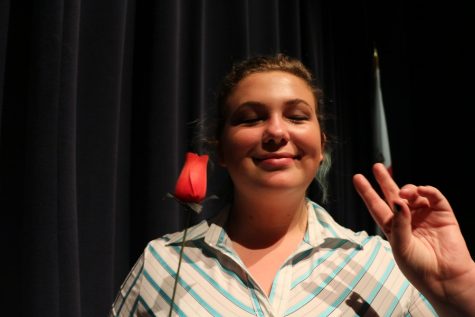 When seeing "The Great All-American Musical (Movie) Disaster," there's a significant and authentic touch to each character that somehow comes out to be hilarious yet memorable; even when June Dover's irrational decisions are going to end horribly without her knowing it already, it is her unbending determination to go on with the show that makes her the committed movie producer she is.
  "[Dover] is very eccentric and she is very excited all the time, and she's trying to make something work that is really not going to work, and I'm really think that's admirable," said McGinn.
Another major character who charmed the audience was Apassionata Abalone (Sierra Turcotte), an older actress who longed to return to the film industry and therefore blackmailed June into getting herself a part in June's upcoming movie in hopes of being the star she once was.
  No matter how much June Dover despised  Apassionata Abalone, Dover could not have stopped Apassionata's will. Turcotte captivated the audience with her performance. Her dynamic voice comes out when she raises her voice at McGinn's character, making her frustration with co-star Gee Gee Fontaine striking and real.
  Speaking of which, Gee Gee Fontaine (Julia Finnigan), a rising actress, gave the audience laughs as she tip-toed around in adult-like, sleek black and grey dresses and chattered away in a tight, squeaky voice. It was Fontaine's immature attitude and glamorous style that entertained the watchers, and Finnigan did a great job in portraying her character.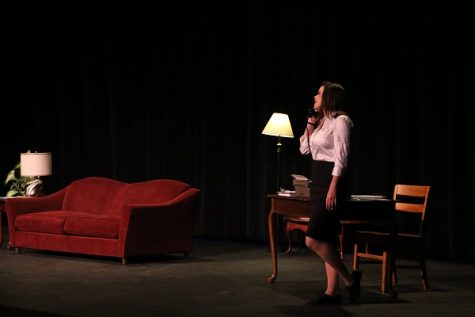 Since this was a high school play, there were tiny slips like accidentally spilling some liquid onto the ground, however it  was overshadowed by the laughter by Flint Wormwood's failure to escape from the "loving" grasp of Apassionata Abalone and  Baby Bernice Bumble's cringeworthy rendition of "I Can't Help Falling in Love With You" by Elvis Presley.
 "I guess I first auditioned for Baby Bernice because she's a lot like me; I'm very childish and bratty at times, and I love to yell at people and even though I'm kind of like this small person, I love to gain dominance and boss people around," said Hilda Oz who portrays Baby Bernice Bumble.
   Art can be felt through the performances of others. "The Great All-American Musical (Movie) Disaster"embraces that and is an exquisite representation of a well-rounded, lighthearted play.