Popular Shops Embracing the Trends
Lots of people enjoy a smoothie on a hot day or a warm tea on a cold day. And for many of us, an iced coffee is the only way to make it through a day. As the seasons change, popular coffee and juice shops do their best to always satisfy their customers depending on the latest drink trends. This fall, Starbucks and Jamba Juice's new beverages are inspired by the new chile trend.
Starbucks keeps their beverages festive each year by returning their fall drinks, including their most popular seasonal drink: the pumpkin spice latte. Just recently, the café released an all new mocha, and customers have differing opinions about Starbucks' new Chile Mocha. A number of customers are indulged in the idea of the chile trend, while others were not.
Recently, my sister and I went out and tried these new drinks to see if the chile trend will stay or go. In addition to trying the drinks myself, I asked a few customers what their thoughts were about the new trend.
"I would like to try the new Chili Mocha because it is new and has not been done before," said freshman Natalie Lubarsky.
Some customers felt that the Chile spice adds an abnormal taste to the mocha that they would not enjoy.
"I feel like I would not enjoy Starbucks' new mocha because I am not a fan of chile. I usually enjoy drinks with some spice to them, but not chile." said junior Kaitlyn Berry.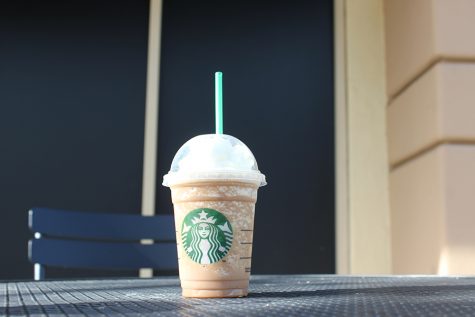 What makes this festive mocha so different is that it is topped with cayenne chile spices. Other toppings including cinnamon and cocoa provide an equal blend of sweet and spice to the beverage.
At Starbucks, I was delighted to see that accompanying the Chili Mocha was a Chili Frappucino. After trying the café's new Chili Mocha Frappuccino, I found that it was better than I had expected. The mocha empowered the chile spices, giving the mocha a slight kick to it. I also found that the flavor of the Chili Mocha closely resembled that of the seasonal Gingerbread Frappe. Although this drink was enjoyable, it is definitely not one of my top ten favorite Starbucks' beverages.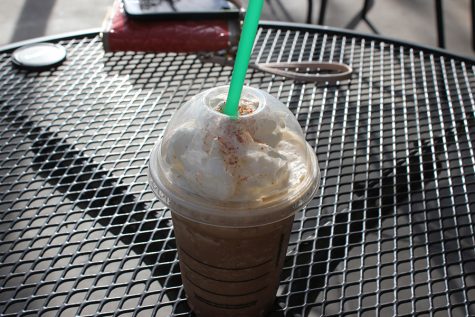 While the Chile Mocha has potential to become very well liked, many customers do not think that it will ever be able to top the pumpkin spice latte. The addition of chile to the mocha also does not reach out to as many age groups as the pumpkin spice latte does. This is because the pumpkin spice latte is appropriate for a large range of buyers since most people enjoy sweet drinks more than spicy.
"I don't think that the I would like new chile mocha and mango chili smoothie because it doesn't appeal to the sweeter tastes that I enjoy in coffee and smoothies," said freshman Ashley Pagsibigan.
The pumpkin spice latte has also been a trademark representing the return of Starbucks' fall drinks for years. When customers think of Starbucks' fall drinks, they usually first think of the pumpkin spice latte.
"The pumpkin spice latte is Starbucks' most well-liked seasonal drink. It is also a 'symbol' for the start of fall drinks," said Pagsibigan.  
Just like Starbucks, Jamba Juice is no doubt trying to keep up with the current trends. To do this, the juicery recently added a new smoothie flavor, the chili mango smoothie. The chili mango smoothie includes a mixture of sour and sweet, and is sure to satisfy customer's taste buds.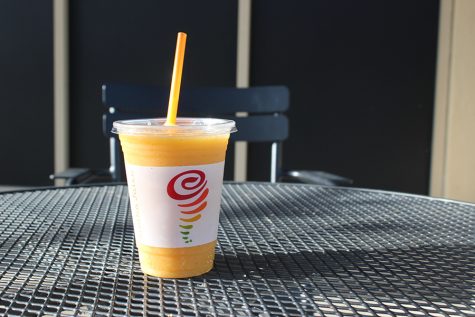 After collecting our Starbucks frappuccino, we walked next door to the juicery. The line to order was long, which gave me time to ask people their opinions about the new smoothies. Many Jamba Juice customers feel willing to try this new smoothie since it has not been seen before. On the other hand, less adventurous customers are hesitant to try the new Chili Mango Smoothie since they are accustomed to buying smoothies with more of a sweet, fruity taste.
"
"I would not want to try the chile mango smoothie because chile does not sound appetizing in a sweet drink. If a drink is sweet, it should not be spicey."
— Sophomore Amber Racina
The chili mango smoothie has a base of passion fruit-mango juice blend with mangos, sherbert, and of course the chili lime blend. The inclusion of the spice mixture adds what looks like red speckles to the smoothie's orange base, which gives the drink an extra boost of tastefulness.
After getting my drink, I quickly tried it. To my disappointment, the Chili Mango smoothie had a strange taste and texture. The combination of sweet and spicy didn't blend well together, making the drink not very pleasant. I encourage others who are fond of exotic flavors to try this smoothie, but not for those who like to stay on the safe side of things.
While we were waiting to order, I noticed that like Starbucks, Jamba Juice recently added some seasonal pumpkin-based drinks. The new Pumpkin Delight Smoothie is a blend of almond milk, cinnamon, nutmeg, and pumpkin. Another new addition to try is called the Pumpkin Smash and is targeted towards customers who enjoy the taste of pumpkin pie.
The chile trend aside, the new pumpkin smoothie caught my attention. We ended up ordering a Pumpkin Delight Smoothie along with the Chili Mango. Having never tried pumpkin in a drink before, I was surprised by the delicious mixture. The cinnamon and pumpkin provided a sweet and creamy blend which I enjoyed.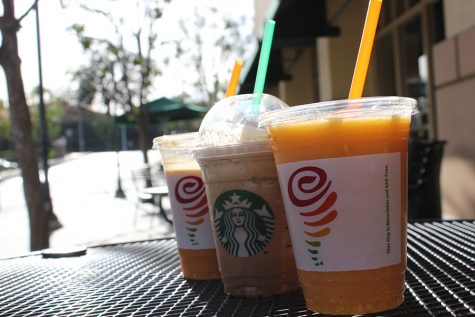 Jamba Juice's new fall drinks are worth trying, especially for customers who really want to get into the fall spirit.
When Starbucks says that their fall drinks are selling again, many people automatically think of cinnamon or pumpkin. And when we think of smoothies, most customers picture the blend of fruits or sometimes veggies. Now our favorite cafés and juice bars have added chile spices to their seasonal fall menus. Go out and try these drinks because the warmth or the tang of chile spices just may be the thing you need to kickstart your day!