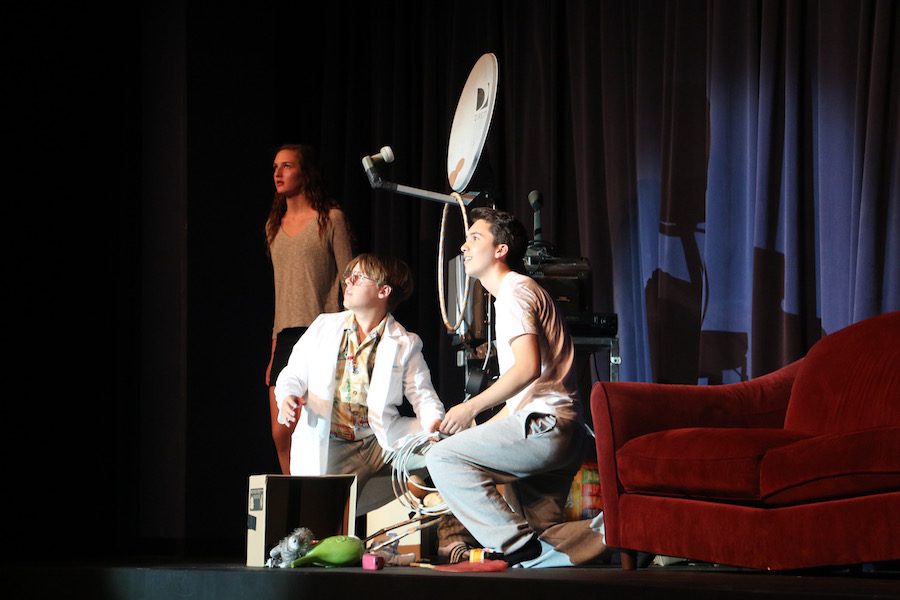 Theater Delivers an Out-of-This-World Performance
October 21, 2016
The curtain opens, a spotlight falls onto Ben Wilson, and an extra-terrestrial voice descends over the stage:
"Who are you," asks Ben.
"I am from a different planet. We have chosen you," calls the alien.
"I accept," replies Ben.
From Oct. 13 to Oct. 15, West Ranch theater presented "Aliens" to the public and student body. Marked by humor and dramatic characterization, "Aliens" features a business manager, Ben Wilson played by junior Levi Adams, who is abducted by aliens. With the knowledge that aliens exist, he abandons his professional duties and tries to make contact again. Soon his office and personal life fall into chaos. His employees' reactions make the show a funny and entertaining experience. Scenes are filled with bickering between employees and funny comments.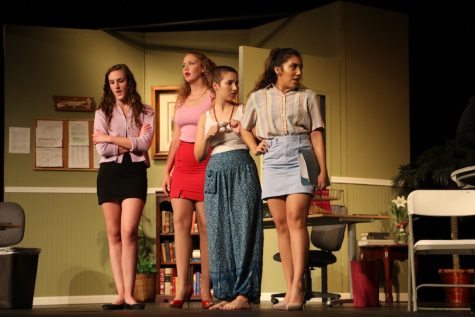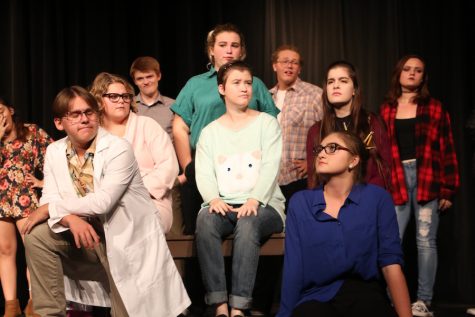 Most of the office workers call Ben crazy and sarcastically criticize him. Few of them work and most only add to the mayhem of the office. Everyone has individual personalities and personas that make this disorder even funnier. There is a spiritual guru, a man who acts like a dog, a crazy ex-scientist, and a pretentious drummer.
Out of all the employees, Ben's Secretary, Jackie played by senior Kyndal Zakarian, keeps the office running. Annoyed and speculative, she visits Ben in his mother's basement. There he is building a device to contact the aliens. When Jackie accidently breaks the device, the aliens call down to the stage. They plan to visit Earth in two weeks. Jackie, now a believer, organizes a welcoming party with the office for the aliens' arrival.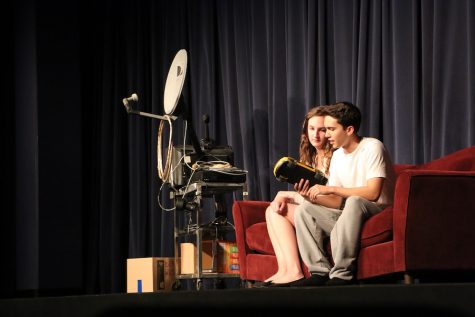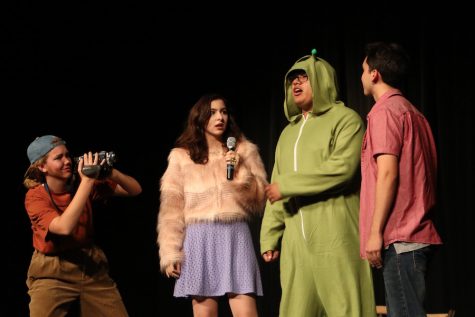 Things do not go to plan and the event is filled with unexpected weather, loose chickens, and an incorrect menu. Still, in the end, Jackie leaves with Ben and the aliens in a happily-ever-after moment.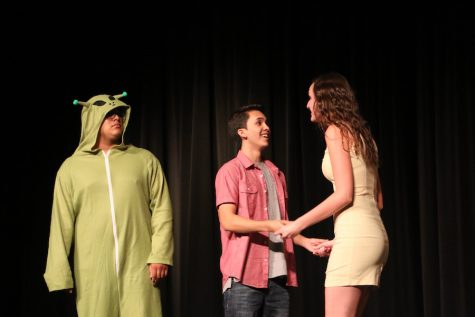 The plot was entertaining and enjoyable, but the play's strongest feature was how the cast accurately fit into their characters. They enjoyed playing the roles and pursuing their personalities. Each actor practiced their character to a tee. Not just the lines, but their personality. Miles Vivirito was the fun and lovable Austin. Sophia Carter played Ben's mom as if my own mom was on the stage. Lily Anderson played Hannah, the goth lead singer of a band, with sarcasm and dry emotion. The actors' abilities to fully channel their characters added tremendously to the play.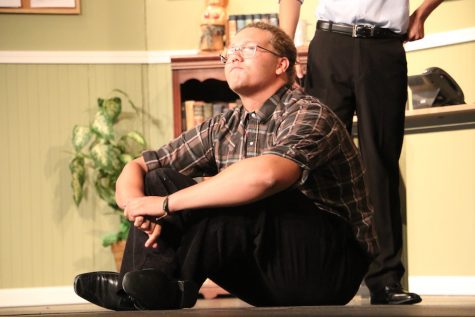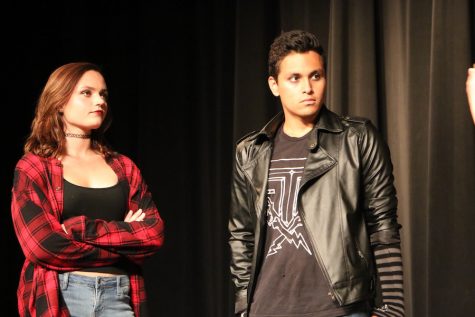 "The first thing I did, before anything, was write down everyone in the class and their strengths. For example, I knew Nick, A.K.A. Room Service Guy, was great at accents. I wrote to everyone's strengths so that the show would be the best it could be," said senior playwright, Stevie Sanborn.
"My character was Grace, she is the resident yogi of the office. Embarrassingly, it was super easy. I really love yoga and I really love all the spiritual stuff she is into. It was super fun." said senior Eva Schroeder.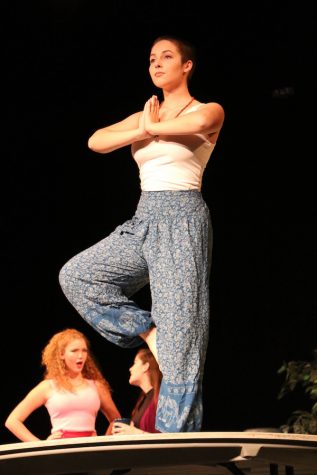 Some connected personally with their characters. Others simply enjoyed taking on a new personality.
"My character's name is Connor and he is basically afraid of everything. That's why he wears the helmet everywhere. It's just a lot of fun playing him because you get to scream a lot." replied junior Joseph Schillaci.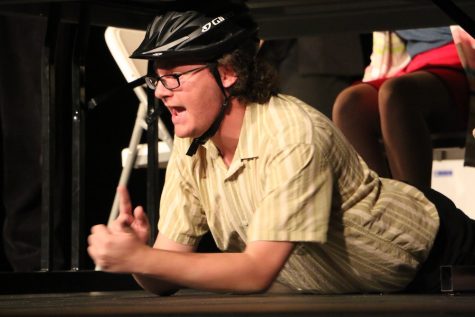 "I was very nervous at first but then towards the end I got more into my character. It was just so much fun to be," admitted senior Gloria Zavala who plays Laney Hall, an irresponsible employee that is suddenly made in charge of the office. Inevitably, she fails miserably and Jackie has to clean up the mess.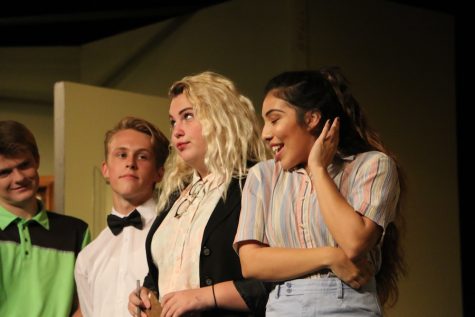 These characters were based on the off-brand comedy of shows like "The Office" and "Parks and Recreation." What makes these shows so entertaining is that the characters rarely deviate from their respective personalities and expected actions. That is why when they do change, it makes the dramatic moments even greater.
Stevie uses this juxtaposition of personality traits in "Aliens." Charlie Graham, played by senior Hila Oz, is a flamboyant, tabloid-obsessed television host only focused on making as much drama as possible. Towards the play's end, Charlie tells Jackie to follow her heart and go with Ben, her love interest, to the aliens. She surprises the audience by putting Jackie's interests before her's. It creates a truly dramatic moment.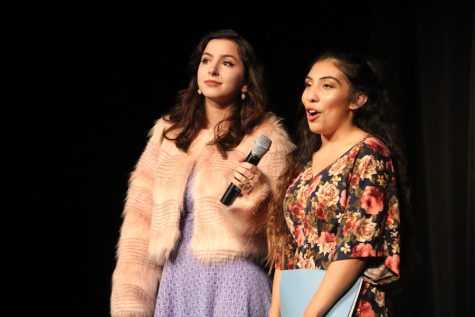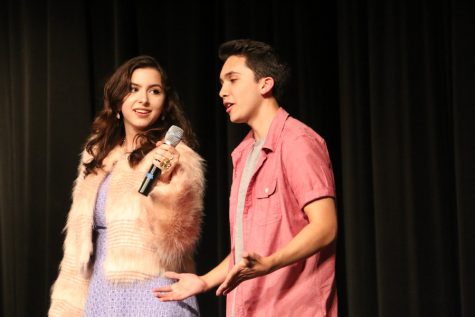 This carefully thought out characterization and writing was all produced by a West Ranch student, Stevie Sanborn. She hopes this play is only the first of many great things she writes.
"I've been writing a novel for almost 3 years now. I write poems too and short stories. My dream job, though, is to be on the board of writers for a TV show like 'The Office.' I, of course, want to write books in my free time though," said Stevie Sanborn.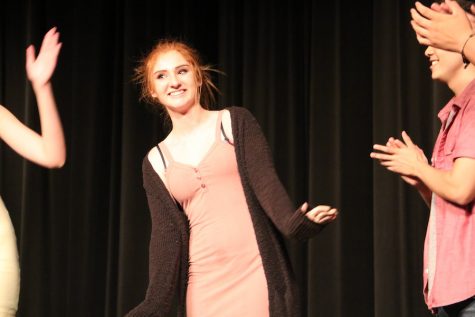 I could not imagine writing a script, much less directing a production from start to finish. I was filled with school pride to see someone from West Ranch achieve something so monumental. It not only abolished any stereotypes that teenagers are unproductive or lazy, but inspired me to work for something equally important. Stevie's smile while the cast and audience clapped for her was a site of true accomplishment.
"I started it in about April, coming up with the idea and what not. But it took a long time to settle on an idea, but once I did– honestly I have know idea how it happened– but I just puked out the words. I didn't even think about them. All the jokes in here, I can't even take credit for them. I literally just them puked out. So writing it was insanely fast. It took about two hours in total– writing the whole play. It took about two months but I procrastinated a lot."
Overall, the play was clean and seamless. All of the cast was happy with the finished product and thrilled with their work.
"I think it went really well. I was surprised! We really didn't have that much time to put it together. Everyone was really on point. I think we all made the jokes really land well. It was really funny. It went really well. I am really excited about it!" said Hila Oz.
Although the cast worked long and hard to present something they could be proud of, it was a different experience of dedication for Stevie.
"Straight up I was crying. It was so good! Not only was it so good in general, but like Miya. She covered somebody who forgot their entrance. She covered for like straight 30 seconds and nobody could tell. I asked my friends and they said they had no idea! I am so proud of her! Even the parts that didn't go as well; they still went really well. So the fact that I did that and coached them is amazing! And only in a month too. We only had a month start to finish," said Stevie after the show.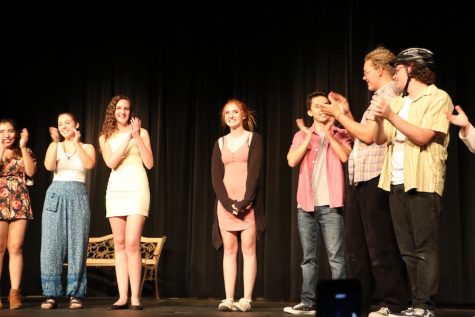 It was inspiring to see such a great performance presented by fellow students and to witness an aspiring writer start off her dreams. "Aliens" is a  strong script by itself, but when the cast used it as a starting point for their own individual creativity and characterization, it was breathtaking