Fright Fest or Horror Nights?
With Halloween just around the corner, many amusement parks' much anticipated scare-filled events are back. Some of the more popular ones being Six Flags  Fright Fest and Universal Studios Halloween Horror Nights. Both parks offer a slew of terrifying mazes and scare zones but each with its own uniqueness.
Halloween Horror Nights has been an annual event since 1991. No expense is spared in making the hair-raising attractions all based on horror movies and television shows, including "The Exorcist," "Krampus," and "American Horror Story." Six Flags also incorporated several movies into their scare zones this year. By nightfall, DC Universe is taken over by the characters from "Suicide Squad" and the Nightmares scare zone is a twisted take on many children fairy tales.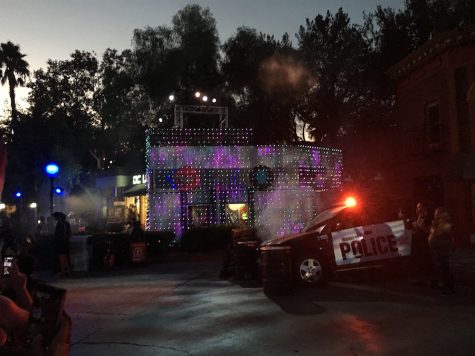 General admission tickets for Horror Nights range from $69 to $89, increasing as it gets closer to Halloween. This price includes entry to all scare zones, mazes and regular park attractions except for Harry Potter World. The park also offers early entry to those who arrive by 6 p.m. Unfortunately, pass members have to buy a separate ticket for Horror Nights but at a discounted rate. On the other hand, Six Flags season pass holders entry into Fright Fest is free, and the usual maze pass of $20 is discounted to $15. Single day passes range from $60 to $65, not including the maze pass.
Horror Nights' mazes this year are scarier than ever, bringing back the "Halloween" and "Freddy vs. Jason" surreal takes on classics along with the new addition of "The Exorcist," "Texas Chainsaw Massacre," "Krampus," and "American Horror Story."
Senior Courtney Valdivia has been going to Fright Fest for years and went to Horror Nights for the first time recently, and she said "the make-up and costumes were a lot cooler at Horror Nights. The mazes were very well done."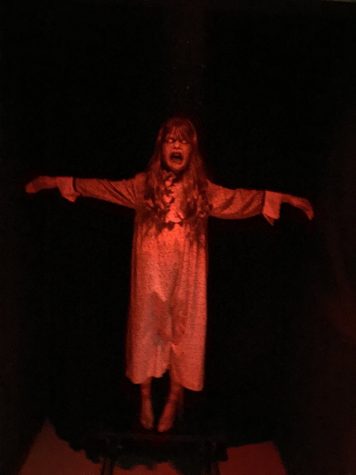 Universal, of course, goes above and beyond expectation to make these mazes as realistic as possible, even building replicas of the front of homes from some of these famous movies. Many make you feel like you're actually in the movie being stalked by the famous killers. "The Exorcist" was a much anticipated addition to the classics and almost all aspects of the movies are recreated; even the rooms change temperature as you go through different scenes from the film. Jumpscares seem to be never ending throughout this maze. "Krampus" was an interesting take on the almost comedic horror movie, using many animatronics and full body costumes to create the worst Christmas imaginable.
Senior Valentina Antepara said that she "really liked the 'Krampus' maze. It was one of the mazes that you can tell they actually put in work. I also liked the 'American Horror Story' maze. I didn't like was how crowded the park was, and it wasn't even the weekend, so that sucked, and the lines were really long like two hours."
"American Horror Story" incorporated TV horror into the lineup and is one of the most popular mazes this year. It only includes content from the first, third and fifth season which disappointed some fans.
Fright Fest too has its fair share of mazes; Vault 666 and Toyz of Terror are the more popular returning ones along with Willoughby's, Red's Revenge, and Aftermath. All the mazes are spread throughout the park and have a related scare zone nearby unlike Universal, who only has one scare zone themed after "Purge" at the entrance of the park. The mazes at Fright Fest are somewhat lackluster compared to Universal's, but it is hard to compete with a film studio.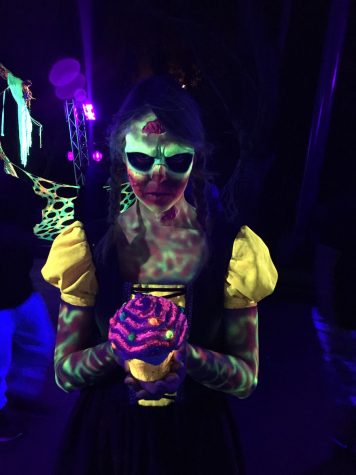 Junior Nathan Pak went to both parks and said, "I think Horror Nights is definitely better because I feel that the whole park is dedicated to the event, and more effort is put into it than Fright Fest."
Most of the mazes at Six Flags play creepy background music, while all the mazes at Universal have a loud soundtrack
that give the actors their cues for when to jump out. This became repetitive since it's obviously on a timed loop, so it was easy to figure out when someone was going to scare you, somewhat spoiling it. On the other hand, Fright Fest maze actors have to judge for themselves when to jump out, making it a more authentic and creepy surprise.  
One thing specific to Universal that can't be topped is the Terror Tram. This year's tram ride was taken over by killer clowns, wandering the backlots and terrorizing the guests. Many guests like to start their evening with this attraction to begin the night with a guaranteed scare.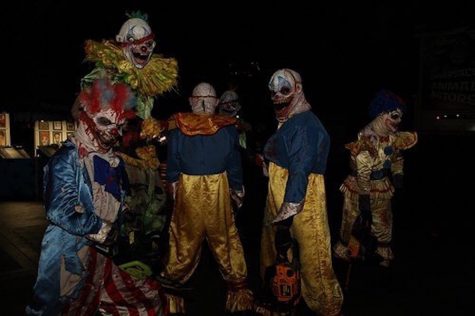 Overall, each park offers many activities to get you in the swing of Halloween but most goers prefer Universal's event to no surprise. I personally prefer Horror Nights because of how well done the mazes are. I do like that Fright Fest has more scare zones because waiting hours to go through short mazes can be tedious, but I think it's worth the wait!