Sculptures and Ceramics Around Campus
West Ranch's students are digging into their creative side by molding pinch bowls, wired animals, and sculpted animals that are being displayed around campus. The colorful work created by 3-D Sculpture, Ceramic 1A, and Ceramic 2A students is on display at the library or outside the 500 building.
Students in Ceramics 1A designed pinch bowls with an added pattern to finish the deal.
These colorful bowls are entertaining to look at because there is never the same design twice. Whether it's a shift in the form or an added flower design, there is always a uniqueness to a bowl.
The students first morphed their figures into a bowl-like shape. Then each student created their own exclusive design by coating their objects in different shades of paint.
Ceramics 1A students created their latest project in groups.
"
"We took clay and pretty much molded it into what we wanted it to be," said junior Samantha Pepin. "Our sculpture is a Furby, and it looks nothing like one," Pepin added with a laugh."
The project was a competition or "table challenge" to see which table worked together as a team to create the best sculpture.
"We made a gargoyle sculpture," said freshman Mariana Gonzalez. "One person made the body, one person made the wings, and the same with the legs and the arms. Then we attached them together and smoothed it out."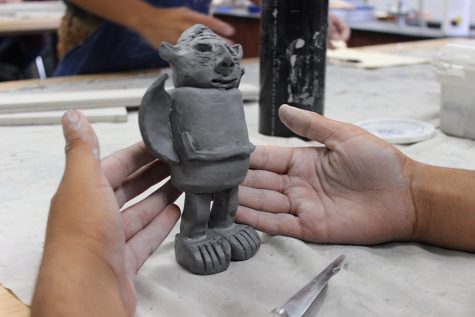 While ceramic classes are sculpting with clay, ceramics teacher, Ginger Philburn's third class, 3-D Sculpture created various figures and objects out of wire to exhibit a sense of motion.
The 3-D sculpture class began their project by creating a wire base for the outline of their animal. Next they repeatedly wrapped wire around the base outline until they felt that their sculpture formed a distinct animal.
Philburn focuses on ways to make her students enjoy what they are creating.
"The students chose everything that they want to create in here. I just give them some parameters. I give them a topic, materials, and the technique to use, and they create whatever they want from there," said Philburn.
Philburn keeps her students busy with work. Recently her 3-D sculpture class completed their next project: rolling bits of paper into a sculpture. These new creations will be taking over the displays on campus in a few weeks.
West Ranch students in ceramics and 3-D sculpture have been working hard to make our campus look alive and engaging. Make sure to check out the pinch bowls and wired and sculpted animals before they get replaced by the paper-sculpture project in a couple of weeks.
About the Writer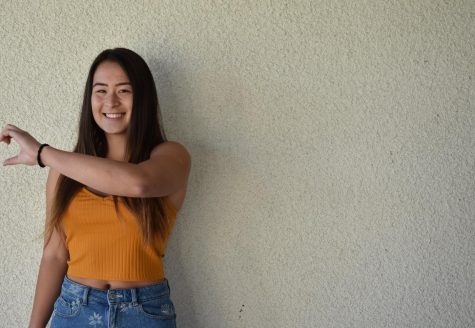 Mary Waugh, Editor in Chief