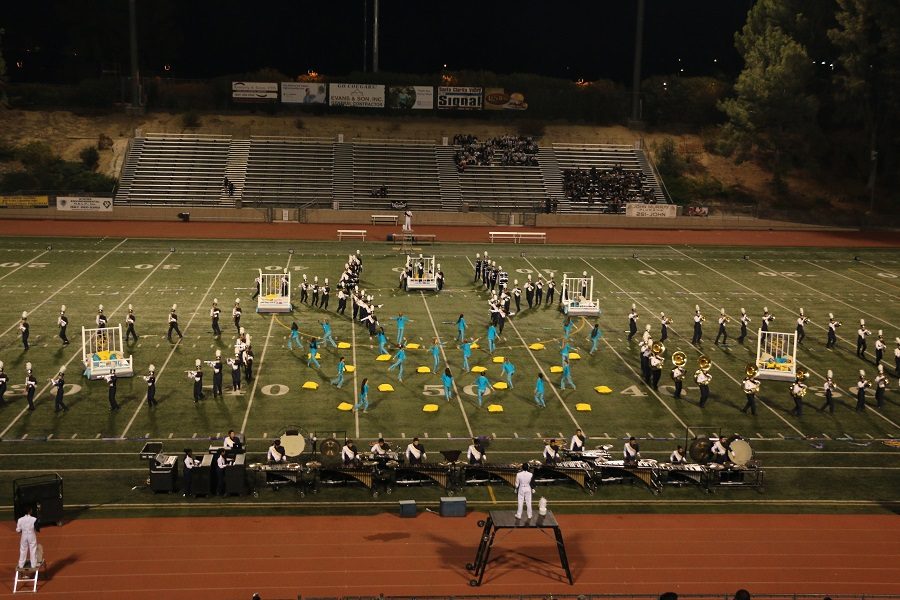 "Dreamland" leaves Hart Rampage in a daze
  In 2013, they pulled off their infamous "Heist." In 2014, they ushered us to the "Swan Lake." Then in 2015, they made West Ranch "Rain" in blue and gold. And on Oct. 29, the West Ranch marching band along with the color guard performed their 2016 production "Dreamland" at the 33rd annual Hart Rampage competition in the College of the Canyons (COC) football stadium.
  The Rampage hosted by Hart High School is the biggest high school marching band event in Southern California. Thirty five bands from different schools competed for overall trophies (sweepstakes) and awards within their divisions while 9,000 people in the stands watched on.
  "Dreamland" tells a story of a girl who's fallen asleep and goes through different stages of sleep. After she has a nightmare in the third movement, she wakes up and falls asleep again, but this time, peacefully.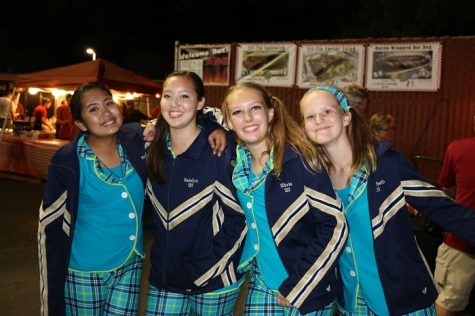 Photo by Mina Jang
  "This year, the show is 'Dreamland.' So this year, we have beds and pillows and sheets, and the color guard's wearing pajamas. Every year, we just try to fully own the theme and totally immerse ourselves in it both musically, visually, costuming, theatrically — everything we can to fit into that theme," said band director Jason Marshall.
  What makes every marching band's performance intriguing and worthwhile is the small details that add a bit more complexity to the whole production.
  "Oh, it's so pretty. I'm just like these costumes are really lit and comfortable versus last year. The music is great; I love the music. The pit does a great job in adding sound effects. There were mistakes tonight made, so they were all there, but usually the third movement's sound effects are amazing. It's like screaming and crying babies. It's a nightmare," said freshman Kaylee Guevara.
  While audience members sitting in front of the stands were introduced to close-ups of Thriller-style dance moves and the pit members pretending to fall asleep on their instruments, spectators sitting at the top of the stands were equally as mesmerized by the marching band's teamwork in perfecting their numerous formations.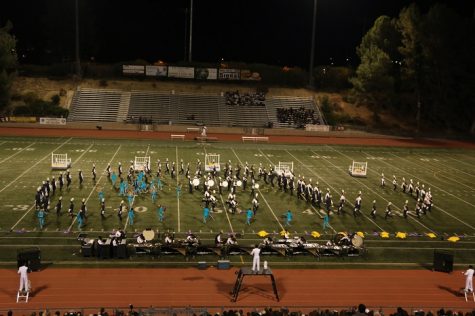 Photo by Mina Jang
"It's definitely intense. We practice all the time, but hard work pays off," said baritone player Matthew Judge.
  Matthew is right; practice is no joke. All throughout summer, color guard and percussion practiced two days a week. Then about three weeks before school started, the whole band would come together and rehearse everyday. Monday through Friday, their preparations lasted 12-hour days: 9 a.m. to 9 p.m. When school began, the West Ranch marching band, percussion, and color guard practiced on Tuesdays and Thursdays and Saturdays — three hours on Tuesdays and Thursdays and seven hours on Saturdays to get ready for competition.
  In addition to all this, what made "Dreamland" truly a great performance were the people out on the field: band, percussion, and color guard. With the touch of the predominant music from a piece called "Dreamland" by Michael Markowski, "Sleep" by Eric Whitacre, and the theme music from a "really B-rated horror movie called 'Dead Silence,'" everyone moved in sync.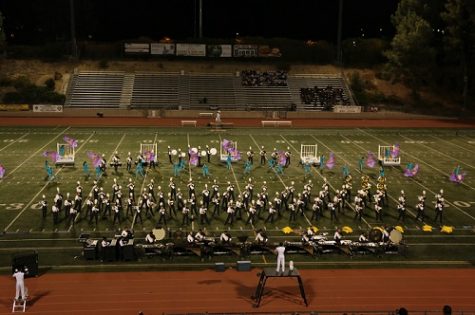 Photo by Mina Jang
  Throughout the majority of the third movement, "Dreamland" was a whirlwind; color guard ran around the field, band members were moving in circles, and the pit thundered across the stadium.
  "It's a nightmare. It's part of dreams.You can't have dreams if you don't have nightmares," said color guard Olivia Summerell.
  But when junior Joy Kim rose from a bed near the end of the third movement, lifted her flute, and played a soft, sweet lullaby, everyone followed her lead. Both the audience and the performers fell into silence and seemed to fall back peacefully in their places.
  Although put in a competitive 4A Division this year, the marching band pulled through and won first place in Band with 97.5 points as well as first place in Auxiliary (color guard) with a total of 82.5 points.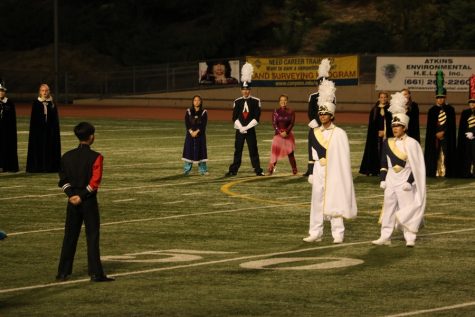 Photo by Mina Jang
  "Music's just an outlet; it's a creative outlet that allows students to kind of forget about everything else for a while either in their personal lives or with their academics. It allows them to be part of a team and it allows them to just kind of unite with one goal: to have a really amazing performance," said Marshall.
  And he isn't wrong. While the marching band might not be as well known as say, the football team, or talked about as much, it's the few competitions like the Hart Rampage that really bring together the performers, music-lovers, onlookers, families, and friends and let them hang on to the arts and more specifically, the music.