West Ranch Dance Team Rises to Third Place in the First West Coast Elite Competition of the Season
   Massive suitcases are quickly rolled to the garage. Snacks are thrown into a cooler. A mental supplies check is conducted.
      "Are you feeling ok?"
      "Did you grab extra water bottles?"
"Are the props ready to go?"
   The conversations were short and to the point in the Park household this past Saturday morning — just an average start to the weekend for dance team member, Nicole Park. With one last bite of breakfast, everyone is ready for a 15-minute drive to the Saugus gym for the first West Coast Elite Dance Competition of the season.
   The categories being judged included Solo and Group Contemporary, Small and Large Lyrical, Small and Large Hip Hop, Small and Intermediate Jazz, and Character.
   "I enjoy watching the lyrical performances because they are so full of elegance and flow. Just beautiful to watch," said Patty Park, a West Ranch mom.
   Despite the fact that half of the Santa Clarita Valley was still asleep, family members and friends had already settled into the bleachers to support their school. The flags and colors of Santana, Brentwood, Westlake, Calabasas, Hart, Saugus, and West Ranch all bursted from the crowd.
   Before the dancing commences, West Ranch parent Toni Marcelino said, "I most look forward to this team winning at these kind of competitions." And with a brief chuckle, she adds, "But of course, I really just appreciate watching each of their dances."
Promptly at 8:30 a.m., the booming voice of the MC quieted the audience as the first group of soloists, in order of grade level, began to perform.
   From West Ranch, freshmen Dominique Singer, Isa Bayona, Valentina Hidalgo, and Aaliyah Cedillo were full of energy as they gave a graceful display of their individually prepared contemporary solos.
   "Getting ready from West Ranch is Cat DeGuzman. On deck is Brighton Schroeder. And performing now from West Ranch is Julia Izu," the MC enthusiastically announced the entrance of sophomore performers.
    A total of five dancers in 10th grade from West Ranch consisting of Julia Izu, Brighton Schroeder, Cat DeGuzman, Skye Kita, and Nicole Park put on an excellent display of contemporary solos as well.
    By 11:26 a.m., juniors Alisa Gertner, Kayla Arquilevich, Maddy Maginn, and Brianna Gonzalez were fully prepared to give their stunning, independent routines that seemed nearly effortless for them.
    The last contemporary soloist of the morning was West Ranch's very own senior, Kaitlyn Lee, who despite a slight technical difficulty with the music, was able to finish off the prepared solos with a beautiful performance.
   The final component of the soloist category was the much-anticipated Contemporary Improv.  
   "Each of these girls will have exactly one minute to come up with their own choreography to the song that is played for them. Keep in mind that they have no idea what song is going to come on, and none of this is pre-planned," the MC informed the crowd.
From West Ranch, sophomores Nicole Park and Skye Kita as well as junior Brianna Gonzalez were able to come up with such smooth routines on the spot that it appeared as if they were merely doing another solo that they had prepared beforehand.
By 1:45 p.m., the panel of professional choreographers judging the day's events had turned in the results of the action-packed morning. Each of the girls gathered into team circles joined together by tightly gripped, hopeful hands.
The West Ranch dance team's hard work payed off as nearly all of their soloists placed in the top 10 for their category.
FRESHMAN AWARDS: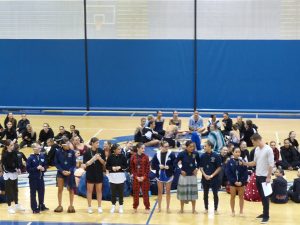 SOPHOMORE AWARDS: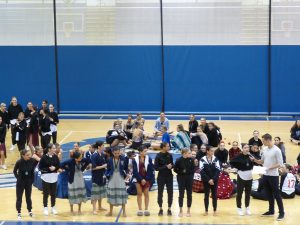 JUNIOR AWARDS:
SENIOR AWARDS:
Kaitlyn Lee (9th place)
IMPROV AWARDS:
Nicole Park (10th place), Skye Kita (9th place), and Brianna Gonzalez (Top 5)
TOP 10 SOLOS OVERALL: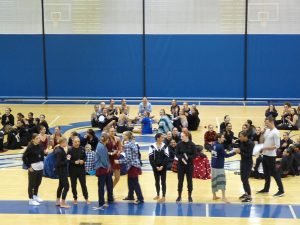 The solo half of the West Coast Elite Competition was now complete, and it wasn't hard for West Ranch parents to decide which of the routines was their favorite.
  "Of course my biased opinion would have to be any of the ones that the West Ranch girls did. They are killing it, and we are all so proud of them," laughs Robyn Word, Alisa Gertner's mother.
   It was now time for the group performances, which was considered the more entertaining half of the competition as these dances told a story with their choreography and props. 
   The West Ranch girls participated in the Small Lyrical, Intermediate Jazz, and Small Hip Hop during the first half of the team dances. Every member that participated in the different numbers were so in sync and successfully gave very moving performances.
   After a brief judges break, they continued on in the Intermediate Contemporary, Small Jazz, and Character. Despite having been dancing for more than half of the day, the West Ranch dance team finished strong and ended the group category with an entertaining rendition inspired by "The Wizard of Oz."
  At 5:00 p.m., the top 10 solo and improv finalists from the morning performed one more time in order to decide who would receive a scholarship that would go towards a summer dance camp and college.
  West Ranch ended the night with multiple wins from their amazing talent displayed throughout the day.
They placed first in the Small Lyrical, Small Hip Hop, Small Jazz, Intermediate Contemporary, Intermediate Jazz, and Character categories. This put them in third place as a school, and their coach has high hopes for them.
  "At the end of the day, more than anything, if they can walk out there and feel like they bared their souls performing and are able to clear their minds and stay strong, I think that they'll achieve everything that they set out to do this season," she said.
  Congratulations to the West Ranch dance team for a successful start to the season, and good luck in the all of the competitions to come this season.