"DAMN." – Track by Track Review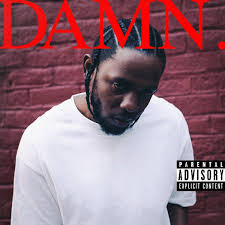 When Kendrick released his single "The Heart Pt. 4" out of the blue, I was thrilled. When I heard the last line of the song, I almost fainted. "Y'all got 'til April seventh to get y'all s*** together," he rapped. April 7 came and I, along with thousands of other fans, was disappointed when the only thing that came was a preorder option for the next album. But, one week later, "DAMN," Kendrick's fourth studio album, was finally released to the public on April 14
  Here is a track by track review of Kendrick Lamar's  new album "DAMN."
"BLOOD": 9/10
  "Is it wickedness? Is it weakness?" are the first haunting words that you hear. "BLOOD" is a vivid and chilling track where Kendrick sets out the story for this album. In this skit, Kendrick sees a blind women on the street and tries to help her, but is then shot by her. This track encases so many of the ideas jammed into the album like the blind woman possibly being a metaphor for the justice system which Kendrick raps about on tracks like "DNA," and the first line being a symbol for the yin-yang like duality that Kendrick raps about on "XXX."
"DNA": 10/10
  "BLOOD" ends off with a sample of a FOX anchor criticizing Kendrick Lamar's song on "To Pimp a Butterfly", "Alright," leading into the next song "DNA." "DNA" is a fast and vicious track where Kendrick celebrates his African heritage, while criticizing racism against African Americans. A sample of the same FOX anchor saying that "…hip hop has done more damage to young African Americans than racism in recent years," suddenly stops the flow of the track, but then Kendrick comes back sounding even angrier. The beat switches and Kendrick proceeds to spit out some of the most venomous bars he has ever written. "Tell me somethin'/ You motha******* can't tell me nothin'/ I'd rather die than to listen to you/ My DNA not for imitation/ Your DNA an abomination," he  raps. Kendrick's breath control in this track is so crazy that throughout the second verse he barely even breathes.
"YAH": 8/10
  Kendrick slows down the album with the lazy, sluggish "YAH." On this track, Kendrick drunkenly raps about God, politics, and whatever else seems to pop into his mind. "I'm an Israelite, don't call me Black no' mo'/ That word is only a color, it ain't facts no' mo'," he raps, comparing the troubles of the Israelites in the Bible to the racial problems that African Americans face today. Everything from the beat to Kendrick's flow and tone is laid back and makes for a chill, head bobbing two and a half minutes.
"ELEMENT": 8/10
  "ELEMENT" was played the day before the album was released on LeBron James' Instagram story and was one of the tracks I was hyped to hear. A catchy piano riff carries Kendrick's bars as he probes into his family history and how it helped him to the top of the rap game. "B****, all my grandmas dead/ So ain't nobody prayin' for me, I'm on your head, ayy/ Thirty millions later, know the feds watchin," he raps.
"FEEL": 10/10
  The next song, "FEEL" is one of the most sincere tracks on this album. "Ain't nobody prayin' for me" he brokenly repeats, showing his isolation despite being at the top of the rap game. Throughout the majority of the song, Kendrick sounds calm and collected until he cracks in the second verse. "F*** your feelings, I mean this for imposters" he brokenly screams out, before quickly regaining his calm air. The spacey instrumental and Kendrick's heartfelt bars made this song one of my favorites.
"LOYALTY": 7/10
  "LOYALTY" features another unique beat, sampling Bruno Mars' "24k Magic" by reversing the intro and speeding it up. While not my favorite track, this song definitely got stuck in my head with its catchy hook and beat.  Rihanna and DJ Dahi don't seem to contribute much to the track and Kendrick's bars aren't the best. However, his verse at the end of the song was pretty interesting. "Tell me who you loyal to/ Is it money? Is it fame? Is it weed? Is it drink?/ Is it comin' down with the loud pipes and the rain?" Kendrick asks the listener.
"PRIDE": 9/10
  The next track, "PRIDE" slows down the flow of the album again. Kendrick delves into the idea of pride in this track, rapping "See, in a perfect world, I'll choose faith over riches/ I'll choose work over b*****, I'll make schools out of prison/ I'll take all the religions and put 'em all in one service/ Just to tell 'em we ain't s***, but He's been perfect, world." With pride being one of the seven deadly sins in Christianity, Kendrick goes back to the religious themes he introduced in "YAH." Kendrick's soft voice and the calm, Frank Ocean-y beat makes for a chill, mellow atmosphere.
"HUMBLE": 7/10
  In stark contrast to its much more soft counterpart,, the next song, "HUMBLE" ironically features a braggadocious Kendrick rapping over an almost obnoxious piano riff and blaring synth."Wickedness or weakness/ You gotta see this" he says in the video version of the song, referencing the themes of duality first seen in "BLOOD." On this track, Kendrick is anything but humble, rapping  "Who dat n**** thinkin' that he frontin' on Man-Man?/ Get the f*** off my stage, I'm the Sandman/ Get the f*** off my d***, that ain't right/ I make a play f***** up your whole life," and to me it was hilarious. This track is similar to "Backseat Freestyle" from "good kid, M.A.A.D. city" in how it seems to make fun of the stereotypical rapper.
"LUST": 9/10
  "LUST" goes back to the religious theme in the album, being one of the seven deadly sins in Christianity. This track focuses on the the repetitive and often materialistic lifestyle of people. The first verse focuses on the lives of a man and a woman, repeating the lines "Wake up in the mornin'/ Thinkin' about money, kick your feet up." Kendrick shares anecdotes from the daily routines of these people highlighting how greedy and predictable their lifestyles are. In the second verse, Kendrick describes how "rap stars" and those with money abuse their money to live the luxurious lifestyles that they are so addicted to.. Kendrick monotonous tone shows how each of these people are used to these lustful lives.
"LOVE": 10/10
  After the greedy feeling of lust, Kendrick moves on to its much more gentle counterpart, "LOVE." Zacari's soft, wispy crooning fits perfectly with Kendrick's bars in this mellow, head-bobbing song. Kendrick reflects on his relationship with a woman, most likely his fiance Whitney Alford, asking her questions to reaffirm her love for him. "If I didn't run my blade on curb, would you still love me?/ If I minimize my net worth, would you still love me?" he asks to his lover. A smooth, dreamy beat completes the song, putting the listener into a trance for the entire song.
"XXX" 10/10
  "XXX" is another one of the most interesting tracks on the album. Kendrick raps about how a friend called him, telling him how his son was killed due to not being able to pay back a debt and asking Kendrick to pray for him. In a surprising twist, instead of staying calm and levelheaded, Kendrick proceeds to tell his friend to take revenge and kill the person who murdered his son." Let somebody touch my mama/ Touch my sister, touch my woman/Touch my daddy, touch my niece/ Touch my nephew, touch my brother," he raps, saying that he will kill anyone who harms the ones he loves. At the end of the phone call, Kendrick tells his friend he has to speak at a convention and hangs up. "Alright kids, we're gonna talk about gun control/ (Pray for me) Damn!" says Kendrick next, in stark contrast to what he was saying earlier. This track is one of the most thought-provoking on the album, exploring Kendrick's conflicting feelings of pacifism and revenge.
"FEAR":10/10
  "FEAR" is one of the most vivid tracks on the album. The track uses the guitar lick first seen in "The Heart Pt. 4" and it fits perfectly in the song. The song focuses on Kendrick's greatest fears at three important periods of his life. The first part of the song focuses on his greatest fear when he was seven- his mother. While taking on the persona of his mother, he threatens to beat little Kendrick, for the simplest things- getting his Jordans dirty, jumping on the couch, and more. Ten years later, when he is 17, Kendrick's greatest fear is now his own death. In this verse, he highlights all the ways that he could die being a black teenager in America. "I'll prolly die from one of these bats and blue badges/ Body slammed on black and white paint, my bones snappin'," he says in one line. Another 10 years later, at 27, Kendrick is at the height of his career, but his biggest fear now is losing everything he has earned.
"GOD": 3/10
  "GOD" was the only track I did not like at all on this album. This song felt incredibly poppy and not like a Kendrick song at all. Kendrick's flow and lyricism were lacking on this track and the beat was incredibly generic sounding. These things together made for a track that wasn't memorable at all.
"DUCKSWORTH": 9/10
  "DUCKWORTH" showcases Kendrick's cinematic storytelling abilities that he's previously demonstrated in "good kid, M.A.A.D. city." Kendrick tells the story of Anthony "Top Dawg" Tiffith, the CEO of his label, TDE, and how he met Kendrick's father. He details how Anthony and his gang robbed a KFC and met Kendrick's father, "Ducky," at the counter of the same KFC a few years later. Kendrick's father knew that Anthony had robbed the KFC before, so he would give him extra chicken and biscuits whenever he ordered. Because of Ducky's generosity towards Anthony, Anthony decides not to murder him when they rob the store. The song ends off wondering about what could have happened if Ducky had never shown the generosity he did to Anthony. Anthony could have been arrested for murder and would have never started TDE. Kendrick would have grown up without a father and would have been caught up in the same cycle of gang violence and death that many others fell into.
  While not showing the complexity of "To Pimp a Butterfly" or the cinematic story of "good kid, M.A.A.D. city," "DAMN" was still an incredibly solid album that solidifies Kendrick's place at the top of the rap game.
Overall Rating: 9/10
Favorite Tracks: "DNA," "FEEL," "LOVE," "XXX,"  "FEAR"
Least Favorite Tracks: "LOYALTY," "GOD"