Behind the Scenes of Marching Band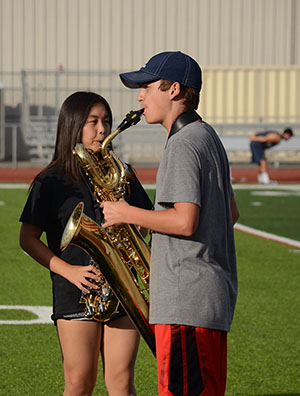 Hang on for a minute...we're trying to find some more stories you might like.
You see them at the football games. You see them on WRTV. They've won numerous titles and are quite possibly the jewel of West Ranch High School. They are the West Ranch Marching Band. Every halftime performance is executed with ease to ensure that the audience experiences notes that hit perfectly on key, complex movements that seem like second nature to these performers, and overwhelming talent produced by each musician. What the audience doesn't realize is the hours of hard work and dedication the marching band puts into each and every day. After all, the job of a performer is to make everything look effortless and appealing.
I arrived to the West Ranch field an hour early, but to my surprise, people were already there setting up instruments and preparing for the night's performance. Over 150 students, from concert band to symphonic band, gathered on the turf in the hot sun to practice. Everyone had to run the track and warm up for an extensive period of time. Training had begun all the way back in July, and even May for some instruments.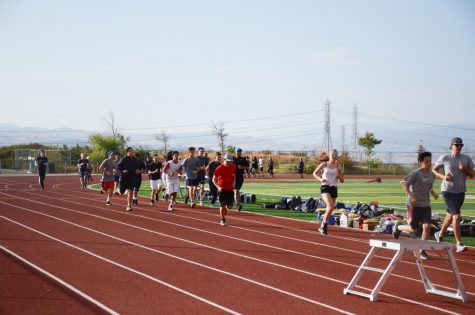 When asked about what people commonly misunderstand about marching band, students from every grade level said the same thing. According to junior Matty Frierson, "People don't understand the amount of work that goes into Marching Band. It's not as simple as just walking around and like blowing air. There is a lot more to it than what we let on."
Students grow tight friendships with their fellow musicians throughout the course of the year. "Everyone says that we look straight and orderly, but behind the scenes we really have fun with each other," says freshman Sean Seo.
It's a good thing that everybody in Marching Band is so close, because students spend at least seven hours a week after school practicing, and up to 45 hours a week during the summer. However, this hard work is not for nothing. West Ranch has won three Southern California Championships and numerous silver and bronze medals since the beginning of the Marching Band program in 2005.
For almost every student, the hardest part about being in the program is the amount of concentration required to memorize every note as well as the movements and positioning.
"You have to able to play, and march, and do every movement. So you have to be able to focus and think on multiple levels to be able to do it all," says freshman Skylar Higgins. But the ability to play the instrument you love with good company is unanimously the best part about the program.
No one will ever be able to fully comprehend what goes on behind the scenes of Marching Band except for the students of Marching Band themselves. The amount of passion for the sport is overwhelming, even if not everybody realizes it is a sport. But tell me about another high school marching band who can turn any ordinary football game into memories people will never forget, I dare you.