Decision Height
Decision height: the altitude at which a pilot must decide whether to continue the landing or pull back up.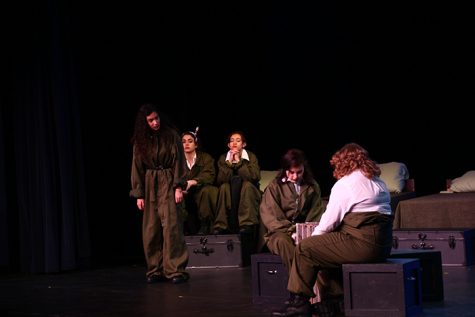 On Feb. 28 through March 2, the West Ranch theatre's curtains opened to unveil a scene of seven women standing on a train platform, cheeks rouged, hair plastered in finger waves and victory roles, and skirts hemmed to make best of rationed fabric. From there, Virginia, Eddie, Rosaline, Alice and Carol are sent off to Avenger Field, Texas where they begin their training as Women Airforce Service Pilots. These "WASPS" get off to a rocky start with clashing personalities in every scene as they struggle to adjust to base life and each other. However, these women begin to accept each other's differences and decide to form the Sisterhood of the Fifenella, pledging to support each other through their training. The play follows their growth as they discover more about what it means to be a woman in the military.
  The main character, Virginia, has left behind her family and fiancee, William, to join the war effort, ignoring their disapproval of a woman in uniform. Even without his support, Virginia continues to keep correspondence with William, which she narrates to the audience through her love letters to him. However, as time passes, Virginia discovers a life independent of a man and, with her friends' encouragement, begins to question if William should be more supportive.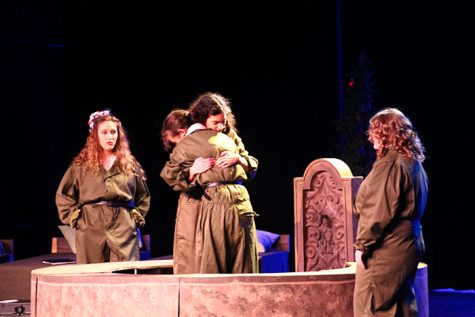 Junior Zoey Greenwald portrayed Virginia and, although she did an overall superb job of performing, it was in Virginia's asides where she shown the brightest. Anyone who knows Zoey knows that she fills every word with passion — it always seems that she is personally invested in any topic at hand and has spent time pondering the subject matter before, as if she was preparing for that very conversation with you. With every diary entry of Virginia's, there was a real hope in the way she looked out at the audience — hope that all this training would make a difference, hope that she would see William again soon. Most impressively, there was also a real sense of wonderment when she talking about flying, as if she too had flown across America in a BT19 and felt the gravity of the ascent and the tension of the descent.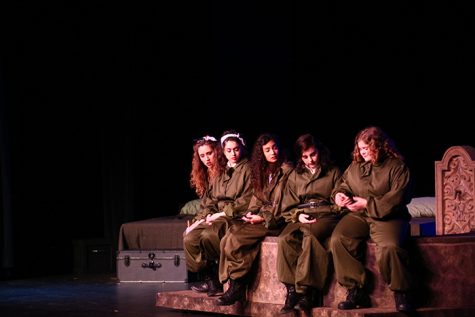 Speaking of exquisite portrayals, Senior Lara Monti played the hot-tempered Eddie Harknell, commanding the stage with every eye roll and slip of subordinance to authority. It was apparent that she took time in perfecting the realism of the show and her character."We did a lot of intensive research on World War II and women airforce pilots. We did a lot of research on Rosie the Riveter and how those women used to act when they had to leave their families to go work while the men were fighting," said Monti.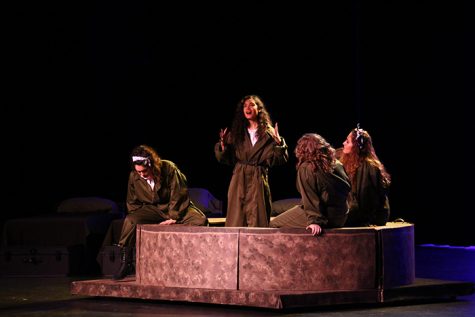 Monti embodied a character that the audience could relate to, letting her walls down as the play progressed and revealing the raw vulnerability that lies beneath a tough exterior.  We began to see her softer side, the side that cares for her WASP sisters, and this dynamic performance is exactly what made the play so memorable.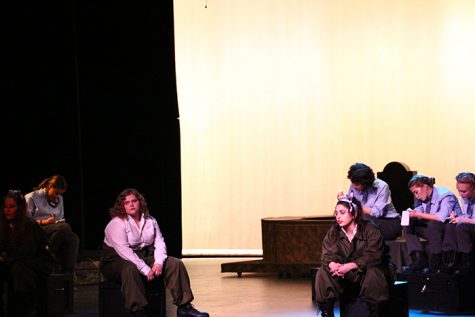 "I watched them develop in their friendships — so not only was the play well done but they did a great job, I thought, of developing their characters" said audience member Sharon Lightner.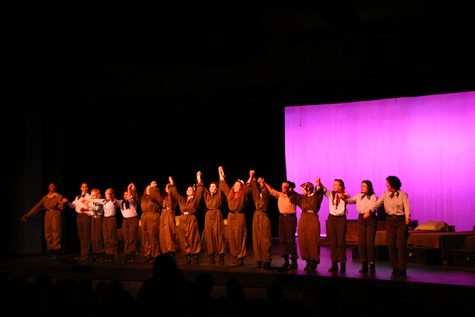 Unlike many other performances that center around romantic relationships and finding love, Decision Height shined a light on woman's independence, a woman's desire to make a change, all without needing a man. "I thought it was really empowering for women to see that you can do anything, as long as you set your mind to it," says Zoe Miller, who played Rosaline. By the end of the play, it felt like we, too, were all a part of the Sisterhood of the Fifinella.