Winners of the World, Champions of Music
(Photos contributed by West Ranch Percussion)
May 18, 2018
Can you feel it? The tension brewing in the air? The storm of flash and pizazz churning your insides? The strike of drums electrifying your brain? The flurry of emotions blanketing over each and every note? Can you feel your soul being let out from its cage and squeezed until it sings shrills and trills?
  This is the overwhelming presence of West Ranch Percussion.
  They are the spirit of our rallies; they are the heart of the marching band; they are the hidden spirit of our school, and on April 19-21, West Ranch Percussion qualified for and traveled to the world championships in Dayton, Ohio hosted by Winter Guard International — a visual performing arts organization that produces indoor color guard, winds and percussion competitions.
  Not only a circuit for music-lovers to come together, the Winter Guard International (WGI) World Championships was also a fierce competition against several of the best percussion ensembles around the globe. In other words, this was "the Olympics of winter percussion" as described by West Ranch's percussion director Julio C. Diaz III.
  "WGI Championships is important to me and to all of West Ranch Percussion, because we go every other year so we have to make every experience count," said junior Jared Santiangco. "All of our long hours together, practicing and performing, has lead up to that moment, It's a really big deal, I mean, it is called world championships. Not every school is as fortunate as we are to experience just a grand event, and we definitely see the importance in that and don't want to take it for granted."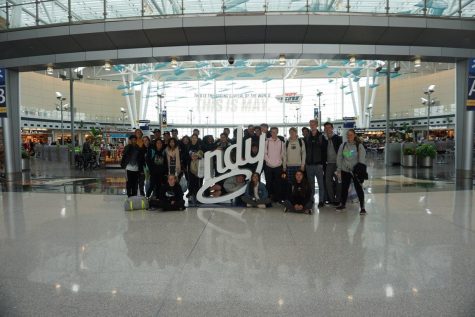 After seven months of performing during the marching band season, West Ranch Percussion began its rehearsals around December in preparation for the WGI Championships.  Practicing three times a week, they would have three-hour-long rehearsals after school and two-hour-long rehearsals during late-start Wednesday mornings. In addition to this arduous schedule, members also had to attend multiple camps from 9 a.m. to 9 p.m. to perfect their performances.    
  "Along with these rehearsals and camps, we put individual time on our own to practice our music," said sophomore Isabel Zheng. "During tutorials, brunches, lunches, and the time after school, the band room is always filled with different sections practicing together."
  The days flew by, and soon came April: it was time for the WGI Championships to begin. When the band of musicians finally arrived at Dayton, they first followed their yearly tradition and went straight to Steak-n-Shake, where all the percussion members drank milkshakes, ate burgers and bonded over a hearty meal. To make sure that the students were not stressed for the hectic week ahead, parents and advisers set up fun events within the jam-packed schedules, such as visiting the US Air Force Museum and dining at the Spaghetti Warehouse.
"
I felt our performance went really well so a lot of the stress was definitely lifted off my shoulders. However, knowing that we were so close to that first place title, you can't help but still be jittery and anxious.
— Jared Sontiagco
  However, even with these enjoyable activities to distract them from the rising jitters, many of West Ranch Percussion could not keep down the anxiousness that built up. By April 20, tension was at its highest point; the day to compete had finally come. After they checked in at the World Championship Headquarters, West Ranch Percussion headed to the University of Dayton Arena.
  "Even though I experienced this my freshman year, I still got the butterflies, and I still got really nervous. But still, I was really excited and couldn't wait to perform our show," said Santiangco.
  Right before competing, the religious members of the front ensemble formed into a circle to do a prayer in hopes that they would do well.
  "We've never done that before and that act really showed me how much we all care about our art and how much we wanted the world to see what our hard work became," said Zheng.
  And as their performance — "Soldiers of Aquarius" — started, reality shushed, and the hands of music took over the strings. Beginning with a speech about freedom and peace at the brink of extinction, "Soldiers of Aquarius" then slowly trickled in an arrangement of "Aquarius," a 1969 hit by The 5th Dimension. When the tempo rose, the growing noises of marching and more recited lines of the speech toppling on one another, senior Reid Adamick took the stage to tame the storm.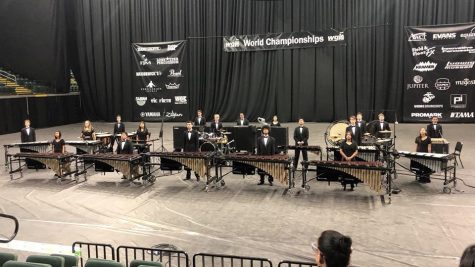 "An improvised marimba solo performed by me calms down the adrenaline being built up, slowly bringing the show to an end with a quote from the speech that recognizes those who fought for peace," said Adamick.
  The general message of "Soldiers of Aquarius" was about fighting for the parts — love, unity, and peace — within a person that made him or her humane; this went along with the idea of The Age of Aquarius: a real astrological term that represented non-conforming and idealist beliefs.
"
Our show was called "The Soldiers of Aquarius". It opens with a speech about peace and freedom in jeopardy of being lost.
— Chris Nott
  However, at the end of West Ranch Percussion's show, viewers in the sidelines were left forming different meanings behind the performance, as "Soldiers of Aquarius" was meant to be understood separately by each individual listener. Even among the members were several interpretations.
  "In my opinion, this show is about the Soldiers fighting for what we are losing from the previous age," said Zheng. "At some point when talking about the meaning of our show, our pit instructor said Nazis. Nazis does make sense in the way where they lacked the compassion, love, and peace that the soldiers are fighting for."
 After the last performance played, the competition ended and the awards began. "Soldiers of Aquarius" and its 24 performers waited uneasily for the results; to their delight, West Ranch Percussion scored a 92.300 in the Scholastic Concert A division, winning title of champions — the top prize. Those who had participated in this performance were students Chris Nott, Indigo Garcia, Danielle Nalangan, Izabel Zheng, Ethan Yu, Kyle Pobanz, Jared Sotiangco, Cameron King, Nikki Orler, Grant Yamamoto, Sarah Ho, Reid Adamick, Tyler Adamick, Shayne Pobanz, Benny Oz, Quinn Reller, Brian Knowles, Suebinn O, Peyton Forth, and Michael Gaborno.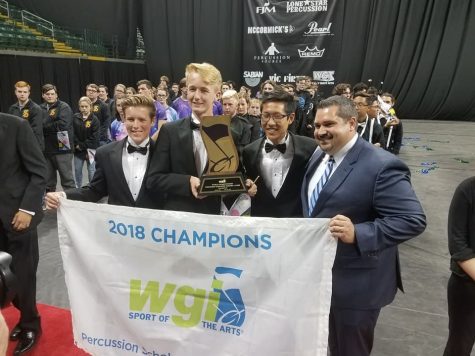 "For me, the most memorable part of the trip was receiving the gold medal and trophy at the awards ceremony," said Nott. "I felt very proud for our group knowing that we would bring home the well-known trophy that is only seen with the greatest groups in the world."
  With this, West Ranch Percussion waved adieu to Dayton and returned home as world champions. Whether it be them without their winds dazzling watchers at their annual winter show, the battery  — snares, basses, quads, cymbals — at future rallies, or the marching band performing at competitions and football games, these talented musicians know winning WGI Championships was only the beginning. They are ready, prepared, and bent on going all out to  show their talents for the upcoming school year.
  The rise of passion, the call for music: no rhythm beats faster than that of the determined hearts of West Ranch Percussion.