Band Concert: Spring 2018
Hang on for a minute...we're trying to find some more stories you might like.
Last Thursday, on May 15, the band took the stage, introducing audience members to whole new world. Each piece had a journey to show and a story to tell.
Concert Band kicked things off with "Blue Ridge Reel" by Brian Balmages, a piece that took listeners back in time to when washing boards and spoons were just the everyday, run-of-the-mill instruments. The percussion students brought the music to life with old-fashioned instruments, giving the piece a feel like no other.
Concert Band then played "Gershwin Classics" by George Gershwin, followed by "The Great Steamboat Race" by Robert W. Smith, each sweeping the audience members away to a distant time with good, old-fashioned music and beats. As members of band played, students filed down the aisles one-by-one  near audience member's seats with jugs filled halfway with water in their hands. All this made for a perfect story of two steamboats racing each other in the Mississippi River.
Symphonic Band was next, transporting listeners to a country across the world rather than a different time era. Students played "The Lion King" by Elton John and Hans Zimmer, which was comprised of a medley of many of the well known songs we all know and love from Disney's movie The Lion King.
"Symphonie Fantastique" by Hector Berlioz was the final piece Symphonic Band performed. Through its melodies, the three-part story took listeners on a ride through Berlioz's life. Berlioz wrote this symphony in honor of a beautiful women who he was obsessed with. Everytime Berlioz saw this lovely women, his heart would skip a beat and a beautiful melody would wash over the previous tune. From dancing in a ballroom with this gorgeous woman to the sudden thud of Berlioz's head bouncing to the ground after being decapitated, Symphonic Band captured it all into one enchanting story.
Wind Ensemble performed last, beginning with "Noisy Wheels of Joy" by Eric Whitacre, then "With Heart and Voice" by David Gillingham and lastly "Raiders March" by John WIlliams. With each piece as soulful as the one before it, everyone left satisfied and eager to hear more next year. For the seniors, however, this was their last concert.
To end the night and celebrate what may be some of the member's final performances, Mr. Leff and Mr. Marshall, the conductors of the bands, recognized all the graduating seniors at the end of each performance. Afterwards, hugs and kind words were exchanged to finish what I'd call an amazing performance.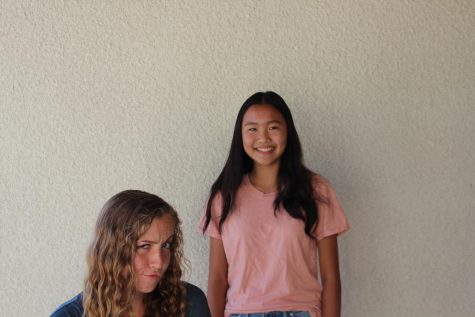 Katie Luo, Staff Writer
Hi! I'm Katie! You may have heard of me as the girl who has traveled to all the countries in the world, climbed Mt. Everest in five hours, memorized every...