To All the Boys I've Loved Before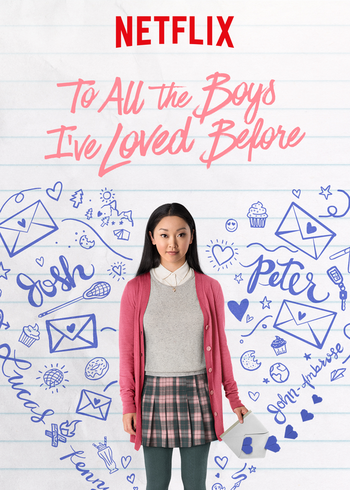 "To All the Boys I've Loved Before" is a New York Times best selling book, part of a trilogy written by Jenny Han, that was recently released as a Netflix Original on August 17th. To say that I was anticipating this movie is a massive understatement. I had incredibly high hopes after rewatching the trailer about 15 times, and I'm pleased to say I was not disappointed.
The premise of the story surrounds high school junior Lara Jean Covey who writes letters to every boy she's ever been in love with as a way of letting them go. She stores them in a teal hat box with the intention of never sending them. There are five letters in total, including one addressed to her older sister's current boyfriend Josh Sanderson. The letters mysteriously get sent out, and Lara Jean frantically devises a plan to pretend-date another letter recipient, Peter Kavinsky, as a way of proving to Josh she is no longer in love with him. One thing leads to another, and (to no one's surprise) Peter and Lara Jean fall in love for real.
Good casting is always a huge requirement of mine when movies are switched from book to screen. Noah Centineo was the perfect choice to play Peter Kavinsky. He did an excellent job embodying  the confidence and charm that Kavinsky has. Lana Condor, who plays Lara Jean, however, didn't quite fit what I pictured in my head. Although Condor isn't Korean, everything from the way she delivered her lines to her comedic timing was spot on and made up for the fact that visually, she looks nothing like the Lara Jean from the books.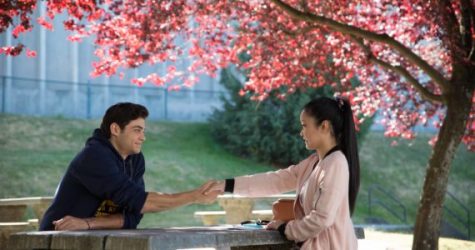 I appreciated having an Asian female lead in a romcom, something that is uncommon in today's day and age. One reason why this movie holds a special place in my heart is because it reinvents Asian representation in the media. "To all the Boys I've Loved Before" manages to highlight Korean culture without making it the only thing that defines the characters. Lara Jean has qualities to her that are more important than just her ethnicity. It is so rare to see an Asian love interest in a romantic comedy, and "To all the Boys I've Loved Before" did it just right.
There were so many scenes in this movie that simply made me beam. The tender father-daughter or sister-sister moments made the movie feel more raw and relatable, and not in the cheesy way at all. The chemistry between Centineo and Condor was so mind boggling I googled if they were actually dating in real life. (Sadly they aren't.) Each and every actor made their character come to life, and it felt like you were watching a real story about real people that you related to.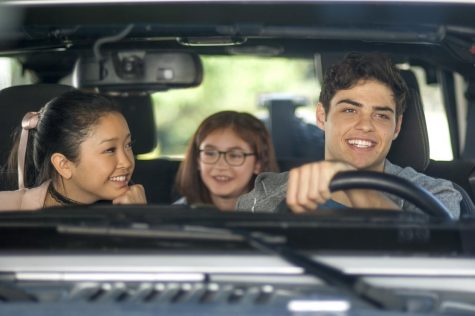 Now, the big question that I'm sure super-fans like myself have all been asking: "How does it compare to the book?" In general, I applaud the directors for sticking with the plot as best as possible. Granted, some elements that work well in books didn't transition as smoothly into film, yet I appreciate how almost the entire plot followed along well with the book.
I was disappointed, though, at how the movie didn't quite capture the inner thoughts of Lara Jean as successfully as the novel. The book is from her perspective, allowing the readers get to experience every feeling Lara Jean has, and the way she narrates is so endearing. The book is one of my favorites because of the way that Han makes Lara Jean feel real and relatable. The internal struggles that Lara Jean faces, from her sister going off to college to feeling invisible, hit home for me and I expected to feel that same pang of empathy while watching the movies. While the film did an overall excellent job of giving viewers a sense of closeness with Lara Jean, I felt like some elements were rushed. The way the relationship between Lara Jean and Peter developed, for example, happened a little too fast. I adored every scene with Peter and Lara Jean; I just wish that there was more of it. I wanted to savor the moments when the two characters began to acknowledge their feelings for each other like it happened in the books, and the film just didn't come out that way.
For those who have read the trilogy, this movie might not live up to every expectation. Certain elements are missing and it's obvious that the film didn't develop certain characters or relationships as well as in the books. However, it stays on point with the plot fairly decently and did not completely butcher the main concept. I think, though, that if I hadn't enjoyed the books as much as I did, I wouldn't be nearly as critical. Overall it's an adorable movie that touches on subjects most teenagers have to deal with at one point in their lives: loss, first crushes, and the fear of people leaving. Despite the flaws I found, I have to say that Netflix nailed it with this one. To any viewer coming in without any preconceived notions, unlike myself, I have confidence that you will be taken with this cheesy Netflix romcom. I'd give it a 4 out of 5 paws.
About the Contributor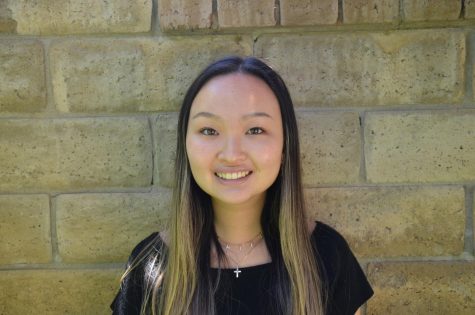 Emily Chang, Technology and Media Manager
i love matcha, outdated vines, and making monthly spotify playlists :P also im a senior ain't that wild