Marching for Perfection
  Under the sweltering heat, a metronome began to play, ringing across the mountains. The marching band stood — stone-faced and backs straight — atop the football field, while color guard surrounded them from behind. Hushed whispers of "one, two, three" trickled out of their mouths, eyes focused on what lied ahead. Now, it was time to take the first step.
  On Aug. 25, West Ranch Marching Band, Color Guard and Percussion held one of their many Saturday practices. Already, an array of overfilled, blue water jugs lined the side of the track, glistening instruments nearby.
  This would be the last 8 a.m. to 1 p.m. rehearsal for the marching band before their very first performance at Valencia High School on Aug. 31. There, the members would be showcasing their production for this school year, "Celestial," to the public during the upcoming football game halftime show.  
  Songs included in the show are, a combination of "Mars" and "Jupiter" in composer Gustav Holst's orchestral suite, "The Planets," to a choral piece titled "Ballad to the Moon." Band instructor Jason Marshall made sure that the selected pieces would match their space-themed performance. For instance, one popular combination that immediately drew attention was "Rewrite the Stars" from "The Greatest Showman" mixed in with "When you Wish Upon a Star."
  The students were so excited for the new season, as it meant new competitions to attend, new people to befriend and new music to play. Many dove into the various works right away, several even taking time during their breaks to look through all the music sheets.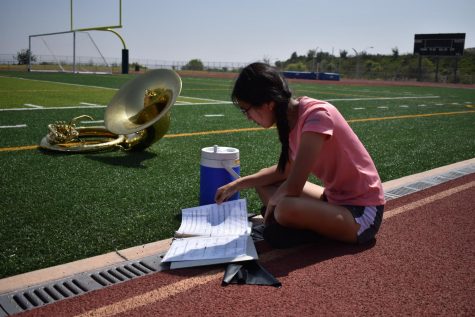 Drum major Elizabeth Gamerrillo said, "This is one of my favorite shows I have ever done, so expect a lot because it gets crazy."
  As the morning faded into the afternoon, the color guard members spun their bright orange flags, reviewing the choreography that had been given to them two nights ago. The marching band ran back and forth — taking a quick sip of water then quickly getting back to their positions — under the guidance of their instructors. Percussion students moved fast from the band room to the field, rolling away heavy equipment safely and putting the separate pieces together.   
  Because coaches and directors expected practice to be precise as it is crucial for their upcoming competitions' success, each student performer did not waste any time during the sessions. Instructor Jay Kamp walked around and yelled, "Focus! Stay mentally engaged!" to the performers standing still. Even when standing still, they have to stand as if they are performing. This a task that will help the kids listen and take direction better even after doing their part. 
  Section leaders had to prepare their group of students for the long, arduous hours to come.
  Lucas Davis — assistant section leader of the baritones — said, "We come together and yell 'hype, hype, hype' to each other as loud as we can."
  Encouraging each other to keep pushing through any struggles, the persevering students worked day to night, sweating but playing their instruments proudly.
  "Marching band isn't what I expected, because it's a lot more intense than I thought," said Ryan Yahnker, a freshman percussionist, "but it's worth it to be with such an amazing group."
  Weekly practices were usually 6 to 9 p.m. on Tuesdays and Thursdays, but they varied, depending on upcoming events like the Wildcat Classic, Hart Rampage, and October's San Diego competition at Mt. Carmel High School. During certain days, Percussion would stay on campus from 3 to 9 p.m. to work on perfecting the rhythm, while Color Guard would arrive from 5 to 6 p.m. to rehearse their techniques.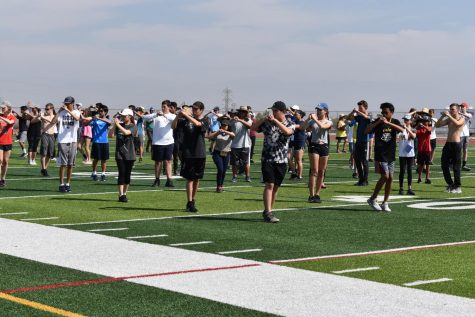 Being able to move in a synchronized manner alongside people left and right, up and down, while performing multiple pieces live was not an easy task. When the audience witnessed previous marching band shows, one would not notice how they had been up so early the day before or the months it took for them to align so perfectly. One person off in their formation could form a completely different shape than intended, which meant every step was essential.
Just by attending one practice session, the audience were able to see the ardent dedication of these students.
   Band member Harley Erickson said: "People don't really understand how hard marching band is and the amount of time we put in to perform just a 10-minute show. It's not all fun and games. We have to learn how to walk a certain way, play even if our lungs are burning, and focus even if it's 100 degrees outside."
   Erickson was right. When individuals were asked what they wished more people at West Ranch knew about marching band, the most common answer was "all the hard work it took."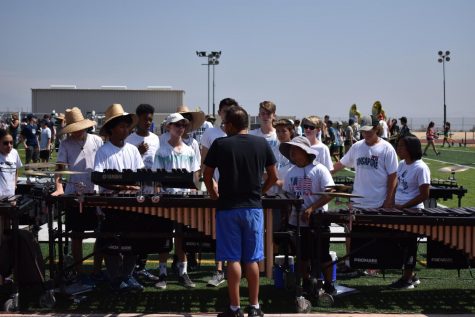 Despite the tiring environment, every single performer on that field took a deep breath and marched on, energized by an undying passion.
  "I sacrificed so much for Color Guard," said Grimes, co-captain of the color guard, "but it's not really a sacrifice in my eyes. You end up giving up so many things for the love of the sport."
   Come out on Friday to the football game at Valencia High School, Cats. Support Marching Band, Color Guard and Percussion during the halftime show. You will not want to miss "Celestial" and the ones who made it happen.