March to the Stars
Starry-lit backdrops twinkling under the lemon moon, crystal-crusted girls and boys dancing from one end to the other: For a couple of minutes, West Ranch Wildcat Marching Band, Percussion, and Colorguard brought down the sky above to the audience below through just music.
  On Nov. 3, Hart High School hosted its 35th annual Rampage Field Show — a marching band event held inside the College of Canyons (COC) Cougar stadium. From Thousand Oaks to Grover Cleveland Charter, 35 high school marching bands from all over Southern California competed first for awards within their chosen divisions (1A, 2A, 3A, 4A, 5A, 6A) then for awards overall (also known as Sweepstakes).
  Led by director Jason Marshall, West Ranch went up against other bands in the 5A division by performing its musical repertoire, "Celestial." As members lined up straight on standby near the front gates, one could completely read the fluctuating feelings on their faces even in the dark, dark night.
"
West Ranch, you have two minutes to get ready. One minute to get ready."
— Ken Marquis
  At the front stood sweating trumpet players, who slowly inhaled then exhaled, their tingling hands tightly wrapped around instruments, while behind them were the percussion front ensemble, whose feet jittered and tapped away beats of their pieces.
  Although an anxiousness filled the air, drum majors Matty Frierson, Elizabeth Gammariello and Joey Tremonti quickly erased it by making sure each and every member was in position as they shouted loudly, "'Bout to go in!"
  In an instant, backs straightened at an 180-degree angle. Mouths switched from quivering frowns to stone-cold straight lines. Determined eyes stared straight ahead, and hands smoothed out the creases on their blue and white uniforms.
  West Ranch Wildcat Marching Band, Percussion and Colorguard were ready to perform.
 As the Hart Rampage staff high-fived, bumped fists and slapped backs for good luck, the band marched onto the wide grass field before a sea of onlookers who leaned forward from the bleachers with "Oohs" and "Aahs."
  Throughout the stadium, announcer Ken Marquis blasted into a rusty microphone, "West Ranch, you have two minutes to get ready. One minute to get ready."
  The pit finished setting up the drums and synth machines; the band members aligned in their marked positions; the colorguard stuck their arms high in the air.
  At the monotone beeping of a metronome, a thunderous G-note from the brass section awakened West Ranch performers. Students' feet started to skedaddle while their fingers began to play slowly then faster. From colorguard leaping around so seemingly easily with wispy flags to the band creating shapes such as a shooting star and the word "Lunar" in cursive, "Celestial" was a grand success.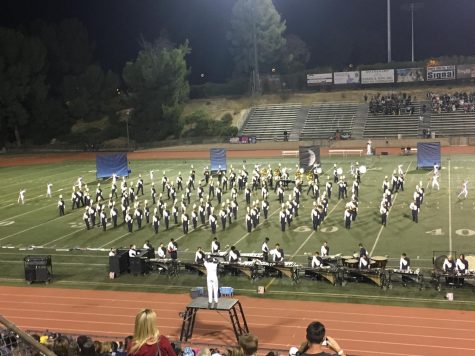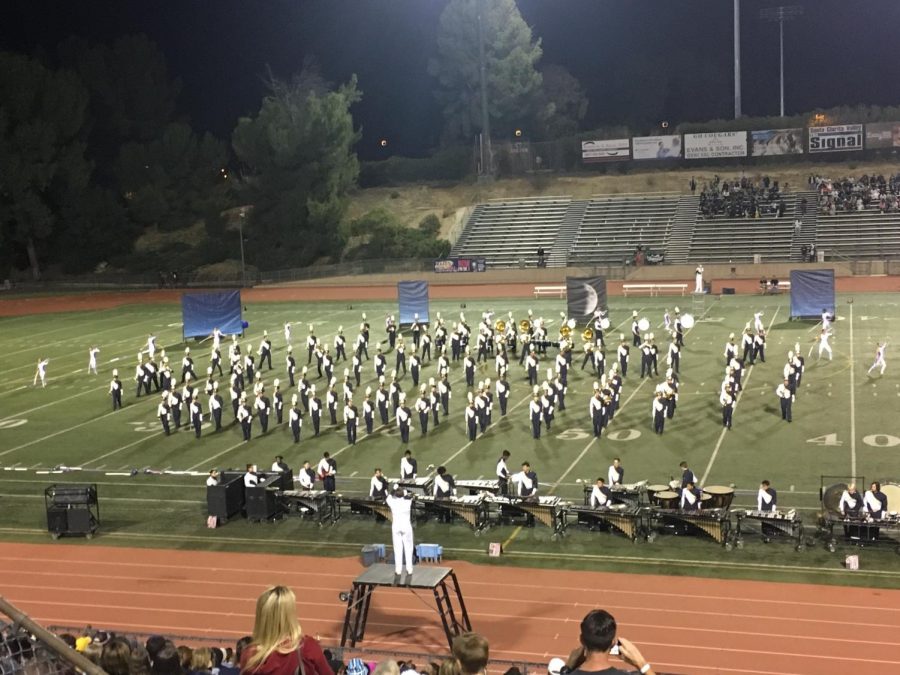 The performance received acclaim by the audience as every single person in the crowd continued to clap, gushing about the in-sync formation as well as the silver, glittery colorguard attire.
  Not only were viewers amazed, but the Hart Rampage judges were equally as impressed. After the stunning seven-minute performance, West Ranch Marching Band proudly ruled the entire awards ceremony. The students not only won first place in the competitive 5A division with a total score of 89.6, but also achieved the High Music Effect award as well as Colorguard and Percussion Sweepstakes awards.
  Overall, it was an exhilarating evening for West Ranch, and hopefully, it will continue to be so for their upcoming performances.
  Cats, be sure to support these fellow student performers in their next competition, as they head on over to Riverside King High School this Saturday on November 17 for the SCSBOA Marching Band Championships!