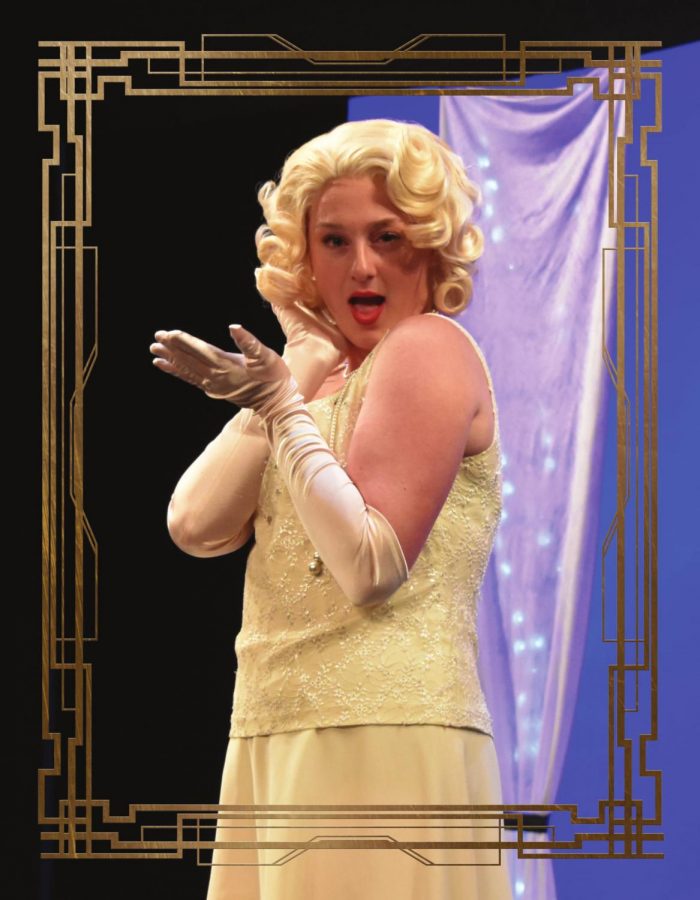 Photo by Chika Ma
  Flashy wigs, swaying costumes, projected voices and tear-jerking emotions awakened audience members to West Ranch Theater's 1920s-based production, "The Great Gatsby." Their extravagant performance took place in the West Ranch theater on November 14 to 16.
  "This play is unique in that it comes from a famous American novel that public school students have been reading for decades," said theater director Christopher Cook. "It's a fun challenge to do a play with a rich tradition in American literature. We're bringing to life these well-known characters and playing out a story that is familiar to a lot of people."
  Rehearsing inside the theater from September to November during Period 6, continuing into after-school hours as Production Week approached, these art-loving students joined together in making this first semester's performance truly come to life.
  "Actors are memorizing lines, staging, working on characterization and character relationships," continued Cook. "Stagecraft students are working all of the various aspects of set design, set construction, props, lighting, costumes and makeup."
  When watching "The Great Gatsby" for the first time, onlookers tilted their chins high and lifted themselves up from their velvet seats, enchanted by the silk-white gloves worn by character Jordan Baker, the hand-painted car built from scratch and the wavy dresses designed by senior Ayden McKenzie.
  As the production went on, the audience was drawn in by the many characters introduced throughout the show. Their lips frowned at Jackson Brundage portraying Tom Buchanan's snobbish attitude. Their eyes widened at Lauren Franco and Josh Snow playing out Myrtle and George Wilson's tumultuous relationship. From the mystical Daisy Buchanan, played by Ella Kriegel to the extravagant Jay Gatsby, played by Donald Bowen, everybody was intrigued by the talented actors and actresses who molded themselves into these new beings.
  "I love playing Daisy because she pushes me," said Kriegel. "Daisy is so manipulative in a very innocent way. She is a different person for everyone she meets, and it's been a crazy experience trying to channel each side of her. Both me and Daisy are strong women who sometimes forget that we are capable of much more than others think."
  At one point, even, during Act l, several theater lights focused on Nick Carraway, the narrator (played by Ethan Harpole) of the production. As Harpole performed a monologue, shining bright before a sea of strangers, all minds were tranced by his bright voice and superlative acting.
  To get to where the show was now took much time spent learning as well as bonding with each other for cast members.
  "Commitment to the collaborative process is what's most important," said Cook. "Theater students have to be team players and get along well with each other in order to meet our production goals."
  During their many practices, all the actors and actresses had to prepare extensively for their roles through group discussions and connecting with other members in order to strengthen and make more realistic the acted-out relationships shown live.
  "To prepare for this show, we sat down as a cast and broke down how each character functions and really got to emotional core of the show just by understanding each other," said Kriegel. "It was really beautiful to watch everyone dig into the heart of who they are."
  Due to the spectacular set-building and emotional acting, "The Great Gatsby" took spectators through a plethora of feelings from anger and resent to sadness and guilt.
  Throughout the entire show, everybody — children, teenagers, adults, elders — could not help but dive into the different situations every character was living in, whether it was the secret love affairs, the crucial social-status stress, and the painful yet truthful plot reflecting the harsh realities of life.  
  "I think it's so important to tell this story, because it's so relevant. The entire book is about how we, as humans, feel a need to be perfect around society but are so broken on the inside," said Kriegel. "I see such a connection between the facade of Gatsby's parties and the current facade of being perfect on Instagram. It's all fake."
  From start to finish, "The Great Gatsby" — West Ranch Theater's first production of the year — tugged away at the audience members even after the curtain call. Surrounding the show was a strong seriousness, a strange wistfulness that beautifully represented an agonizing love undone.