The Paw Print Reviews Eternal Atake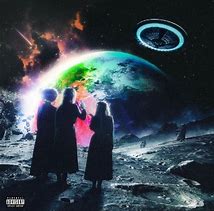 After garnering an impressive fanbase from the drop of his album "Luv is Rage" and its sequel "Luv is Rage 2," Lil Uzi Vert is back for more.
"Eternal Atake," Lil Uzi Vert's latest studio album, has been long-awaited by fans for nearly two years. After being teased in a tweet made by Uzi in July of 2018, fans eagerly waited to hear more about the album. Then, to the delight of his fans, Uzi announced in December the same year that the album was done. However, this did not mean that it would be released anytime soon.
In January of 2019, Uzi claimed that his record label would not let him release the album anytime soon and stated that he would retire from making music. This came as a shock to many of his fans that had been waiting for this album for half a year now. Luckily for the music world, Uzi made a comeback, and with some help from Jay Z's Roc Nation management, was finally able to drop the mythical "Eternal Atake" on March 6, 2020.
But when Uzi drops music, he drops it in bunches. The very next week, after dropping virtually nothing for over two years, Uzi dropped a whole new album, "Lil Uzi Vert vs. The World 2," as the deluxe for "Eternal Atake."
Do these two albums live up to the hype? The Paw Print reviewed them and gave our take.
The album is divided into three parts for Uzi's many musical egos. Songs 1-6 reflect Baby Pluto, 7-12 reflect Renji, and 13-18 are the Uzi section.
Through the first part of the album, Uzi in his Baby Pluto character moves blazingly fast, spitting bar after bar of quick, witty lyrics. The first song, "Baby Pluto," is a gem. The song is deliberately paced to build anticipation for the elusive beat drop, and it pays off when it finally comes around. Uzi then deliriously weaves between flows that mesh and play with the beat. Another standout is "Silly Watch," where Uzi makes a HARD hype song. A bass-heavy masterpiece of a beat with chantable lyrics makes this song perfect for *that one guy* to blast as they drive out of the West Ranch parking lot.
The next section, with Uzi in his Renji persona, sees the rapper ease off the gas slightly, mixing more singing in between his bars. This run of tracks also leaves Uzi more vulnerable, with a little more storytelling and emotional content. Standouts from this section include "Celebration Station" and "Prices," both of which combine otherworldly and upbeat production with Uzi's unique energy and jubilance. Unfortunately, sandwiched in between great songs comes a stretch with painfully average and boring songs like "Chrome Heart Tags" and "Bust Me." Overall, though, the Renji section once again displays Uzi's ability to elevate pop-rap to its highest form with his storytelling ability.
In the final section, Uzi performs as himself, which ends up being a mix between the aggressive, rapid Baby Pluto and the emotional, melodic Renji personalities. While the section begins with an awful feature from former Odd Future singer Syd on "Urgency," Uzi quickly recovers with the strong "Venetia," where he utilizes a hoarse sing-rap style over a playful beat that masterfully utilizes futuristic synths. Although "Venetia" is the strongest song from this section, the most interesting has to go to "P2."
The sequel to the 7x platinum classic "XO Tour Llif3" and Uzi's tribute to his loyal fans riffs off the original melodies and production while also containing new verses and lyrics. It's not as good as the original, but it is a perfect way to approach the end of the album. Finally, we see the album's two promotional singles as bonus tracks. Compared to the rest of the album, the singles surprisingly fall middle-of-the-road. However Uzi's interpretation of legendary Backstreet Boys song "I Want It That Way" is worth at least a couple listens.
Lil Uzi Vert delivers on the "Eternal Atake" hype with a focused, complete project that builds its theme more through the beats and samples than the skits scattered throughout. The production is top-notch and mixed extremely well, thanks to the collective Working on Dying as well as solo producers TM88, Supah Mario and Bugz Ronin. The young star shows his ability to carry a solo album for over an hour, with a strong mix of singing and rapping.
If anything is missing from Eternal Atake, it would be a clear banner song from the album, as the album produces many great songs but is lacking a world-class hit such as "XO Tour Llif3." It also stings to not have the Uzi classic "Sanguine Paradise," which was released as a single leading up to the album but ended up not being included. Still, "Eternal Atake" is Uzi's best album to date and was definitely worth the wait.
Overall Rating: 8/10