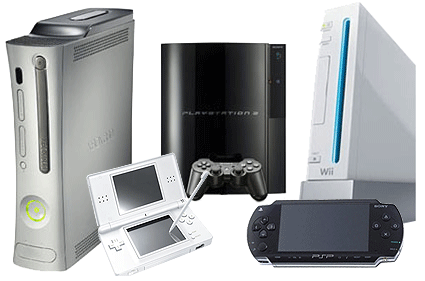 If an adult sees you playing video games they will most likely squint their eyes, frown, place their hands on their hips and say something like, "You're wasting your time."
Studies show that playing video games for more than two hours a day is in fact unhealthy for the brain, eyes, muscles, and even behavior. Though there are many negative side effects, many critics seem to ignore the benefits that video games can also provide.
Video games might sound dangerous but they can also improve a wide range of skills. They can boost one's problem solving skills, hand-eye coordination, planning and management, and multitasking. All of these skills can come in handy when in class, sports, and other activities. Many video games are beginning to provide more of an educational advantage for young children as well. Companies like Leap Frog, PBS, Android, and Apple all distribute a variety of games, apps, and websites that are sure to benefit a child's learning. Games such as "Sesame Street: Cookie's Counting Carnival – Nintendo Wii" use mini-games, popular characters, and simple directions to make addition fun and easy to learn. I find that the idea of turning a child's favorite cartoon into one's personal teacher brings great use to the amount of technology we have at our hands. These kid friendly programs turn education into an adventure that gives the child a more eager attitude about learning.
Video games aren't only helping young children with school. Colleges are offering video game scholarships to skilled gamers. Robert Morris University, located in Chicago, has adopted video gaming to their athletic programs. Now students are able to receive an athletic scholarship worth 15,000 dollars for simply playing video games or 30,000 dollars for finishing 1st in a competition. So far, 35 students have been recruited for the team. Video games might take skill but I don't believe labeling them as a sport would be anywhere close to accurate. Video games require no athleticism or muscles and are to be played slumped over in a chair.
If college isn't on your agenda and you're way past addition games, then you can always try out Youtube by streaming live while playing video games. Though it might not be that easy to make a living this way, Youtuber Felix Arvid Ulf Kjellberg, commonly known as Pewdiepie, has made millions by simply commentating on games. Born and raised in Gothenburg, Sweden, Kjellberg graduated from his local high school and later went on to pursue a degree at Chalmers University. While at university, Kjellberg realized that class time was making it hard to post videos as frequently as he wanted and made the decision to drop out and become a full time Youtuber. Starting out as a young new blogger who barely spoke English, Kjellberg is now the most subscribed and highest paid Youtuber online. The 25 year old currently has 34 million subscribers and counting, along with around 7 billion views in total. With a little sense of humor, average gaming skills, and no boundaries, Pewdiepie has made almost 20 million dollars within his four years on Youtube.
Taking the time to film, edit, and post can take hours or even days to complete but does that amount of work deserve 20 million dollars. Jobs like being the president of the United States are even making less than Kjelberg which doesn't seem right. Pewdiepie seems to be doing something correct, his fan base, the bro army, can become very aggressive and angry over any hate comments that might disrespect Kjelberg even the slightest bit which once again seems a bit unreasonable since they are just defending a man who simply posts videos online. Whether or not Pewdiepie deserves his million dollars is debatable one but one thing that's for sure is none of his fortune would be made without the power video games.
Next time someone tells you you're wasting your time just remember all the benefits video games can bring, but don't forget to play in moderation.