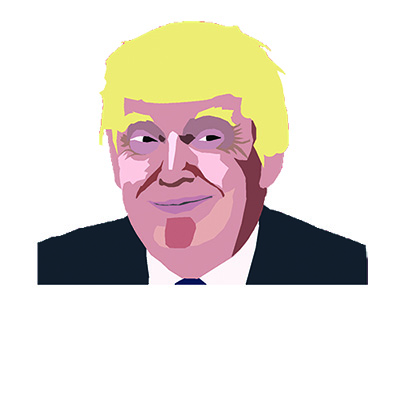 President of the United States Donald Trump has taken a break from his plush oval office chair and stepped back into the classroom — an 11th grade classroom to be exact. He decided to prove himself as an informed political figure by taking the AP U.S. History exam, a test that plagues the lives of young adults across the nation.
   As Trump arrived at his big exam, he sat down in one of the cold, fold-out chairs that lined the gym of Woodrow Wilson High School in Washington D.C. The President made it very clear that he was extremely confident in his historic knowledge, loudly exclaiming that he was "a stable genius" and threatening to have Jeff Sessions (current attorney general and go-to termination expert) expel any students who he felt did not agree with this statement.
   Prior to starting the test, Trump realized he did not have a No. 2 pencil. Unable to find one in his backpack, he promptly took the pencil of the young girl next to him. When asked why he did so, he responded, "When you're a star, they let you do it."
   Throughout the test, the President could be seen looking over at the other students' papers. When the test administrator asked him to stop, he requested to have her expelled. When she told him that she was not a student, therefore she could not be expelled, he told her that she was "fake news."
   In a series of questions that asked him to list ten of the previous United States presidents, he listed his name ten times, explaining that he was the only one that mattered. Trump was also questioned about multiple major historic events. The exam's written questions tested on eras of slavery, sexism and misogyny. All of which he scribbled "MAKE AMERICA GREAT AGAIN" directly next to. When asked who sailed from Italy and located America, Trump confidently answered: George Washington. And, when asked who made the first American flag, he answered: Betsy Devos.
   Trump proceeded to turn in his test, making sure everyone knew he was finished by closing the packet with audible force. Students who took the test claim that when the President brought his exam to the front, they witnessed Russian President Vladimir Putin attempt to take the test and give Trump an immediate 100 percent. He was unsuccessful.
   After weeks of anticipation and waiting in his room watching the gorilla channel, the results finally came. Donald Trump failed the AP United States History exam by getting a staggering 1 (the highest possible score being a 5).
   Fax News immediately blamed Trump's former running mate Hillary Clinton. They even accused her of being able to obtain the answers somehow through her private email server, stating: "None of this would have happened if we saw those emails."
   CMM Newsroom also put in their two cents. After discovering that Trump failed, its news reporters immediately called for the impeachment of the President, exclaiming that he was unfit for office.
   Some people chose to completely falsify the idea the Trump failed, despite the scantron, which showed him answering five of the 55 multiple choice questions correct, being revealed to the public.
   When asked about his poor score on the exam, Trump avoided the question altogether. He eventually sent Sarah Huckabee Sanders to clear any misunderstandings with the public.
   Sanders explained that Mr. Trump got a poor score on purpose, in an attempt to make the children feel better about their low scores. Apparently, he put wrong answers in order to not seem too smart, so he could relate to the children better.
   President Trump's venture through the AP U.S. History exam was exciting and successful. His low score tells nothing of his intellectual ability and actually proves that he is more of a stable genius than any of his fellow test takers.