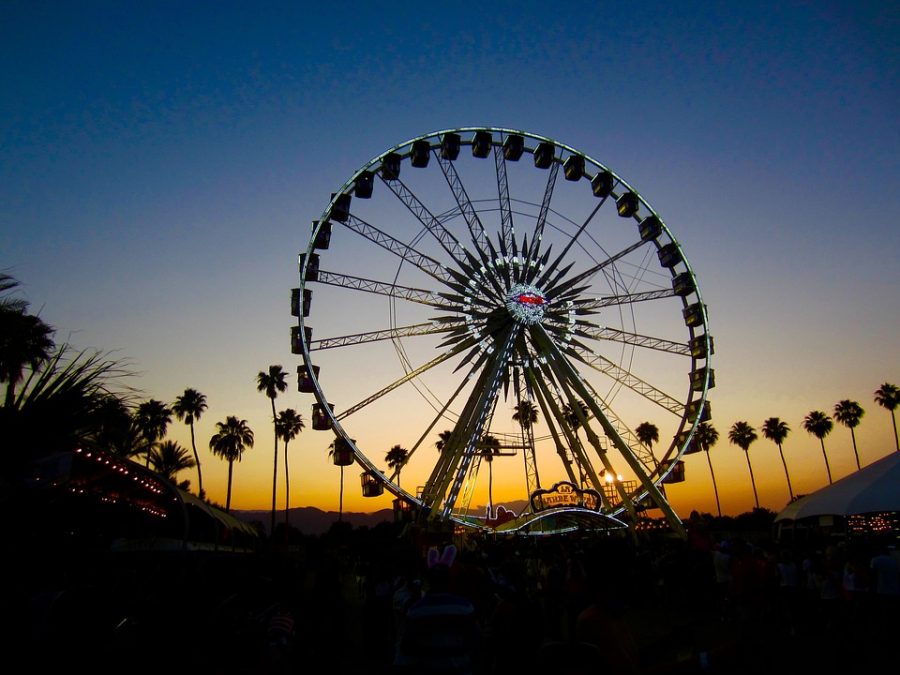 Problematic Coachella: How the Largest Music Festival Contributes to the Far-Right's Agenda
May 6, 2019
  Two weekends full of fringe, glitter, drugs and alcohol in the middle of the desert. All anyone can see in the media for the next month are articles full of celebrity outfits. It's nearly impossible to escape Coachella — it floods the Instagram explore page, occupies the entire Twitter trending page and even appears across multiple news stations. People travel from all over the country (and sometimes even the world) just to attend the Coachella music festival; Coachella is where one can wear nearly anything they want, and it's regarded as "socially acceptable."
  The lineup this year consisted of many popular artists from recent years. More than 100 names that appeared on the lineup were Tame Impala, The 1975, Clairo, Ariana Grande, boy pablo, Wallows, The Garden, Childish Gambino, Billie Eilish, Solange, Weezer, Superorganism, Still Woozy, Playboi Carti, and more than 100 more. People were excited to hear that their favorite artists were performing this year — many for the very first time — and when tickets went on sale on Jan. 4, they sold out in six hours.
  As weekend one came to a close, articles revolving around the daring outfit choices and stunning performances began to surface, one by one, just like they have done every year since the festival's beginning in 1999. One topic of conversation that never seems to have relevance for the thousands of festival-goers who escape to Indio, California each year is the ties Coachella has to anti-LGBTQ+ and pro-gun organizations.
  It has been proven — through annual tax filings — that Philip Anschutz, Coachella co-owner, has pledged thousands of dollars to controversial organizations through his non-profit, The Anschutz Foundation.
  Anschutz donated $10,000 to Colorado's anti-gay proposition 2, which was designed to overthrow state laws that gave equal rights to members of the LGBTQ+ community. He has donated to countless other anti-gay causes including The Navigators and the Center for Urban Renewal and Education.
  In Jan. of 2017, news of the donations surfaced — around the same time the Coachella lineup for that year was released — and a "Boycott Coachella" hashtag began trending across multiple social media platforms.
  Anschutz released a statement in which he said, "Recent claims published in the media that I am anti-LGBTQ+ are nothing more than fake news — it is all garbage. I unequivocally support the rights of all people without regard to sexual orientation."
  He then told the press that his foundation had immediately ceased donating to organizations with anti-LGBTQ+ beliefs and backgrounds. However, The Anschutz Foundation only stopped donating to three groups: Alliance Defending Freedom, Family Research Council, and National Christian Foundation. In the beginning of 2018, Anschutz came under fire once again when it was discovered that $770,000 was donated to organizations that have made anti-LGBTQ+ comments.
  Even with this information, the Coachella music festival continues to sell out each year. Many celebrities and influencers who attend strongly support the LGBTQ+ community, and some are a part of the community themselves. While their money is not going directly to anti-gay organizations, the money they pay for Coachella passes (from $429 for general admission to $999 for VIP passes) is going to a co-owner who donates a portion of his income to these organizations.
  The 100+ performers for the festival also preach equal rights; however, by performing at a festival where the co-owner blatantly donates to organizations going against these equal rights, they have faced a lot of backlash on social media and beyond.
  During Ariana Grande's set, she displayed a gay pride flag. While many of her supporters believed that this was a step in the right direction, many others took to Twitter and condemned Grande for deciding to still perform at this festival that goes against her beliefs and the beliefs of many of her fans.
  Displaying a pride flag does not erase all of the wrongs that the money from this festival has gone to. It also is not an act of bravery, as some said — Grande is still being paid millions of dollars ($4 million, to be exact) for her performance regardless of what occurred during her set.
  It is easy to ignore the dark side of Coachella. It is easy to show up in the middle of the desert, wearing your best and most expensive clothes and bringing plenty of spending money for food and merchandise. It is also easy to not attend the festival at all.
  Coachella's popularity is fueled by the celebrities and influencers who use Coachella as an excuse to gain publicity through outrageous outfit choices and storytime YouTube videos. The off-chance that you meet one of your favorite celebrities or the idea that you can simply tell people you've been there creates a sort of glamour surrounding Coachella. In 2017, Coachella made a record-breaking $114 million profit from ticket and merchandise sales. People love Coachella, and that is part of the issue.
  People will not stop travelling to Indio every year if celebrities and musicians still promote the festival. Musicians will not stop performing if they are offered $4 million for two performances, a weekend apart from each other. A fraction of the millions of dollars that Coachella receives yearly goes to anti-LGBTQ+ organizations, and it's time that society stops ignoring this fact.