The Future is Here: 3D Food Printing
Hang on for a minute...we're trying to find some more stories you might like.
Technology has advanced exponentially over the past decade. Inventions such as the iPhone 5s, smart TVs, and tablets have integrated its way into the lives of many. In the past month, various companies have also come up with new technological advancements that could change the lives of people in the decade to come- printable food.
Although food formed layer by layer from a printer does not sound the most appetizing, companies are looking into expanding this new type of technology. Included in this group is technology company, 3D Systems (DDD), specializes in 3D printing and has already made a contract with the well-known Hershey's Chocolate to develop printable chocolate.
The idea of 3D printing is fairly new to the world. However, over the past decade many companies have explored this type of technology by creating parts for aircraft vessels, organs from a patient's own cells, and plastic prosthetic body parts. 3D printing has also been used in West Ranch's recent Balloon Launch.
"The capsule of the weather balloon was created by a 3D printer from an industrial park in Valencia. I think it's really cool and really work out well for this experiment because the [capsule of the weather balloon] is practically indestructible," said senior Tim Norris.
The 3D printer is similar in concept to a regular printer. However 3D food printers dispense layers of thick liquid from syringes to form the desired design, or food type. The ingredients to make food include single-ingredient pastes, powders, or purees. This method of food preparation is also geared toward nutritional personalization such as including extra calcium or Omega-3 fatty acids to foods.
The nutrition personalization is a major advantage when it comes to calorie intake. Consumers can avoid the fats and calories of a steak and instead have a printed steak, which has more protein content than of an actual steak. The abundance of protein is extracted from high-protein insects and algae. Although this printed steak's protein comes from unusual sources, the steak reports to have the same taste according to a blind taste testing from Popular Mechanics.
The process of making printable food varies on the type of product being produced. Chocolate is produced by squeezing the chocolate formula onto a flat surface so that it can harden. Foods such as ravioli and pizza are produced by the syringe technique mentioned earlier.
Some companies invested in the 3D food printing industry to gain profit and corporate gain. For example NASA invested in 3D printing last year in March to find new ways to feed astronauts sent to space. Other companies such as the Systems and Materials Research Corporation believe that this technological advancement can achieve greater things such as ending world hunger and reducing food waste.
Anjan Contractor, an engineer of Systems and Materials Research Corporation, explained why the 3D printing market would be a worth-while investment.
"I think, and many economists think, that current food systems can't supply 12 billion people sufficiently," said Contractor according to Huffington Post. "So we eventually have to change our perception of what we see as food."
Companies have been developing and will soon release 3D printers to be sold to the general public.
Natural Machines will come out with their 3D food printer, Foodini, later this year for about $1,400. The printer will be able to print a wide variety of foods such as ravioli, bean cheeseburgers, cookies, chickpea nuggets, and other foods still in the process of being developed.
Lynette Kucsma, chief marketing officer and co-founder of Natural Machines, addressed the public's concern about printed food, despite the interest in 3D printing.
"We just have to get people over that hump of saying, 'This came out of a printer.' But it's nothing funky or fake. It's not laboratory food," said Kucsma according to Fox News.
DDD's Chefjet 3D food printer will also be available later this year costing $5,000 for a one-color printer and $10,000 for a multicolor printer. This printer is targeted toward cake specialists and creates intricate chocolate and candy pieces that would take hours to complete by hand.
The high price of the 3D food printer is a turn-off to many students.
"I think the idea is innovative and interesting, yet unnecessary. I wouldn't buy it because I can spend all that money to buy regular food," said sophomore Mackenna Basore.
However the high prices for these appliances may take some time to be an everyday appliance in an American kitchen. Kucsma believes Americans may learn to love 3D printers slowly, as they did microwaves. In the 1950's microwaves were not popular household items until a couple of decades after their invention.
"People were scared of it. Did it cause cancer? Was there radiation? They didn't understand it. How could it heat the food when the walls of the microwave didn't get hot? They had all these questions," Kucsma said. "Fast forward 30 years, and 90 percent of households have them."
Although the future of the 3D food printer's popularity is unknown, companies continue to invest and learn more about this new technological advancement, hoping for all the benefits it may provide for the world.
The link below provides more details on DDD's Chefjet 3D food printer to be released later this year.
About the Contributors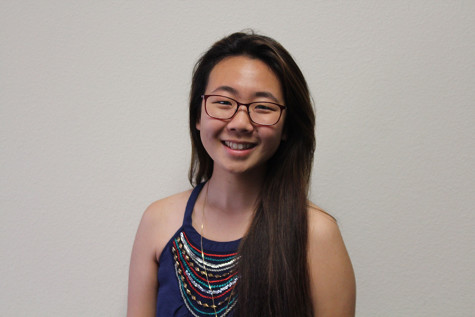 Candace Ro, News Editor
I am a lover of writing. I also like art, but I think I convey my thoughts and ideas better through writing. I look pretty typical on the outside, but...