Looking for the Perfect Volunteer Opportunities? Check this out!
Hang on for a minute...we're trying to find some more stories you might like.
As students settle into the school setting, clubs are also starting back up again. Clubs such as Key Club and National Honor Society (NHS) require students to be involved with their community. Unfortunately, some students forget about volunteering, complain that they can't find places to volunteer, or none of the opportunities suit their interests. Here's a few places around the Santa Clarita Valley (SCV) that offer valuable experiences and may help you out with your hours:
Newhall Library:
The libraries of SCV have a vast amount of tasks for their volunteers. Students above the age of 14 can participate in various activities to help the library. Volunteers can help children with their homework during Homework Help, teach others about technology as Computer Coaches, shelve or organize books, and participate in other duties around the library. Not only are there many opportunities within the library, but also it is convenient and accessible at three locations: Canyon Country Jo Anne Darcy Library, Old Town Newhall Library, and Valencia Library. Volunteers must contact Margaret Fedor, Volunteer Coordinator, for orientation and instructions prior to jumping right in to the volunteer process for the Newhall Library. Fedor welcomes committed incoming volunteers and anticipates their contributions to the library.
"Volunteers make a huge difference at the library and without them some of our projects such as Chess Club would not even be available to the public. When volunteers interact with kids, they are seen as motivators or heroes and that's why volunteers are essential. It gives me hope for the future when I see teenagers love the library or come to love it as they volunteer," said Fedor.
According to the Santa Clarita Public Library there are approximately 300 volunteers every month (most of whom are teenagers) and 16,691 hours contributed to the libraries of SCV. Students who love giving back to their community enjoy working at the library.
"I usually volunteer as a Homework Helper at the Newhall Library. I love it because all the kids are super cute, its rewarding to help children, and I meet a lot of other really cool high school volunteers," said junior Sabrina An.
Key Club urges members to volunteer at one of their Projects one of which is the Newhall Library. Newhall Library Project Chair, Sarah Park, encourages members to be involved with the local library.
"I've been volunteering at the library for four years. I would encourage people to volunteer at the Newhall Library because everyone is like a big family and the librarians are really friendly and always helpful," said sophomore Park.
Contact Information:
Newhall Library Volunteer Coordinator, Margaret Fedor
[email protected] (Approved for Key Club and NHS hours)
Website: http://www.santaclaritalibrary.com
Boys and Girls Club:
If you love interacting with kids, you should volunteer for the Boys and Girls Club. The Santa Clarita Boys and Girls Club offers a wide variety of facilities and programs for kids ages 7-17. The Club welcomes volunteers who can teach kids a multitude of subjects from piano to arts and crafts.
"It's really fun working with kids and rather than volunteering I feel like I'm just hanging out with them. Volunteering here is a great experience and I get plenty of hours needed to fulfill the NHS requirements," said junior Victoria Tandy.
The Boys and Girls Club is also a Project of Key Club and is always looking for volunteers. Project Chair of Boys and Girl Club, Allison Furmidge, loves volunteering and being a great role model for children.
"I love volunteering at the Boys and Girls Club because it's a great experience to interact with the kids there. People should volunteer here because we have so many fun opportunities to be involved in and you can make kids happy while inspiring others as well," said junior Furmidge.
Contact Info:
Website: http://www.scvbgc.org/ (Approved for Key Club and NHS Hours)
Special Olympics:
Are you a sports person? Well this is the perfect volunteer opportunity for you. Special Olympics is a sports program for disabled athletes. Not only does it provide participants with fitness and athletic competition, but also social interaction, encouragement, and lasting relationships. Depending on the season, volunteers can be coaches for a variety of sports such as bowling, baseball, soccer, swim, and gymnastics. This opportunity is weekly, depending on the season. Additionally coaches do not have to be heavily involved or devoted to the sport, however they must know basic rules, enforce safety, and have a fun spirited attitude. Volunteer coaches feel great after teaching someone about the sport they are passionate about.
"I really like the fact that I can make somebody's day through helping them with tennis. They really seemed happy when they knew they were capable of something, and I feel like I have greatly encouraged them," said sophomore and JV tennis player, Julie Cho.
Special Olympics is also a club at West Ranch and is always looking for people to volunteer and support the foundation.
"Volunteering is honestly so much fun. You get to meet great genuine people and there is no better feeling than being able to help others. It's fun to see participants be pumped up and excited because of the volunteers' support," said Vice President of Special Olympics, senior Sydney Schwartz.
The organization also provides annual events such as Hoops of Hope, Polar Plunge, and Chili Cook Offs. More information about these events can be found on the Special Olympics Website or the Special Olympics Club on campus.
Contact Info:
Special Olympics Santa Clarita Regional Sports Manager: Wendy Ellet
661-253-2121, [email protected]
West Ranch Special Olympics President: Andrew Arcilla
661-753-6656, amarilla [email protected]
Website: http://www.sosc.org/santaclarita
(Approved for NHS and Key Club hours. Stay updated for more Special Olympic events by attending the meetings every other Tuesday at brunch in Room 211)
The Santa Clarita Valley (SCV) is full of a wide variety of volunteer opportunities. Go out and sign up to be a volunteer!
About the Contributor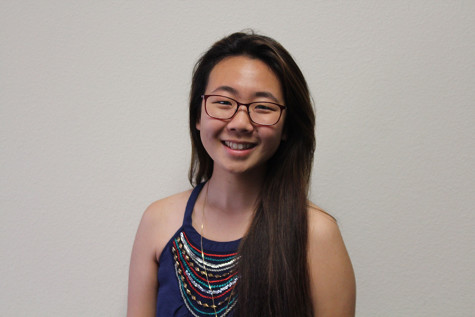 Candace Ro, News Editor
I am a lover of writing. I also like art, but I think I convey my thoughts and ideas better through writing. I look pretty typical on the outside, but...