Student Spotlight: Amaya Watters
Every animal lovers' dream is to spend their days cuddling with kittens and playing with puppies. That is what Amaya Watters gets to do every time she goes into her internship with Happy Pets Veterinary Center. Through this internship, Watters is taking extraordinary steps towards her goal of being a veterinarian. This West Ranch senior only moved to California last August on her sixteenth birthday, but made herself comfortable right away by enrolling in the ROP Animal Care and Services class.
"I had been trying to find veterinarians to intern with for two years now, but I was always denied because I'm a minor. When I moved to West Ranch I enrolled in ROP Animal Care and Services, and because the school district has some kind of special liability insurance that I'm protected under, Happy Pets let me intern there."
It seems easy enough, but everyday is "predictably unpredictable" according to Watters. Each time she walks into the center she begins shadowing the doctors and vet techs, interacting with the patients, and communicating between doctors and owners to keep things flowing in the office.
"I restrain animals as needed, reconstitute vaccines, fill and label prescriptions, walk the dogs, and feed and water the animals. I observe surgeries, ultrasounds, the results of x-rays, ophthalmology, cytology, and the handling of aggressive animals."
Because she is not eighteen yet, Watters is not legally allowed in the radiology room while they take X-ray pictures so instead she observes in other ways. By shadowing the doctors in patient rooms and observing how they interact with the owners, she is able to learn more about what she will need to do in the future as a veterinarian herself.
"This internship has helped me know what to expect while working at a vet clinic. Instead of reading about the things that veterinarians do and studying about animals, I actually get to experience it firsthand."
This practice will come in handy, though she'll have to wait before she can apply it in her own clinic. After graduation, Watters plans on attending North Carolina State University where she will most likely major in the biological sciences. She plans on having a concentration in neurobiology and physiology with a minor in genetics and tissue engineering.
"This will help me understand what's going on at the cellular level, and hopefully make vet school easier for me if I can get in. The minors are more for fun than for career preparation, although it can't hurt to know more about tissues and genetics when you work in the medical field."
When Watters isn't busy being a science genius, she enjoys playing with her two cats Mufasa and Natasha, both of which she rescued from animal shelters. Around town you can find Watters volunteering at animal shelters or riding horses. It only makes sense that being a veterinarian is her dream job.
"It combines the two things I love the most: animals and medicine."
About the Contributor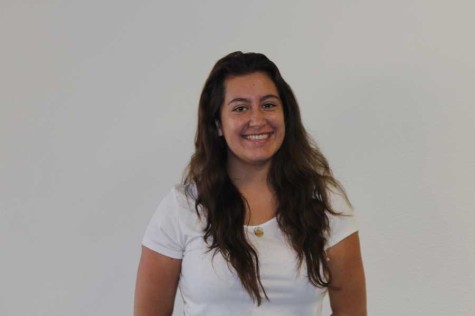 Sierra Soto, Staff Writer
Hi, my name is Sierra Soto and I'm a senior here at West Ranch. I moved here from Colorado last year and no, I don't ski or snowboard. But I do love...