Teens' Guide to Getting Their Driver's License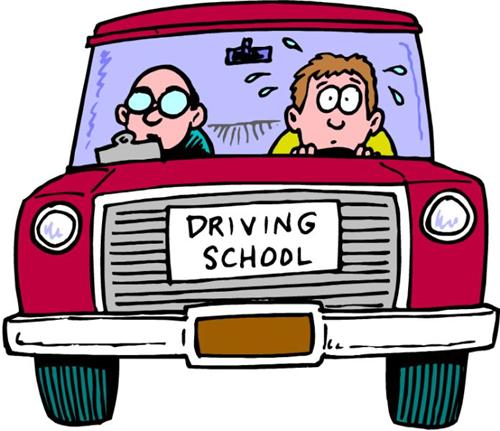 As high schoolers, we seek to reach our long-standing, most desirable goal when we become at least 15 ½ years of age: get our driver's license. Our rebellious natures stir up our desires to roam around and "hang out" with friends. We constantly ask or force our parents to take us places, resulting in a possibly bitter relationship with them at the end of the day.
"Mom, can I get a ride to Barnes and Noble?"
"No, I'm lazy. I already went out like three times."
"Ugh, Mom! Please!"
"No."
"Why do you ruin my life?!"
If this happens to you, then you are in desperate need of a provisional permit or license .
However, some of us may know little or absolutely nothing about this process. In order to become a shining light upon students, I have created this instructional guide that will hopefully not stress out everyone but encourage everyone to satisfy their wildest desires.
Step One: Prepare for your provisional permit
Getting the provisional permit is one of the basic steps before getting the actual provisional license. ("Provisional" means for those under 18 years of age).However, before receiving the permit, there is another step before that: you must complete the Driver's Education.
From my personal experience, a majority of teenagers complete Driver's Ed online. Driving schools, such as Right Way (http://www.rightwaydrivingschool.com/) and Driver's Ed Direct (http://www.driverseddirect.com/), offer a 10-lesson plan, which usually consumes 30 hours in total.
Students have to pass a mini quiz at the end of each lesson to ensure they retain the important information. At the end of the whole, 10-lesson plan, there is a final test that covers all the lessons and acts as one final step before completion.
Whether you want to get your permit as soon as possible or take it slow and wait a certain time is all up to you. The Driver's Ed training is dedicated to maintaining everyone's own pace yet guaranteeing a successful finish in the course.
Step Two: Get your provisional permit
After the rigorous online training, you will be sent home an official certificate as proof of completing the Driver's Ed course. If you really want to pass your written test, take the practice online test and practice questions scattered on the Web. Then, make an appointment, through phone or online access, with the DMV in any branch. Schedule far ahead of time. If you schedule today, there is a likely chance that your appointment will be at least one month later.
Fill out the applications which come with the certificate and bring requirements such as birth certificate and an ID. Now, you are ready to ace that harmless, 46-question written test!
Before taking the actual written test at the DMV, usually there's a long wait. Take a book or iPod with you, and relax.
Eventually, when you do pass the written test, you then receive your provisional permit. However, it is not valid until an instructor at a driving school (such as Right Way or Driver's Ed Direct) signs it off after you complete at least six hours of Behind-the-Wheel training. Fifty hours, including at least six hours from training, is required. That's where the practicing part comes in!
Step Three: Practice for six months
During the six months you have your permit, practice, practice, practice!
The state of California requires 50 hours (like previously stated above), 10 of which must be at night and 40 during the day.
Six hours with a driving instructor are mandatory. I highly recommend three lessons which are two hours each. Get this done as soon as possible!
During the six required hours with a driving instructor, you will learn officially about the parts of the car, the basic steps of running a car, and experiences of driving on big and small roads.
The instructor's purpose is to encourage and give you confidence not yell at you and tell you you're the worst driver ever.
Step Four: Take the Behind-the-Wheel Driving Test
Now, for the grand finale: the Behind-the-Wheel driving test! After six months, make an appointment with DMV again to take the driving test. Before taking it, make sure you have the required signatures (yours, guardians, and instructor from a driving school) and paperwork filled out.
Don't be nervous the day of and show the official instructor what you have learned and improved on in the past six months.
According to various West Ranch students and their personal experiences, the Newhall branch is usually a long wait. There's a 33 percent chance that you will fail your driving test on the first try. (Not really…but beware!)
When you eventually pass the driving test, you will be issued a temporary license which is valid for 90 days. Your new drivers license will be mailed to you in no later than 60 days.
Please note that all students are offered three chances to pass their driving tests. Failing more than three times will require a new application.
———————————————————-
Getting your driver's license does seem like a lengthy, time-consuming process. But it's essential in many aspects. So start now and cruise in your sweet ride. You're welcome for helping you achieve your greatest hopes and dreams.