Top 3 #WRHoCoPro
September 18, 2015
  Homecoming. The time when girls daydream about everything– from their glamorous dresses to elegant hair and makeup. It's also the time when guys put on their thinking caps and plan the perfect proposal. Whether it's silly puns or meaningful romantic gestures, our wildcats have definitely shown their creativity this year. Here are my top three homecoming proposals for the anticipated event this Saturday:
Fly Up With Me to Homecoming:
  Sophomore Savannah Schutz was truly shocked at home after a typical day of school.
 "I was so surprised when I first opened my door," said Schutz. "I wasn't expecting a thing."
  Her date, senior Michael Whitefield, had set up a banner that read "Flying up to HoCo with you would be an Adventure," and filled her bedroom with balloons, referring to the popular Pixar film, "Up."
  "I planned with [Savannah's] sister to decorate her room and had ASB make the poster," said Whitefield. "I was pumped [when she said yes]. I felt like a G."
 This couple will definitely float across the dance floor this Saturday.
 Schutz added, "I know that I am going to have an amazing night with him."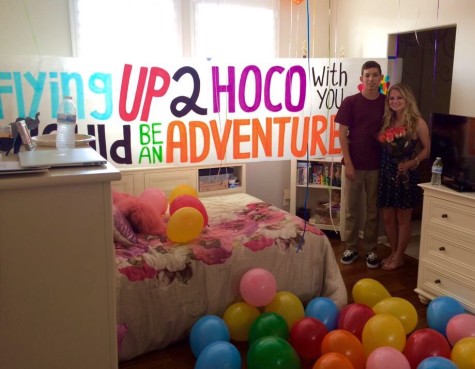 Homecoming Jason ft. Kanye
  For senior Kelly Ceniza, her HoCo proposal occurred unexpectedly after grabbing a bite to eat and returning back to campus.
  "I was oblivious. Jason put down the windows [after driving back to school] and someone was blasting 'Homecoming' by Kanye in their car," said Ceniza. "Then he asked, 'Would you go to homecoming with me?' and I said 'Yes,' and the poster had the cover of the song. For the artist, it said 'Jason ft. Kelly.' I was shocked, but in a good way."
  Senior Jason del Rosario had planned everything with ASB and his friends.
  "I was kind of nervous but I knew she would say yes so it wasn't too bad," said del Rosario. "I was pretty happy."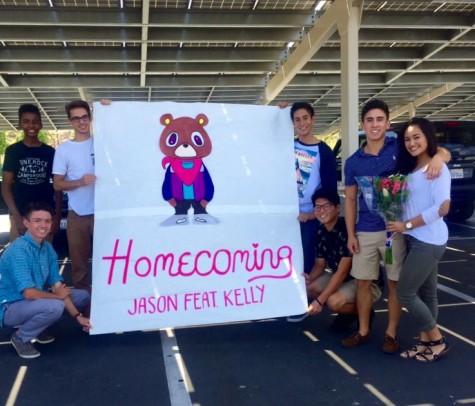 Wake Me Up Before You Go-Go
  When a favorite song is somehow incorporated into the asking, you know it's going to be special.
  "I was walking from Spanish to where I usually hang out during brunch. I wanted to buy a spirit shirt for the football game later [that night], but my friend Emily said [to me], 'No we have to go get Kayla [my other friend],'" said sophomore Christine Hernandez. "So Emily and I were walking and I looked up and saw a huge crowd. I saw Russell standing alone in front of his huge poster. If you saw what I was wearing, you definitely would know I was not expecting it."
  The gigantic banner made by ASB and planned by sophomore Russell Perez and Hernandez's close friends stated "Wake me up, before you go-go,'cause I'm not planning on going solo to HoCo," a well-known lyric from one of Hernandez's favorite songs.
  "I was extremely nervous because I wasn't sure if she was going to say yes but I thought it over and knew that she was worth rejection [if it were to occur]," said Perez. "When she said yes, I was so excited that I would be going to homecoming with such a beautiful girl."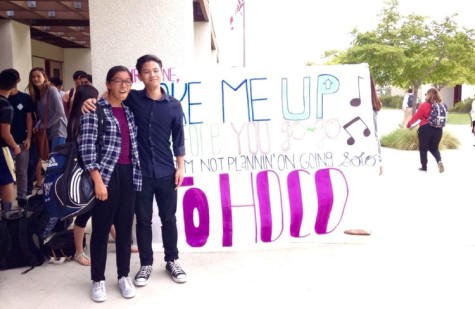 Even though many wish for a picture-perfect homecoming proposal (like the ones I have mentioned above), what really matters is the exciting memories made with a special someone or a group of friends on the awaited night. Make it a night of fun at homecoming, Cats!