We all scream for nice cream
Nice Cream– the popular terminology used to call healthy ice cream with frozen bananas as the main ingredient. This healthy ice cream has been trending all over social media and has especially been popular with vegans because it doesn't contain milk. If you're craving ice cream but want to maintain your healthy diet, nice cream is for you. Here are three delicious nice cream recipes that are super easy to make at home and all you will need is a blender. Tip: You will need a heavy duty blender to cremate those frozen bananas.
Peanut Butter Banana Nice Cream. This refreshingly sweet ice cream just needs 3 frozen bananas, 3 tablespoons of peanut butter, ¼ teaspoon of vanilla extract, a super tiny dash of cinnamon, and roasted peanuts for topping. Gather the ingredients and blend them all in a smoothie blender. Once you're done blending, scoop out the ice cream into a bowl and sprinkle your peanuts over it. This ice cream is perfect for that sweet tooth craving and has the perfect combination of peanut butter and bananas.

Raspberry Nice cream. You will need 6 ounces of raspberries, ½ cup of cashews, and 2 frozen bananas. First pur

ée the raspberries and cashews in the blender and add a desirable amount of water if needed to make the mixture smooth. Next, add the frozen bananas and blend. This nice cream will provide your body with the perfect amount of nutrients. Raspberries do wonders for your body such as decreasing the risk of obesity, diabetes, and heart disease while overall maintaining a healthy complexion and increased energy.

Blueberry Banana Nice Cream. You will need 2 frozen bananas, ¼ cup of frozen blueberries, and 1 teaspoon of pure vanilla extract. Once again, gather the ingredients and mix them in a blender until they have that creamy texture. Blueberries are considered one of the superfoods because they aid in everything ranging from fighting cancer to lowering your cholesterol.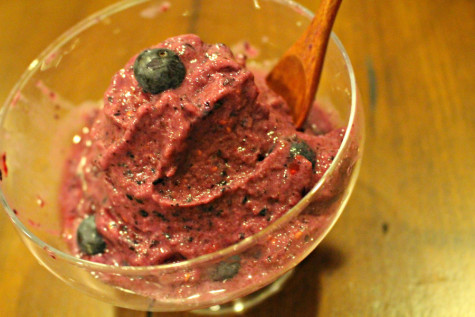 Nice cream is the perfect snack to make at home and only requires a few ingredients. Not only can you eat this delicious treat as dessert, but you can also eat it for breakfast. The main ingredient, bananas, are filled with vitamins and minerals like potassium which helps send more oxygen to your brain, helping it function better, getting you ready to start your day.