Trending Now: Wildcat Social Media
Story time Cats.
Once, I forgot my phone on a chair in class. By the time I realized, it was too late: I was home and the panic had set in. My parents weren't home at the time and all I had was my laptop. How was I supposed to call the school? How was I supposed to get up to the school in time to grab it? Would I have to go the whole day without it? Immediately I ran out of my house, without shoes on, to my neighbor's house to use her phone to call my mom and the school. After my mom drove me up to the school, I ran out of my car into the office, still shoe less, to grab my phone.
In the car on the way home, with my beautiful phone in my hand and Instagram already opened, it dawned upon me: I love my social media. And I probably wouldn't survive two hours without my phone.
This is just what our generation has come to. We see and communicate with each other through a screen. But, when you have people with accounts or posts as engaging as these ones, is it such a bad thing?
Instagram: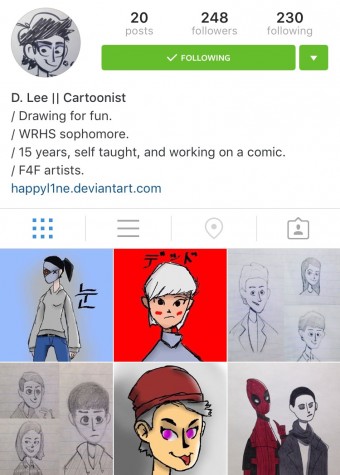 @happyl1ne: Davis Lee
In our Euro class I see him doodling. In his Spanish class, he's told to put his drawing notebook away. For sophomore Davis Lee, art is essential.
Lee has his personal account for posting pictures, but his other account on Instagram, @happyl1ne, is used primarily to share his art, whether that be a pencil drawing or a digital one.
"I was inspired to make the account primarily because I've always wanted to be well known in the art community. The art world is really competitive but I was told my style was unique and I decided I wanted to share it," said Lee.
Posting online has not only helped Lee share his art, but has helped him receive the feedback that any artist would appreciate. "I receive plenty of comments from other people, especially at school. The comments really pushed me to draw more often and share my work." Lee finds himself on his account almost everyday, and follows a quality over quantity rule for posting.
Make sure to check out Davis's account for any new art posts!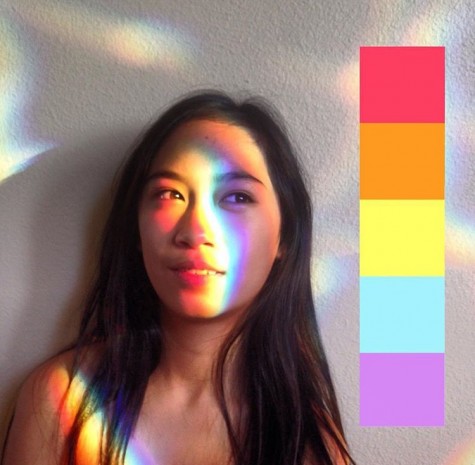 @introverting: Janelle Forbes
"My favorite part about posting on social media is basically documenting my life in little squares,
which is pretty fun," says junior Janelle Forbes.
Forbes's Instagram account has taken on a very Tumblr-esque feel, mainly inspired by other Tumblr and Instagram accounts. It features a variety of photos, ranging from people to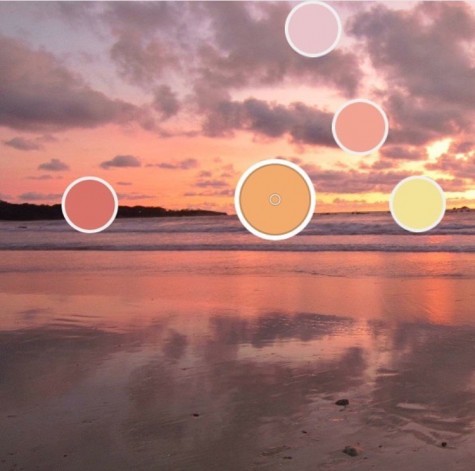 landscape. Forbes obviously doesn't
follow any certain type of theme, but all of her photos are high quality and well edited.
"I like the documenting and photography aspect to it."
Soundcloud: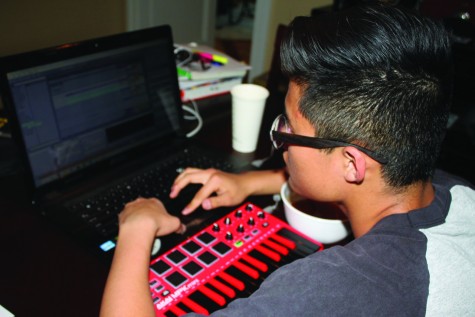 @kmchi: Daniel Lee
Sophomore Daniel Lee is known among his friend group for having multiple really random talents: backflipping, playing "Careless Whisper" on the flute, freestyling, beatboxing, and all kinds of other things. He decided specifically to put his musical talents into making a Soundcloud account, which is a platform for recording and sharing originally-created sounds.
"I've always enjoyed music and I've always wanted to produce and create something of my own," said Lee. "I guess I just hope to get the thoughts in my head out in a beat."
Lee has six tracks on his SoundCloud so far ranging around one minute to three minutes. The music he features are mostly beats that he creates with about 700 dollars worth of production tools that he decided to buy. For him, creating his own music is a lot more than playing any sheet music that is given to him.
"Sometimes music can be so constraining. Like when playing an instrument, you have to play this note at this time and in this tone and volume. But it's just so satisfying to break from that sometimes and place your ideas in the track without any restriction. I think that's what's most pleasing about music in general."
VSCO: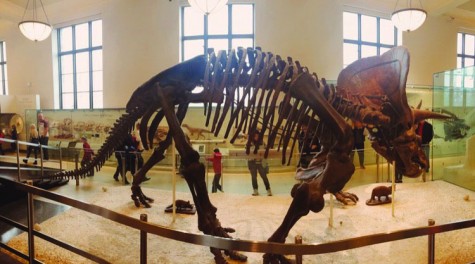 @achay: Adrienne Chang
"I saw some other VSCO accounts and I really liked the idea of turning an everyday item into a piece of art," said freshman Adrienne Chang. She started using VSCO to first just edit her photos but soon developed a liking to the photo-sharing platform. Chang posts mostly landscape pictures or pictures from anywhere interesting that she finds herself at.
"I like being able to share a picture without having to worry about how many likes or comments I'm going to get. VSCO is great for showing personal creativity and really showcasing one's perspective on everyday things."
Twitter: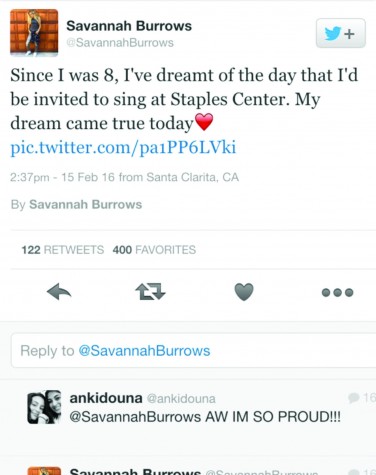 @SavannahBurrows: Savannah Burrows
"My dream since I was little was to sing at Staples Center so the fact that I got this opportunity so early in my hopeful career, I couldn't be happier. I was so overjoyed and so excited I could barely talk," said freshman songwriter Savannah Burrows. Her tweet about her found opportunity has received over 400 favorites and 120 retweets. In the attached video, Burrows can be seen just laying on her couch, "I just cried really."
Burrows received the offer to sing the national anthem at either Staples Center or the Anaheim Hockey Rink for the West Ranch Hockey championship game, depending on how the team does during playoffs. On her Twitter, friends and classmates alike came together to congratulate her on this accomplishment.
"The amount of support I've gotten from social media and my friends and family has been unreal," said Burrows "Their support mean the world to me and it truly motivates me to keep going and doing what I love to do."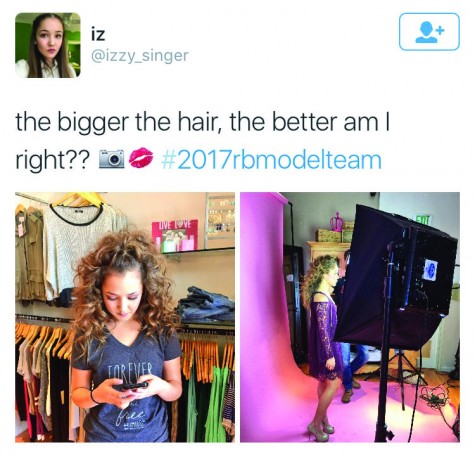 @izzy_singer: Izzy Singer
"We showed up to the salon with clean hair and no makeup on. My hair took about two and a half hours. The photographer wanted my hair to be big and the stylist definitely achieved that," said junior Izzy Singer about her latest modeling shoot for HER Boutique in Valencia. She, as well as a few other West Ranch junior girls, were able to share this experience together to support a local business.
Singer describes the event as super fun and laid back, despite how long her hair took. "All the models supported each other and the photographer let us be ourselves. I didn't feel pressured at all."
Modeling might not have been Singer's first ambition, but for her, "The experience was incredible and I would definitely be excited to do it again."