Hoco or Noco? Best of WR's Homecoming Proposals
It's that time again Cats. Homecoming is coming up on this Saturday, so bring on the sporty puns, the funny catch phrases, and the clever play-on words.
Here are some of the best Wildcat Homecoming proposals.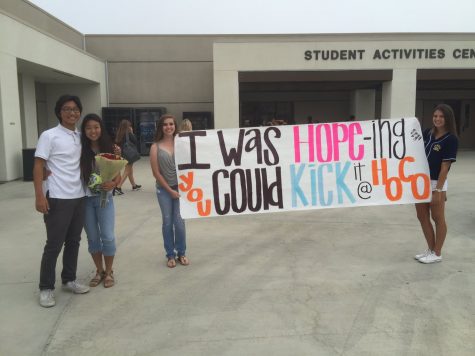 Double Points
Michael Kim (10) and Hope Hahn (11)
"I thought the poster was so cheesy but so cute and I loved it," said junior Hope Hahn. The poster used two clever puns, one being her actual name in "Hope-ing," and another in the word "kick," since Hope is a player on the girls' soccer team. You could say this proposal was the best way to kick off Hope's homecoming journey.
"I was really happy and excited when he asked because the poster was so clever," said Hope. She ran short of ideas while coming up with her own homecoming proposal pun to put on a poster, but said she'd probably use her own name in it since it's perfect for puns.
"I never realized how hard guys had it when coming up with dance proposals," said Hope.
But all in all, going to homecoming is a fun experience in itself that everyone can look forward too.
"I can't wait to get ready for the dance then go and spend time with him and all my friends," said Hope.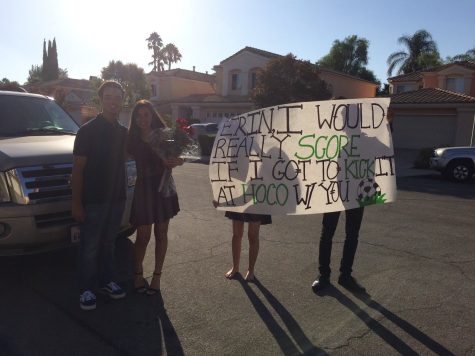 Goals
Adam Doyle (11) and Erin Keating (11)
For the first all-sporty pun, we have this play on words for junior and girls' soccer player Erin Keating with "score" and "kick." Junior and boys' lacrosse player Adam Doyle says that Erin would have made him a sports-related poster as well.
"Bri Dzyuba helped me come up with my poster and make the poster," said junior Adam, "and to be honest I was nervous. Just like anyone else would be." Adam and Erin have known each other since junior high, so Adam knew the dance would be fun alongside an old friend.
"I'm excited to spend time with some close friends and dressing up."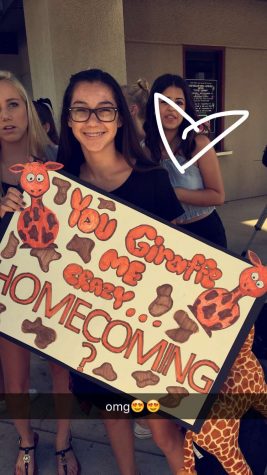 You clever… Giraffe?
Keely Graybill (9) and Nick Perez (9)
Getting asked at school was a new experience for first time homecomer and freshman Keely Graybill, who was slightly surprised by everyone taking pictures of the proposal. But in general, Keely was ecstatic to be going to the dance.
"I'm mostly excited to dress up and have a good time dancing," said Keely, "but I'm kind of nervous since it's my first time."
Her first homecoming poster, however, was a hit for Keely, who has been openly obsessed with giraffes since she was younger.
"The poster turned out really funny and it was cute. I'm glad my friend helped him make it," said Keely. If she had to make a poster for someone, she'd choose to make a pun based off of the sport they play.
Don't "giraffe" us too crazy at homecoming Keely, but have fun at your first high school dance.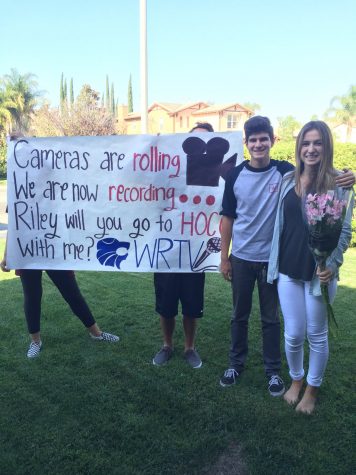 WRTV OR WRHC?
Reza Bassiri (11) and Riley Flynn (11)
"I wanted to go and decided to ask her as a close friend, but I was still nervous," said junior Reza Bassiri, who asked WRTV member Riley Flynn to homecoming this year using puns related to her work on the show. Despite being nervous, his friends reassured him of his decision.
"Tyler Allen, Bri Dzyuba, and Sammy Casey helped me come up with part of what the poster said. Bri made the poster for me and Evan Kelley helped with the design features," said Reza. The poster played on the words rolling and recording and the WRTV logo. But since the dance is coming up soon, Reza's nervousness has been replaced with excitement.
"I'm looking forward the whole homecoming setting and seeing what it's like. I'm also excited for the music and I heard there was dessert so I'm excited for that too," said Reza.
Reza said if she had made him a poster, he'd want it to say "Let's blow it up at hoco."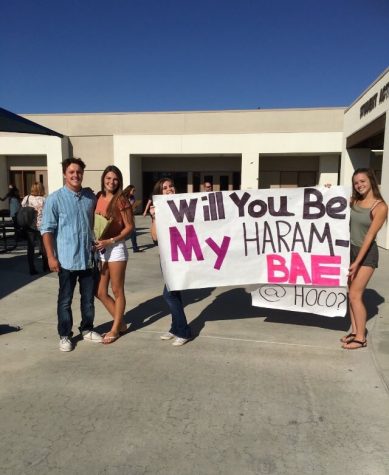 R.I.P. Harambe
Rory Mita (12) and Alexis Francel (11)
We all know Harambe, the gorilla who was shot by a frightened worker at Cincinnati Zoo after a three-year-old boy had climbed into the gorilla enclosure.
Although he is gone, the legacy of Harambe lives on throughout social media, and now, this Wildcats' homecoming proposal.
"I loved the poster. I thought it was so funny and cute at the same time," said junior Alexis Francel. This clever poster and many others that used Harambe's name quickly spread on Twitter after the proposal. But for Alexis, she was more focused on homecoming then the poster.
"When he asked me I was beyond excited. When my friends took my picture I was worried I would be smiling too big," said Alexis, "I honestly couldn't stop smiling the whole day." The homecoming proposal really surprised Alexis, who was focused on getting to class at the time.
"I'm not really sure I could top his poster," said Alexis, "But if I had made him one I would say something like 'Every football player needs a cheerleader, will you tackle hoco with me?'" Alexis is as enthusiastic as she is clever when coming up with homecoming puns.
"I am most excited to dress up and spend the night dancing with my date," said Alexis.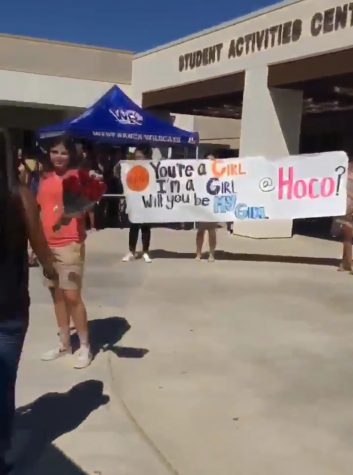 Girl Power
Kaitlyn Joiner (11) and Annabelle Zdawczy (11)
"I was honestly in shock and just so happy and excited," said junior Kaitlyn Joiner. Kaitlyn and Annabelle Zdawczy have been dating for more than a year, but Kaitlyn was still on the surprised side. She says that she had a feeling Annabelle was going to ask at school, and she was obviously very happy.
 "I'm so excited to get dressed up and go with my amazing date," said Kaitlyn. Kaitlyn sure scored two out of two with her date and her poster.
"I loved the poster and thought it was the cutest idea ever," said Kaitlyn. Many people on social media also loved the poster and the video of Annabelle asking and shared it all over Twitter.
"If I would have made a poster it would have said 'Even though I'm gay can I take you straight to hoco?' and put a rainbow on it," said Kaitlyn.
Have fun at hoco Cats!