Paradis Ice Cream Shop Review
October 27, 2016
 Just recently, Danish ice cream store Paradis opened at our local Valencia Westfield mall in the patios next to the Disney store. Their unique flavors and colorful atmosphere are just some of what set it apart from other SCV joints.
  The first aspect I noticed was the pops of red color throughout the store. The chairs, the wording on signs or the handle of the ice cream scoops all had red mixed throughout. It gave a very uniform look to the shop which was both clean, but when mixed with other colors and pictures, inviting for a hot summer's day.
   Paradis is definitely unlike any of the other ice cream places I've tried around SCV. Their ice creams and sorbets are made fresh within the last 24 hours, but most importantly to me, they have flavor combinations that will definitely make your mouth water. Choosing your flavors takes some serious thought due to variety of available flavors, from chocolate brownie caramel to orange buttermilk sorbet. Luckily for me, not many people were coming through, and the employee working was kind enough to let me sample five different flavors. Eventually, when there were almost no flavors left to try, I settled on double chocolate caramel and passion fruit sorbet. The chocolate was a perfect treat, rich and decadent with chunks of caramel dotted throughout. But when my tastebuds became a little overwhelmed, the passion fruit sorbet was perfectly light and fruity in contrast.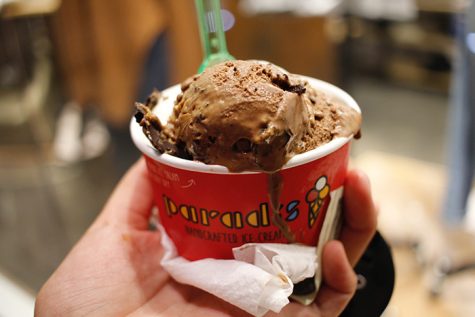 The classic strawberry, chocolate, and vanilla flavors plus sea salt caramel are all permanently in the case. However, unlike Baskin Robbins, multiple flavors are switched out everyday.
  "This is my second time coming here, and the flavors are all different from the last time, which is both a treat and a let down. I had some chocolate swirl ice cream with Oreo chunks that I really enjoyed, but I came back today to see it replaced by the chocolate caramel," said customer Eric Stanhiem.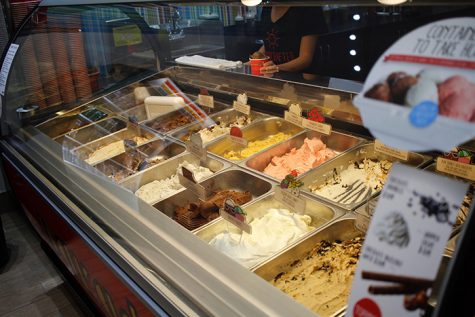 Business seemed a little slow with only one other customer dropping in while I was there. Whether it was just a school night or the word hadn't gotten out about the new establishment, I'm not entirely sure. But I definitely think Paradis has the right product and setting to become a long-standing business in SCV. It just needs some enthusiastic customers to get the ball rolling, and I recommend anyone who just simply loves ice cream to try Paradis out.