Pho Sure Restaurant Review
   Located in the Tesoro Village Plaza is a hidden gem that serves the best Vietnamese food in town known as Pho Sure. They're not only loved for their clever name but for their authentic Vietnamese flavors as well. This establishment embodies what every customer searches for in a quality yet affordable restaurant.
  One of the many aspects of Pho Sure that brings me back week after week is their diverse menu that can easily accommodate anyone's taste. From flavorful seafood pho noodles to fresh spring rolls, the possibilities are endless. Although the menu is predominantly meat-based, there are vegetarian options available. Pho Sure never fails to satisfy any picky eater.
  While it's easy to get distracted with various dishes available, a visit to Pho Sure would never be complete without their mouthwatering pho. Traditional Vietnamese pho is made with translucent rice noodles and broth fragrant of ginger and herbs. When ordering, I prefer to keep it simple and choose Pho Tai Chin or P4 on the menu. The dish is complete with perfectly cooked noodles, a flavorful broth, and tender eye of round steak and brisket. To add even more flavor, I love to add bean sprouts, cilantro, and a few squeezes of lime. For a contrast in texture, I typically order their delectable egg rolls, complete with a perfect crunch down to every last bite. This dish also comes with their tangy housemade dipping sauce.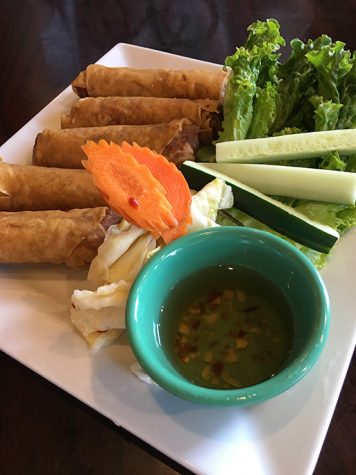 Although Pho Sure is a bit out of ways for most SCV residents, the drive is definitely worth it. Unlike most pho restaurants in town, their pho is undeniably fresh, simple, and filling. Their broth is seasoned just enough and not too overpowering.
  "We recommend Pho Dac Biet and Com Ga Roti, which is a whole Cornish game hen, and you can either have it with brown or white rice. They're pretty popular among customers, and it's a great and really filling meal," said employee Jonathan Nguyen.
  With quick and friendly service, mouthwatering dishes, and a positive atmosphere, Pho Sure is easily one of the best restaurants in town. All of their menu options are priced under $11, making it super affordable for anyone who wants a satisfying, delicious meal. Four out of four paws.