Breaking the Fashion Mold
   It can be hard to define your style in high school. You have limited resources, and there is the pressure to look like everyone else. Most students don't have a job to pay for their dream wardrobe, and even if they did, there is the intimidation of dressing differently than everyone else. Despite all of this, these students are breaking the mold.
Sydney Zepeda, sophomore
Jacket: Levi's
Top: Forever 21
Jeans: Ralph Lauren
Shoes: Vans
  Zepeda ditches PINK sweatpants for a good pair of boyfriend jeans, taking inspiration from the '70s, '80s, and '90s. Her fashion icon is Devon Carlson, the owner of Wildflower phone cases and an extensive vintage wardrobe.
  Zepeda's outfits don't resemble those of other students, but there's no denying she has style.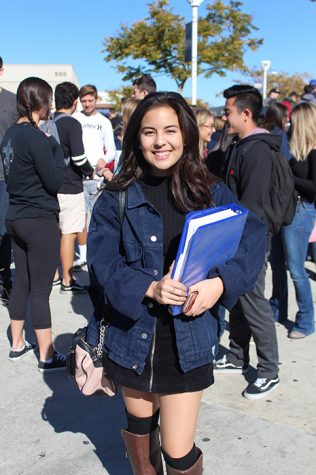 Lindsey Vergara, senior
Jacket: Dad's closet
Top: Forever 21
Skirt: Forever 21
Boots: Steve Madden
  When you look at Vergara's outfit, you wouldn't be able to guess where her jacket came from. She skipped the mall stores for her parents' closet.
  "I was really cold, so I was looking for something warm, and I went into my parent's old closet. I found it. It's my dad's jacket from the '80s." Vergara took inspiration from her parents' vintage and sentimental pieces and outfits on Pinterest.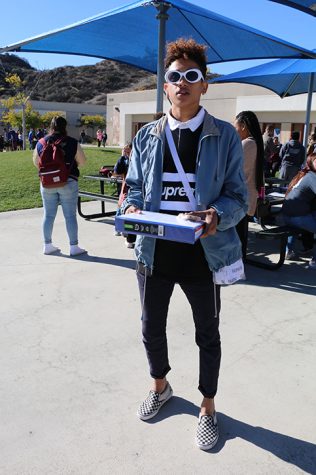 Jaden Derosen, junior
Shirt: Supreme
Bag: Supreme
Jeans: Levi's
Shoes: Vans
Sunglasses: A thrift shop
  High school boys and fashion typically don't belong in the same sentence, but Derosen breaks the standards. While it is not uncommon for boys at West Ranch to sport Supreme merchandise, Derosen pairs it with unexpected pieces: an oversized coat, a collared shirt, and bold sunglasses.
  Amidst the business of high school, these students find time to express their individuality through their style. They creatively utilize their limited resources and defy the fashion normalities of high school.