Wakefield Winter Wonderland and LA Zoo Lights
  The holiday season is quickly approaching, and what better way to get in the spirit than admire Christmas lights? To begin holiday festivities, Wakefield Winter Wonderland in SCV and the Los Angeles Zoo Lights are beautiful and affordable places to visit.
SCV's Candy Cane Lane
  Dancing santas, cheerful snowmen, and twinkling snowflakes greet you as millions of lights dazzle in the distance. Visitors stare in admiration at the elaborate gingerbread houses and animatronic Nutcracker ensembles that line the streets of the Wakefield Winter Wonderland. Families and friends can't help but smile as they stroll through the sidewalk with a warm drink in hand. Amidst the bright lights, the residents of Wakefield Court maintain a friendly atmosphere for people of all ages as neighbors exchange friendly conversation with visitors.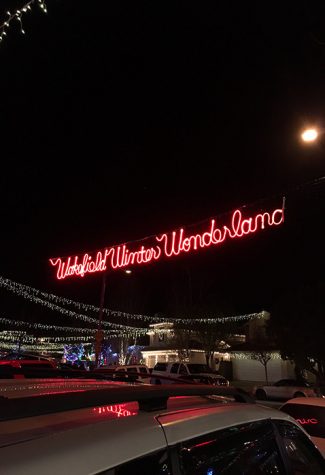 In front of each house in the Winter Wonderland, there is a plaque with lines from "Twas the Night Before Christmas." As you walk down the street, the story progresses from house to house, making it feel like a warm and loving community.
  One house is complete with a mechanical train set, and fake snow is scattered along the lawn. A jolly, inflatable Santa is smiling by the doorway. Giant candy canes line the sidewalk throughout the Winter Wonderland.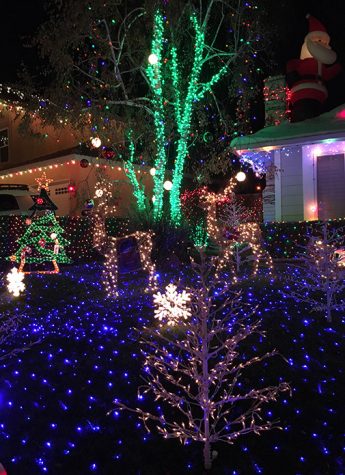 Tremendous attention to detail is evident in each light display and the residents make the Christmas spirit come alive.
  "We put up the lights together as a family. It's a tiring process, but it's worth it in the end. Everyone seems to love the lights and we love to do this for the community," said Wakefield Winter Wonderland resident Jessalyn Miller.
  With the Winter Wonderland's great popularity among SCV residents, huge crowds are inevitable. Most times, it feels like years before you can find a parking spot. However, parking a few streets down and walking to the brightly lit street saves time.
  Santa Clarita's very own Candy Cane Lane is the perfect way to spend any winter night with friends; it's free of charge, has adorable photo opportunities, and it's a great way to get in the Christmas spirit.  
LA Zoo Lights
  Although a bit out of ways for most SCV residents, the LA Zoo Lights brings holiday cheer to people of all ages. The nighttime light experience began in 2014 to lift spirits throughout the city.
  At every turn, a mesmerizing array of neon colors is found alongside the animal exhibits. Green, blue, and pink lights flash while energizing Christmas songs echo in the distance. Near the back of the zoo, a bridge lined with iridescent, rainbow lights can be seen from miles away. Twinkling Christmas trees perfectly compliment the animal-themed displays. As you walk through the zoo, it's as if you're walking through an enchanted forest. Bright lights dangle from the sky and the magic is palpable. Visitors enjoy their time and stroll around the park, appreciating everything from dazzling elephants to bright snowmen.
  "I love coming here with my family and our kids love it. They love looking at the animal light displays and it's fun to look around at the actual animals too," said visitor Maria Torres.
  The light displays are from 6-10 p.m. nightly and attract hundreds of customers. Tickets are $11 for children ages two to 12 on weeknights and $14 on weekends and peak nights. For adults, tickets are $14 on weeknights and $18 on days with more visitors. For more information, visit lazoolights.org.
  If you're looking for somewhere to spend a winter night with friends or family, LA Zoo Lights and SCV's Wakefield Winter Wonderland are stunning places to spread holiday cheer without breaking the bank.