Starting off the new year in Peru
We bring canned goods, hats, and toys to the Counseling office whenever there is a donation drive. We pass around cans to raise money for cancer research or for the homeless in our period 5 classes during the holiday season. When it comes to donation events, we often give, feel good about ourselves, and continue on with our lives. But what happens to our donations? Who takes the socks, toys, and toothbrushes we provide to their final destinations? Who waits at the other end of this donation process?
  West Ranch's very own special education teacher, Jennifer Ryan, holds the answers and experience to these various questions. While all of us were celebrating the new year with our family and friends, Ryan volunteered her time to help the less fortunate in Peru.
  "I work with an organization called International Volunteer Headquarters," said Ryan. "It's dedicated to youth in particular, and the fees I pay go 100 percent toward helping the kids. I have built up a trust relationship with them."
 This was not her first trip with the organization; she has previously traveled to South Africa twice with her 18-year-old son. However, this was her first time visiting Cusco, Peru.
   "This year I decided to challenge myself to travel internationally on my own," said Ryan.
  With the help of teachers and students on campus, Ryan was able to take a load of donations, including vitamins, toothbrushes, and shampoo, to the Peruvian people.
   "The hygiene products were so needed because the cleanliness of the facility was a little bit different from here in the States," said Ryan. "So it was really appreciated."
    Her journey did not end with just donations. She worked at an orphanage run by nuns that housed 80 adults and 25 children with significantly moderate to severe disabilities. The people she cared for were typically abandoned by their families. Ryan filled in as a temporary parent figure; not only did she spend many of her days getting to know every child one-on-one, but also helped to relieve his or her physical pain through performing therapy.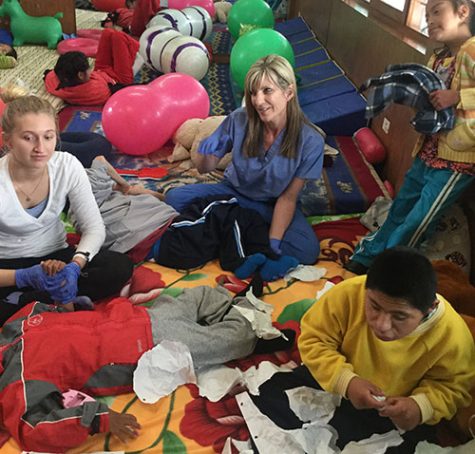 "The children that we worked with were wheelchair bound, meaning they couldn't move at all," said Ryan. "So part of the day, after they were bathed and fed, the wheelchairs would be lined up, and I would take them to the physical therapy room, take each child out of his or her wheelchair, and spend time massaging their arms to warm up their ligaments and then their joints."
  She admits that the trip was tough and uncomfortable; she even had an incident where her bag, including her cell phone, credit card, and cash, was stolen. Nevertheless, the journey was an incredibly humbling experience for Ryan.
"Being around the nuns and the workers who devote literally 24 hours a day to helping these people that have no family at all was so humbling for me," said Ryan. "It made me just think about my priorities and life even more and appreciate the life I have in America."
   Ryan looks forward to traveling again next year to wherever it may be.
   "Go to a country that is unlike America as it can be," said Ryan. "Appreciate other cultures, and don't be so locked up in our lives here. We can learn from other people if we take those opportunities."