What's inside Room 502?
Every Tuesday in the upper campus, a group of students gather around in Room 502.
 They are a unique bunch: A girl runs around with a gigantic pen, adamant on taking attendance when no one else wants to, while another one chases after her, attempting to snatch the pen away. Later I find out that they are the co-president and the vice-president of the club. In the corner of the room are the "three amigas" — calm, quiet, and eating cobb salads and sipping on vegetable broth; they watch the fiasco like it's a wild-goose chase. To my right is a loved-up couple and to my left is a member hard at work, spreading out blank post-its across the desks.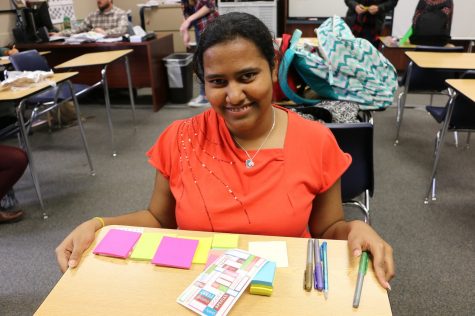 Standing there awkwardly at the center of the room, I ask myself: Who are these people?
  They tell me they are Post-It Notes Society (PINS): a new organization this year that spreads positive messages with post-its throughout West Ranch.
  "We get together and get to know each other better while making post-it notes that help uplift people's spirits and keep them motivated for the day." said member Ashley Kim.
  One person's voice raises above the others, and club members stop their conversations. Everyone quiets down, and all their heads, along with mine, turn to face the front of the room, where co-president Tresa Varghese stands with a welcoming grin for both returning and new members and explains Post-It Notes Society's main goal.
  ""With our post-it notes, we hope people realize that they should ignore the negative messages and embrace the positive aspects of themselves," said Varghese.
  She then goes over the agenda for the day, her hands pointing to each student in the room and reminding them what to do. It all seems simple — just grab a post-it from one of the desks, write an inspiring quote, a song lyric, or a cartoon, and continue to do so until the end of lunch. But each member has their own job; for Kim and her friends, they are in charge of "censoring," which is to separate the inappropriate post-its from the acceptable ones, then place them onto a different pile.
  And as I walk past the hunched backs and marker stains splotched on hands, I can't remember the Room 502 I walked into being this focused; what began as a chaotic jumble is now a masterpiece in the works.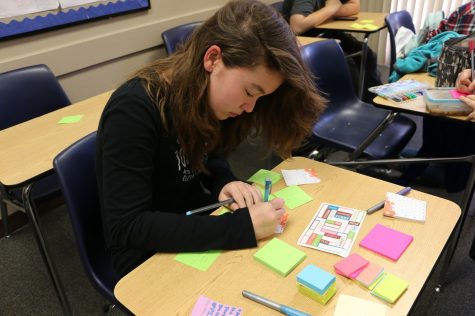 They pay no attention to me as I take notice of their perfect handwriting or their doodles etched with the tip of their pens; these people are determined to make someone happy, even if it is for a stranger.
  But why go through all this?
   "We can help create a safe environment for each other and bring just a little joy to everybody when they read the post-it notes. It's like a little personal message from somebody. Even if you don't them, you know that they care about you," said Kim.
"
I think that people compare themselves to each other a lot, and that degrades them. They sometimes need a reminder that they're special, and they matter."
— Elle Harvey
  The "three amigas" don't even touch their food; they see only their fingers as they sort out post-its into their designated areas by color. The loved-up couple is now a working machine as they pass each other a cellphone to search up quotes, and they glance at each other once in awhile to see who finished more post-its.
  It is not all serious though. Varghese along with members Maggie Forth and Phillip Suwandi laugh then cringe at a sarcastic (and definitely not school-appropriate) message that Suwandi quickly scribbles over on a green post-it.
  "Oh my gosh," says Varghese jokingly. "This is going in the trash."
  Eleven minutes before lunch ends, co-president Jasmine Ortiz and vice-president Isabella De Chicchio Sanchez collect a handful of finished post-it notes and announce they'll be going around the upper campus to tape some up, and if anyone wants to come, now is the last time.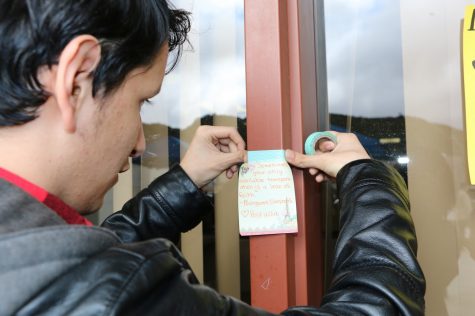 I follow them out as they run from the main entrance of the art building to the front of the library doors; Jasmine skips when she moves, and naturally, the people sitting on the benches stare at the girl holding an assortment of colored post-its, but Jasmine doesn't notice; she does not care. She is in her own world — a happy world she'd like to share with the people around her.
  By the end of the meeting, I find that everyone in Post-It Notes Society has their own reason, their own purpose for joining this club.
  For Varghese, it's a personal matter.
  "Growing up in elementary school, there were a lot of bullies, and sometimes I wasn't able to do anything, and it still haunts me sometimes. This is my way to make people feel better because I know personally that it's not nice to be bullied," said Tresa.
  You may not know of Post-It Notes Society or heard of them, but their messages are loud and clear, engraved onto the walls around us; a little bit of happiness can go a long way, and PINS will continue to spread their positivity across our campus. Now let's do the same.