Team 691
April 28, 2017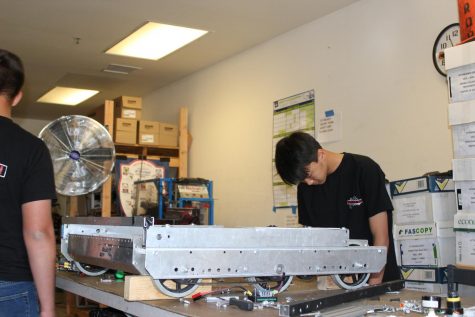 Around the time of spring break, West Ranch's robotics team competed at the Las Vegas Regionals. The team placed 22 out of 60 teams from the USA, China, and Germany, performing exceptionally well compared to how they did in the past. Their goal is to participate in at least two regionals per year with hopes to go on to Finals in St. Louis.
 "We did not end up getting into the finals just by chance. Although we were high enough that we could have," said the club's advisor, Janine Terrazas.
 While eventually, the team was able to work out the kinks, they did hit a few bumps in the road.
 "The robot ended up not working right at first and we had issues just getting to do what we wanted it to do, but again that was just a learning experience that comes with going to competitions," said president of the club, senior Andrew Euredjian. "In a sense, it's good that we had problems arise because then it's another learning  experience for all of us to go off of an get that experience."
 Our team was able to get the robot to hang, which was the last part of the competition, where the robot pulls up a rope and turns a light on at the top, and stays up there until the bell rings at the end, which they were able to do consistently by the end.
 "It was a really big deal. I mean, it takes a lot of skill and it's the first time they've been able to get the robot to do that consistently, so that's great," said Terrazas.
 However, the team had been preparing for the competition for months before the day came.
 Most kids would spend their vacation watching T.V. at home, but Euredjian said, "My winter break and probably winter break for all of these people and students here is more of a chance to do this thing without having to worry about school. It's a fun activity so it's not necessarily a chore that you have to."
 Starting after winter break, students had a six week time frame to build their robot. Once that period ended, the robot had to be bagged up and sealed. Then, students unloaded the robot the day before the competition to do practice runs, fine-tune, and tweak the robot. The competitions take place for a whole day; finals take place during the second half of the day.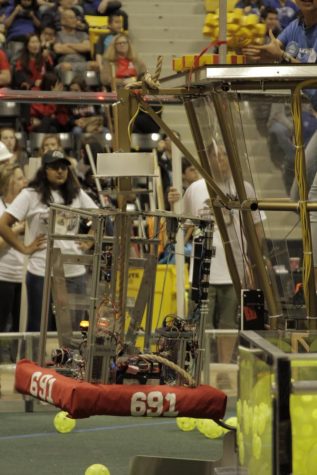 It's an overall experience for getting ready for college and for a career and also it helps them mature a bit too. Terrazas has been engaged in robotics for nearly her entire life, helping other kids realize their passions.
 "I used to be an advisor for Lego robotics when I taught younger kids. My son is very into that and has thought about going into engineering himself," said Terrazas.
 "I have always seen it in movies, and it was something that I wanted to try and I just fell in love with it," said future president, junior Tony Pala, about discovering robotics in his early years.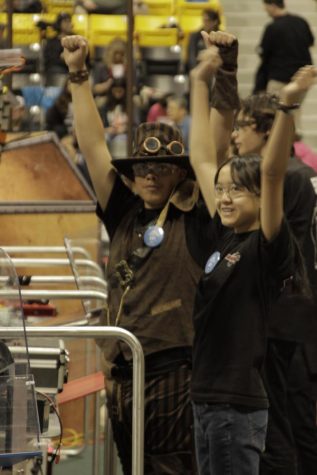 Besides legos and movies, people have found more reasons to pursue robotics.
 "Actually, my father was an engineer, so it's interesting to me, and I think robots are pretty cool. Parent mentors are the ones that work their butts off to help the kids actually learn robotics," said Terrazas.
 One of the parents, Peter Onesti, is a Systems Engineer for Medtronic Diabetes for 20 years in Northridge, who also served as a lead mentor for five years for the First Robotics team hosted by West Ranch, Project 691.
 "I do robotics because it gives me the opportunity to use and share my skills as an engineer, and to fulfill my desire to teach. I can't imagine doing anything else; it would be like transfusing my blood with someone else," said Onesti. "It also provides me with an opportunity to help young people learn about engineering and math and science in a way that is constructive and engaging, with the hopes that one day they will continue to extend today's technological advances."
 Parent mentors act as guides for the students. This is accomplished through trial and error. They work with the students to develop a hypothesis to solve and problem, and then they test it.
 The benefits of robotics are coming to light in many fields that students at West Ranch are beginning to take a second look at. Robotics is a median, a tool to learn science and technology in a fun and engaging way. It's the robots and their limitations that help us to understand the physical world around us.
 "For sure, robotics are the way of all of our future. Cars are starting to drive themselves. One of the parents is involved with a team that is building an artificial pancreas for people with diabetes, and that's in the last few months. Just recently, they've been starting to give that to a few people," said Terrazas. "Having this level of competition starts to get scholars' brains really working in that direction. A lot of kids that are in the robotics team end up going into that field, into engineering, getting jobs at NASA."
   Making connections early in high school is definitely a smart move for future endeavors. Big scholarships are available through this program so a team that can build great robots and great alliances can go quite far.
 "At our last few years events we were able to build alliances and friend networks with students from Germany, China, Australia, South Korea, Chile, Canada, Egypt, and so many from the USA. There is no other program out there where you can get this kind of enthusiasm and exposure," said other lead parent mentor John Woodworth.
 Amy Phung, a senior at Learning Post High School, has been on the Robotics Team for two years, where she's been able to explore her passion for science and engineering, but also appreciate a group setting where everyone can learn more about their interests together.
 "Robotics has taught me a lot about stuff relevant to becoming an engineer, covering almost everything from programming and CAD to the electrical and mechanical aspects that go into building a robot. The hands-on experience has also been a plus, and I'd highly recommend it to anyone interested in becoming an engineer, or anyone willing to explore the STEM fields," said Phung.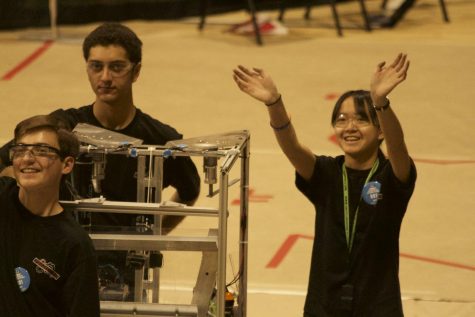 The team also has a spirit and business subteam that specializes in things like getting sponsors for our team and promoting our team through demonstrations and social media, so even if you aren't particularly interested in robotics, there's always other skillsets outside of STEM that are valuable for the team.
 Anyone interested in joining the team can do so through their website team691.org. On a regular basis, the team usually meets Saturdays from 9 a.m. to 12 p.m. Students may invest as many or as little hours as they'd like–the more hours you invest, the more you will learn.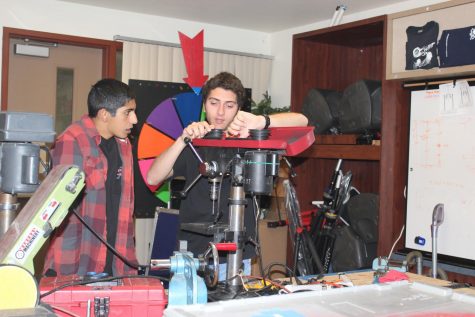 "I don't really think of it as giving up my Saturdays. It's more of just doing something exciting. What makes me come is that I love it. It's fun solving problems and learning new things," said Pala.
 Congratulations to the robotics teams on their accomplishments!