Tori and Rachel Capture the Moment
They say a photo can convey a thousand words. That's a lot of pressure to put on two aspiring photographers, yet they pull off seamless feeds and artsy photos with ease. Meet Tori Crews and Rachel Dyer, two upperclassmen with big dreams and big cameras. The moment we first saw their Instagram profiles, we instantly fell in love with their Brandon Woelfel-inspired feed. Every picture was purposeful and cohesive yet told its own unique story.
When Crews first approached us, her freckled complexion beamed and it was clear she was excited for the interview. Dyer came soon after her friend, just as eager to share her love for photography. However different these two best friends may appear when side by side, their love for photography is one thing that they undeniably have in common.
They first delved into the world of photography for different reasons, but they are equally as passionate. "My uncle is a photographer and he shoots weddings and all of that," Crews gushed. "I thought it would be really cool to try and do that as well. He's beena big encouragement in my life, so I just picked it up and started doing it." On the other hand, Dyer found her passion through her grandmother, who bought her the camera that started it all.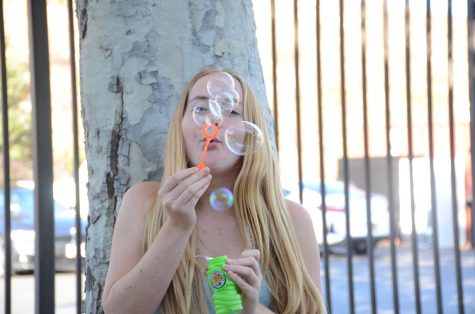 Crews has been involved in the photography world for a bit longer than Dyer. Starting last Christmas, she began to grow her Instagram and even started her own small photography business, Cherry Blossom Memories. She has had photo shoots with around 15 people, and most of her photos are uploaded to her website, documenting everything from her prism photography, to travelling, to her individual shoots.
Dyer is newer to the photography game, having started her own Instagram account two months ago. However, her brand is growing quickly and she is already making name for herself. She loves to take photos of her friends, and every shoot shines a light on each subject's individuality.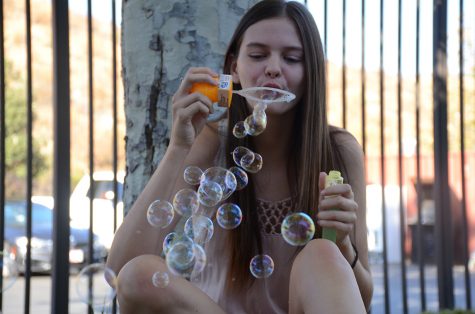 Every photographer has a unique flair, and these girls are no exception. They each portray a different theme through their Instagram feeds that allows their artistic licenses to shine. Crews's feed is a mix of nature and personal portraits with props and similar tones. Dyer posts several different photos from the same shoot in a row creating a subtle gradient down the feed with the colors.
"I like taking pictures of really anything. I started out doing landscape, like flowers and that kind of more macro photography, but now I've been getting really into portraits, so I've been really enjoying that," Crews beamed.  "I try doing portraits a little bit different than your average headshot by using lights and other props."
Dyer nodded and went on explaining, "I like taking mostly landscape pictures. I'll go on Jeep trips, or camping trips with my family, and take pictures of the scenery. But I take pictures of a little bit of everything and whatever I find interesting."
We asked them what their secret is to give each picture a unique trait while maintaining a cohesive style.
"Photoshop!" they exclaimed in unison.
"I'll look up a bunch of different ideas, too," Crews added. "I try taking some of other photographer's ideas and making them my own. So you combine string lights and anything you have, and try making it your own the best you can while making the style different."
"
Keep trying. Trial and error. Go out there and if you really want to do it, do it.
— Tori Crews
When asked to offer tips to photographers that are just starting out, the pair was eager to oblige.
"Keep trying. Trial and error. Go out there and if you really want to do it, do it," Crews responded. "You just have to keep going and try and experiment and fail."
"Don't be discouraged if you don't get the kind of picture that you want right away because it does take a lot of practice. Sometimes it takes 200 pictures to get three good ones," Dyer agreed. The two also added with a laugh that YouTube videos are their secret weapon to learn to edit smashing photos.
These two best friends may have their own unique feeds, but it is clear that they are a great influence on one another. "We've been helping each other out for the longest time now, so both of us kind of rub off on each other. I really like how we're both able to help each other and grow each other's styles," said Crews with a smile.
"Yeah, I like how we both can bounce ideas off each other," Dyer chimed in. "We'll go out to LA and take pictures of each other, helping each other think of different ideas or styles that Instagram hasn't seen."
At the end of the day, people will never see the countless shots it takes to get one perfect photo or the pains of getting perfect lighting and poses. So why do these photographers stick with a hobby that takes so much work? Maybe it's the desire to produce something you're proud of. Maybe it's the joy of capturing a moment you'll never get back. Every photographer has his or her own reasons for this passion, but regardless, it is one that brings pleasure to the eye and joy to the soul.