Freshmen on Varsity
Freshman year is arguably the most nerve-wracking year of high school. Sports tryouts are often on the forefront of incoming students' minds as they simultaneous try to adjust to an entirely new school while practicing diligently to earn a spot on a team. Most freshmen would be happy to secure a spot on any team, but a few exceptional athletes have accomplished a something that few have managed to do: make a varsity team. Rachel Watler, Paige Harrison, Shaira Busnawi, and Ryan Meaney are four freshmen who have soared past the status quo and made the varsity team for their sport.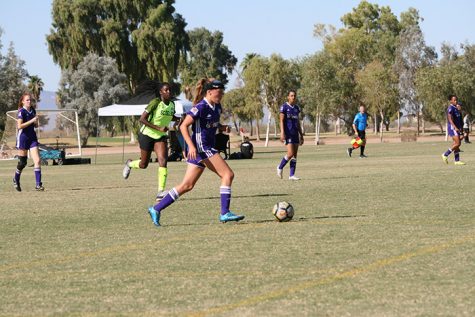 Rachel Watler has been dribbling, passing, and shooting soccer balls for 11 years. While most of us at four years old were still in Mommy and Me classes, Rachel was chasing down balls on the soccer field– the making of a future star. This is no surprise, however, because soccer runs in the Watler family. "I loved the sport instantly and grew up on the sideline watching my older siblings play. I also gave up other sports to pursue a higher level," says Watler. Soccer is not for the faint of heart, but rather a competitive, physical, and non-stop sport that requires both coordination and speed. After making varsity soccer her freshman year, Rachel plans on continuing to play all throughout highschool and into college. She plays the defense position on both her club and high school team. The pressure doesn't get to this young female athlete as she remembers what a coach once told her: "Just play the game like you know how to." Rachel is only one of a select group of freshmen to make varsity soccer in West Ranch history, and it is clear that the pure talent in Watler is something that other schools better watch out for.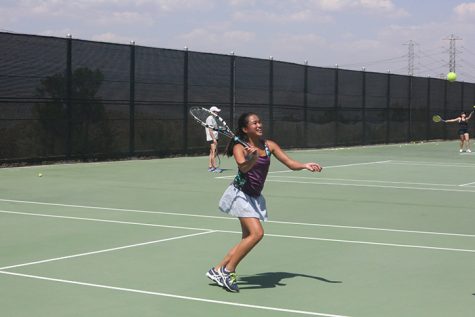 In a different part of campus, another young athlete is showcasing her skills through her love of tennis. Shaira Busnawi is an outstanding freshman who impressed coaches and West Ranch players alike as she took control of the court with ease. She first picked up a racket six years ago at the age of eight, but tennis didn't become her focus for a few years. "At first," she explained, "I was playing tennis as a hobby and mainly playing golf, but after my dad signed me up for tournaments I began to love it! I did really well and I loved the competition." Ever since then she has been working diligently to master all different aspects of the sport. Believe it or not, even the most dedicated athletes get the familiar sweaty palms and nerves that come before tryouts. Although she was nervous, Shaira simply needed to remind herself that she had practiced countless hours in hopes of fulfilling her goals. If she could get on the court and play just like she practiced, she'd be fine. Although it might sound daunting to earn a spot as the only freshman surrounded by competitive upperclassmen, she lit up when asked about her teammates. "Playing with them is a super fun and great experience. I love playing with people who are older and meeting new people with similar interests. We all have tons of team spirit and always cheer each other up," she beamed. Not only is Shaira thriving on the court here at West Ranch, but she would love to play tennis in college and grow throughout the upcoming years on campus as a player and a teammate, meet new people, and be welcoming to anyone who wants to try the sport. All in all, Shaira is loving the competition that the tennis team has to offer and is extremely excited to keep pursuing the sport during her years as a Wildcat.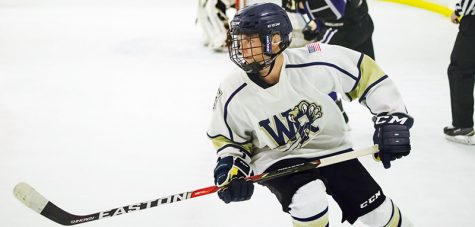 While you can find Rachel and Shaira showcasing their talent on campus, another freshman is busy shooting hockey pucks at the Ice Station. Ryan Meaney is an impeccable freshman athlete who successfully secured a spot on the competitive West Ranch boys hockey team. It's no secret that the sport is one of Ryan's greatest passions and his feet have been in ice skates since the age of nine. Just like any other dedicated athlete, he was a man on a mission and practiced with varsity players last spring to evaluate how hard he needed to work to join them in the upcoming year. His hard work clearly paid off and he is now a valuable asset in a group full of upperclassmen.  If you've ever watched a hockey game firsthand, you know that teamwork is one of the most important aspects to a successful game. Thankfully, he loves the atmosphere and players that the varsity team has to offer. "It's exhilarating because I get to play with others that have a lot of experience to help me play my best," Ryan explained. "The more experienced players provide excellent leadership for the team." Not only does the talented freshman love his team, but he more importantly adores the sport that has brought him close to them. He happily revealed that his love of hockey is derived from the aspect of team bonding and working towards a common goal that is so crucial. "There's never a dull moment in hockey," he continued, "and you're always on the move. There's always a pass to be made, a shot to be taken, or a play to be executed." Ryan doesn't only view the sport as a hobby but instead wishes to pursue it for many years to come. He plans to use his current accomplishments as a stepping stone to pursue hockey at a collegiate level and use all the knowledge he gains in his four years at West Ranch to help him grow as an individual and athlete. When asked to give any advice that has helped in throughout the years he said, "just work hard and focus on your goals because everyone has their own goals. There's no replacement for hard work and the only way you can get to where you want to go is by working hard for it."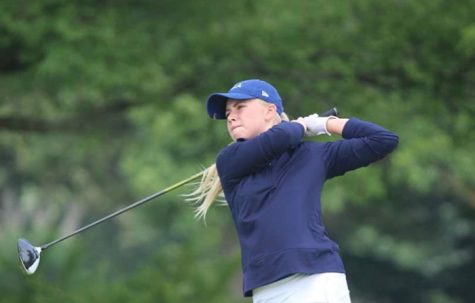 Across town, another freshman is making a name for herself on the golf course. Paige Harrison has been playing golf since she was seven years old and had a knack for the sport early on. "There is so much I love about playing golf, but I love it so much because of the places it has taken me and the people I have met through it. I also love that it is an individual sport, so it is always up to me on how good I want to be." Playing competitively is nothing new for Paige. Since the age of ten she has been viewing the sport as something serious rather than a mere hobby. Knowing the varsity coach gave Paige some comfort going into tryouts, but even after making the team she definitely feels the pressure to live up to the expectation of winning. But thanks to her welcoming teammates, Harrison is thriving on her varsity team. "We have all become really good friends and I think that has really helped us play better as a team in all of our matches." She hopes on improving throughout this season to place well in the 2018 National Tournament. After high school, Paige intends to play for a D1 college and then pursue it as a career. While it may seem daunting for talented athletes to compete against one another, Paige lives by the mantra that "hard work beats talent," as told by her coach. Paige's one piece of advice to any other athletes is that "if you really love your sport, practice it will all your heart, and it will take you places."
  As hard as it may be to even make the freshman team of a sport, these four athletes have pushed the limits of what is expected of freshman and proved that while freshman may be new to West Ranch, they are no strangers to the sport they so clearly excel at.