Shake it Up
Located in the heart of Hollywood, the Shake Shack is a self-proclaimed "modern version of a roadside burger stand." All you need to do is follow the pink stars to Hollywood Boulevard.
The first thing I noticed was the contemporary building and illuminated name. Fairy lights added a nice twinkle to the outdoor seating section. I went at night, and the chilly weather was luring many indoors. However, I was pleasantly surprised to find that heaters were situated outside and never shivered once.
If you've heard of the Shake Shack, you've probably also heard about the aggravatingly long lines. There were about five groups in front of us, but we ordered in less that ten minutes. A staff that's quick yet still friendly? Score.
The menu is what you would find at a classic burger place, only with more options. There are a variety of burgers, and even one without meat for our vegetarian friends. Chicken burgers are also available. My parents ordered the ShackBurger: a cheeseburger with lettuce, tomato, and ShackSauce. I opted for a hot dog. Both options were delicious, full of flavor, and, needless to say, did not disappoint.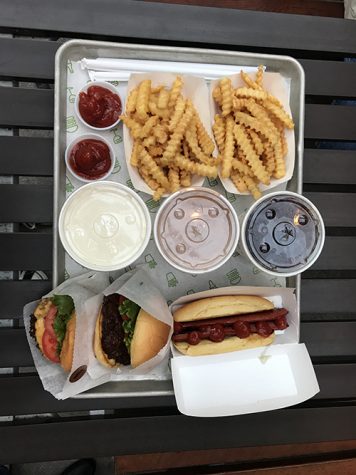 Ice cream, floats, malts, and custards are some of their dessert options. Of course, with a name like Shake Shack, we had high expectations of their milkshakes, offered in a multitude of flavors. They definitely delivered. My milkshake had a creamy texture and rich vanilla taste. It was thick, but easily flowed through the straw. If I held all my milkshakes to the standard of these ones, I would be constantly disappointed. Adding some warm and salty crinkle-cut fries was the best way to finish off the meal. And we definitely finished it. Is your stomach growling yet?
The food was reasonably priced, at $5.55 for a single burger, $3.29 for a hot dog, and $5.79 for a milkshake. We ordered two orders of fries, which was a good amount to split. Food for all three people in my family was about $30.
If you're out and about with friends and family and crave a tasty meal, or simply want to check a touristy restaurant stop off your bucket list, Shake Shack is the place for you. Make sure to check out the other locations in SoCal, too, like Glendale and West Hollywood.