Inktober: Noah Chang
October 31, 2017
For most students, the word "October" immediately evokes thoughts of striped candy corn, fluorescent pumpkins, and children clad in ghoulish costumes. For Noah Chang, however, October takes on a different meaning. It is a month of growth and daily practice. It is a month of ink.
Noah, a senior at West Ranch, can be identified by his hair which is constantly bound in a ponytail underneath a variety of hats. Today, his green hat is adorned in embroidery.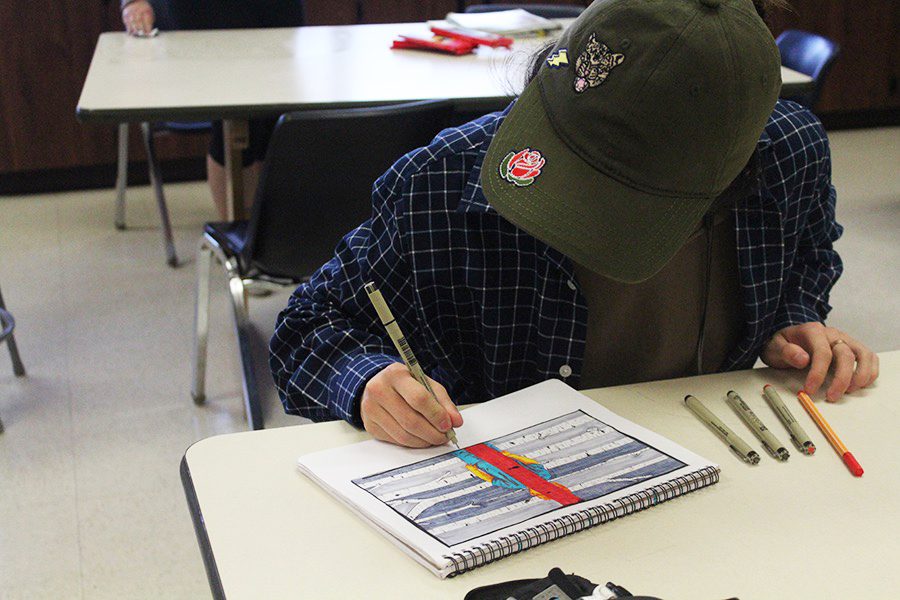 Inktober was first started in 2009 by Jake Parker, an artist who initially began the initiative as a challenge to help improve his drawing skills, specifically using ink. Today, it has evolved into a movement attracting artists from all around the world with over a million posts on Instagram. These artists respond to daily prompts, such as "shy" or "mask," and use ink as their sole medium to create something beautiful. Their creations are often shared on social media giving these artists an opportunity to portray their work, while also encouraging fellow creators to join the initiative.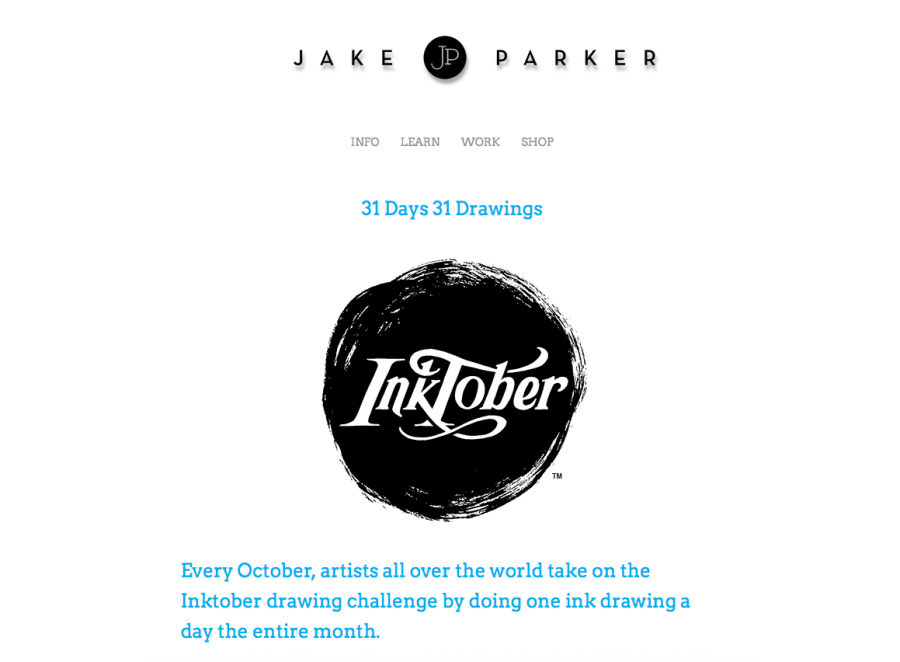 It is through Instagram that Noah first heard about Inktober. He's been doing it for three years now, and although he has yet to complete an entire month, he is confident that he will finish all prompts this October.
"It definitely gets a little bit easier every year you keep doing it just because you develop more as an artist. You develop more of a style, and you build upon your experience with previous projects," said Noah.
Inktober has given Noah a chance to refine techniques he found difficult three years ago.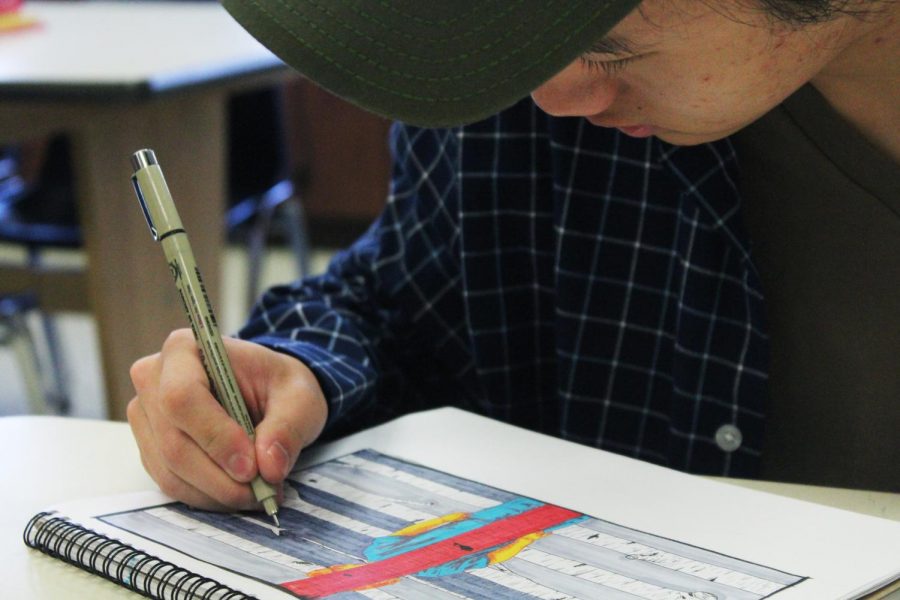 "I've grown in every single way imaginable. Conceptually, technically, it's just it's like looking at your handwriting from Kindergarten and then looking at it now," said Noah. "It's a little bizarre. I used to not be able to shade at all with ink, cross hatching, stippling. I could not draw parallel lines to save my life, but you know it comes with practice to be able to do more things."
The initiative forced Noah to not only become more familiar with pens and brushes as a medium for his art, but also the challenges that come with time constraints and finding inspiration to draw every day. He finds inspiration in the ideas or images that he encounters throughout the day and tries to find ways to make them more interesting or powerful. Noah's favorite artists depend on his mood or what he's creating.
"Today I'm thinking about Stephen Whisler and Sabine Reckewell and Hung Lui. Tomorrow it might be Alt-J, or Warhol, or Smith, or Sultana, or Ramirez, or Rauschenberg."
Of course there are challenges that come with investing time creating every day, especially with the demands of schoolwork. Sometimes what he intends to only be a fifteen minute sketch can evolve into a two hour endeavor. But, Noah enjoys the challenge. He enjoys serving his "master" and pen, the Micron Pigma 03. He shares that the most difficult prompt this year was for day 6: "sword." It was the most technically complex piece he's done so far. Paradoxically, "sword" was also Noah's favorite prompt.
"I find that the more time I spend on a piece, the more I enjoy making it," said Noah. "It's interesting because for most things, the more time you spend on it, the more frustrating it is. But, I think there's something to say for that component of art-making in which the longer you spend on a piece and the more you invest in it that makes it worth doing and that makes you enjoy doing it more."
And through pieces like sword, Noah has not only been able to demonstrate his artistic prowess, but also his unique style. He describes his work as "esoteric." It's personal to him and is an abstraction of how he interprets the world, although others may not view it in the same light.
For those who are interested in trying Inktober next year, Noah imparts simple advice.
"Put restraints on yourself. Fifteen minutes to a sketch, schedule a rotation of tools– fountain pen one day, ballpoint another, markers and ink wash and different shaped pen tips those following. Play with colors and really, really blow the prompt open. Inktober isn't about making masterpieces for your portfolio, it's about building skill and positive habits and creativity. It's a challenge, a game, a marathon in which you're the only runner."