Fresh(ie) Blood Takes Over the Turf
November 2, 2017
  Focus, line up the shot, swing, repeat. The only thing heard is the breeze as Zoe Campos sends the ball soaring through the air, landing on the green. Ever since Campos was young, golf has played a major part in shaping her life. She is a freshman who, unlike most students her age, already has a spot waiting for her in her dream college because of her beloved sport.
   "Golf competitions are my addiction; they just bring the best out of me, and I love it," said Campos.
  The University of California, Los Angeles started contacting her about her golf career when she was in seventh grade. Now a high school freshman, Campos has committed to UCLA on a full-ride scholarship.
  "The University of Arizona was also interested in me, but UCLA has always been my dream school," explains Campos.
  Despite the common impression that Campos now has more weight on her shoulders, she feels that some of the pressure has been lifted.
  "It feels really good since I got it out of the way and can focus on golf, and I feel like I'm not just playing for myself, but I'm also playing for UCLA," said Campos.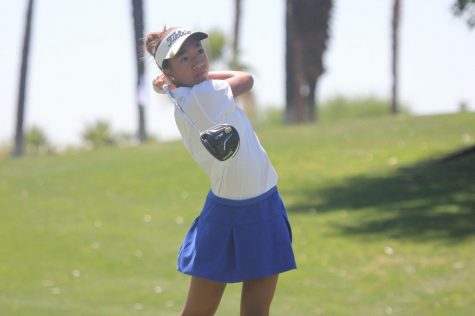 Campos first started golf when she was eight years old. Six years ago, her dad traveled to the Philippines and instantly got hooked on golf. When he was buying a set of golf clubs, Zoe interrupted him, "What about me?" she said, "Can I get a set?" Since then, golf has taken up a large portion of her daily routine.
  "Within six months into the game of golf, I noticed that my son Josh lost interest in the game, but Zoe wouldn't stop swinging," said Zoe's dad, Noel Campos.
  He later explains how Campos naturally thrived in the spotlight and was more than willing to learn to improve her already excellent swing. At the age of eight, she participated in the Junior Club Championship where she learned of her love for the competition.
  Whenever she isn't occupied with the strengthening of her golf skills, Campos spends her time with schoolwork and friends. She is also challenging herself with classes such as AP Human Geography, Honors Algebra 1, and Honors English.   
 "I practice six days a week. On weekdays, I play for two hours; on weekends, it's about four to six hours," said Campos.
  One aspect of the high school golf season she enjoys is making new friends and having fun. And although Campos loves playing alongside her teammates, she enjoys the individuality of the sport.
  "I love the competition and how everyone just focuses on their own game," said Campos.
  Like any competitive athlete, Campos gets anxious before a tournament. Instead of letting the anxiety hold her back from doing her best, the added adrenaline helps her to thrive.
  "Sometimes I get nervous, but usually I'm able to maintain my composure, although it doesn't matter since being nervous just means that you care a lot," said Campos.
  With the comfort of knowing a college is already in her pocket, Zoe Campos will continue through high school as she continues to hone her skills in golf. Make sure to watch Campos as she grows as a golfer throughout her next four years in high school.