Breakfast Ideas for Finals
Hang on for a minute...we're trying to find some more stories you might like.
 Wake up five minutes before you have to leave for school because the snooze button just seemed like a good idea. Throw on whatever outfit you see on the floor. Quickly brush your teeth and barely make the carpool. While this may seem like any other morning of a high school student, the most crucial part of the morning is missing. Skipping breakfast is a problem sweeping across America, affecting the lives of high school students throughout. Only 36 percent of high school students eat breakfast every morning, according to Kelloggs.com. Yet when students skip breakfast, they have lower test scores, higher chances of eating junk food later in the day, irritable moods, and irregular blood sugar levels. With finals right around the corner, it's a good idea to have a few fast and healthy breakfasts on lockdown. Here are three brain and body-fueling breakfasts so you can be your best going into finals.
Almond Butter Toast




While toast might seem like the most basic breakfast idea with no nutritional value, the right type of toast can give you an edge as you go into your test. Aim for whole grain bread because it has slow-release carbohydrates that will release energy gradually throughout the day, converting the carbs to glucose. Almond butter is a great option to top your toast, adding great flavor and protein while being rich in healthful fats and fibers that maintain your blood sugar.

Berry Smoothie




Smoothies are ridiculously easy, fast, and delicious, making it a great choice for a five-minute breakfast. The star of this smoothie is the blueberry. Blueberries are rich in antioxidants and other phytochemicals that have been linked to learning, thinking, and memory improvements. Add a handful of blueberries and any other fruits of your choice, my favorites are strawberries and bananas. Next, add however much of a liquid of your choice, depending on the desired consistency of your smoothie. I like to add orange juice or almond milk.

Omelette Muffins




This breakfast treat is great to prepare the night before in batches so you have a breakfast ready for everyday of the week. Start by mixing eggs (one per serving) and vegetables of your choice that you would usually put in your omelettes. Some ideas include spinach, mushrooms, onions, and peppers. Next, spray a muffin tin with nonstick spray and pour your "batter" into each cup. Bake at 400 degrees for 20-22 minutes. Eggs make a great brain food breakfast, containing six grams of protein, 13 essential nutrients, and choline, an important nutrient for memory improvement.




Now you have a perfectly portable omelette "cup" to eat for breakfast.
   At the end of the day, eating breakfast will always do more help than harm. Try your best to eat something, no matter how small. After all, it is called the most important meal of the day for a reason!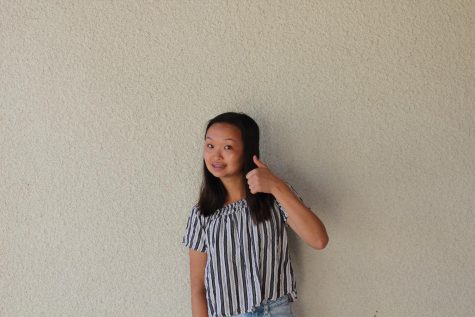 Emily Chang, Staff Writer
hi my name is chelea what's your favorite dinner food?