Meet Phoebe Woods
From the moment we wake up to when our heads hit our pillows at night, most of us take the capabilities we utilize throughout the day for granted. Without giving it a second thought, we skip up flights of stairs and jog to meet friends outside of class, failing to realize that these tasks aren't second nature to many people.
Sophomore Phoebe Woods is just like you and me. She enjoys the same foods, obsesses over the same movies, and drools over the same celebrities, but something else impacts her daily life. And that something is cerebral palsy.
Cerebral palsy is a congenital disorder caused by abnormalities in the brain. It is characterized by loss or impairment of motor skills that affect normal movement in different parts of the body, such as walking or jumping. While the disorder may appear like an overwhelming burden, Woods embraces every opportunity life offers her and doggedly pursues her passions in spite of a few restraints.
"It mainly affects what I am able to do physically," Woods explained. "I walk a lot better now than I did when I was little, but that's after eight corrective procedures." She explained how the chronic pain in her hips often governs whether or not she spends time with friends.
Although she doesn't allow cerebral palsy to maintain an iron grip on her daily life, Woods acknowledged that it was difficult for her younger self to grasp why she needed so many treatments.
"You don't think about it all the time, but there are times where you do wonder why it's happening the way it is. It's easier to deal with now that I'm older and I have a handle on myself, but when you're younger it's harder to understand why you need to do the physical therapy and the operations and everything else. In the end, it is ultimately to help you," she remarked.
With rosy cheeks and a beaming smile, Woods gushed that her faithful family and friends have offered her unabating support through the trials and tribulations she's faced. Her dad has offered encouragement through the countless operations, physical therapy, and day-to-day setbacks.
"My friends are also there to support me, and they treat me like a human being, which is nice because sometimes people don't look around the disability," Woods said appreciatively. "That's the only thing many see and forget there's a whole person there."
Although cerebral palsy can bring many challenges, it has presented Woods with innumerable life-changing opportunities that she welcomes with open arms.
"I [get] to meet some really cool people. I go to a camp called The Painted Turtle, and it's for kids with disabilities. I've met some of the most amazing people there. The girls are so kind and funny and sweet, and they make my life better in every way."
She acknowledged how it wasn't always easy to surround herself with such accepting friends. As a child, she received belittling remarks on her inability to run around during recess. However, she learned to deal with the negativity that has gradually dwindled and turned to her father for guidance whenever the waters were rough. She recognized that happiness was attainable and discovered countless loyal companions.
The inspiring student is often asked,, "How do you deal with it?" She addresses many misconceptions by explaining how cerebral palsy is not a detrimental hurdle that can never be overcome. "It's not something that's impossible to deal with and it is possible to live with and be happy and normal," she began. "I don't have a choice. It's my life, and it's not some terrible life where I'm cooped up in my room all day and I don't have friends, because I do. We function like normal, so treat us like we're normal."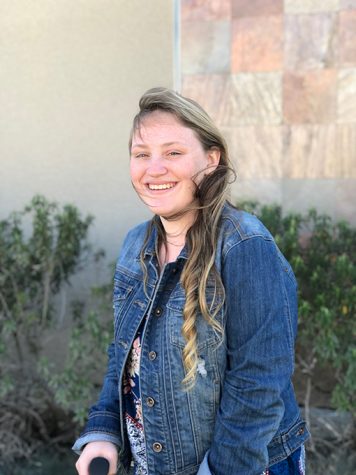 Several aspects of her life may vary from those of other students, but Woods is anything but different from you and me. From becoming an avid reader to writing poetry, she seizes every day and embraces the hardships attached to the disorder. Cerebral palsy does not define Woods, and she wishes for everyone to examine every puzzle piece of a person before making any false assumptions, because more often than not they'll love what they find.
"Just remember that when you see a person, there's more to them then what you may think, and just because they have a physical disability doesn't mean that they don't understand what you say about them," said Woods. "They do understand, so be kind because they're a person too."