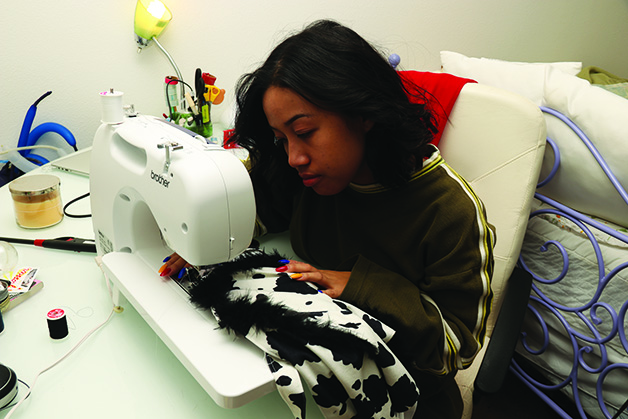 To senior Dana Saulo, fashion is more than binge-watching "Project Runway" or reading about the latest trends on "Cosmopolitan." It's her future. Although Saulo is self-taught, the creativity she possesses when her hands meet the sewing machine has inspired her to pursue fashion design in college and as a career.
   After reimagining pieces she saw online and in-store became a habit, Saulo started watching YouTube tutorials and transforming her ideas into clothes that she could wear everyday. For the past year and a half, Saulo has been building experience and a portfolio.
   "Basically I see something online that I'd like but I'll make it my own somehow. So I make a template first and then I cut out the fabrics and sew it all together using my own measurements."
   About every two weeks, the process starts over, and the clothes have quickly added up to a third of her closet, though not every piece Saulo creates is an immediate success. Some are simply stepping stones that help to improve her skills and knowledge of the design world.
   "A lot of them do not work out because the measurements are hard to take and they vary for different things. Sometimes I'll make them a little bit too small and they won't even fit me."
   Hands-on experience has not only taught Saulo new techniques, it's also allowed her to carefully cultivate her style. Throughout high school, Saulo has developed a love for the bold colors and silhouettes of the 80s and the minimalist, grunge style of the 90s. All of Saulo's outfits, self-designed or purchased, effortlessly blend trends from these decades and more. With her great taste, it's no surprise that many of her friends and peers ask her to make clothes for them. Due to increasing demand for her artistry, Saulo has decided to set up an online store.
   With every piece of clothing Saulo sews, she falls more in love with the fashion industry. As a senior, Saulo was forced to make tough decisions about which colleges she could see herself attending. She recently applied to Parsons School of Design in New York and the Fashion Institute of Design and Marketing (FIDM) in Los Angeles with complete confidence that fashion design is in her future. After college, Saulo wants to put her skills to work and have a positive impact as a designer.
   "I want to make my own line that aids in helping victims of sexual assault because I also work for an organization called RAINN, the Rape, Abuse, and Incest National Network. RAINN is a phone line that donates to victims of sexual assault and aids in their cases."
   The passion Saulo has for fashion design is undeniable. Her eyes lit up and her smile spread from ear to ear as she explained what she likes about it.
   "It's just something that's different and you know that no one else is going to have it. Online you can get a lot of inspiration from anything, or you can go to any store and pick out a piece and find a way to make it your own."
   It's inspiring to see another student pursue such a creative career path. Saulo doesn't have a backup plan. She takes risks, from teaching herself how to sew clothes to only applying to two of the nation's best design schools. Although the fashion industry is tough, Saulo has so much creativity and passion inside her that she will not fail. We look forward to seeing her work in the future.