John Kim's Forte
For most people, music is just something you turn on in the background to zone out your teachers or while driving down the street, but for one freshman student, music takes on a much larger role.
"Fake it 'til you make it" is the motto of John Kim: volleyball player, ASB president of his class and aspiring artist.
Music has always been a key aspect in Kim's life. From the beginning, he was drawn to music as a creative outlet to express himself. Naturally, he began learning a wide variety of instruments and took up singing. "I've always been interested in music," he tells us, "I've always played guitar, [and] any instrument that I can get my hands on, I try to learn it: ukulele, piano, drums, guitar."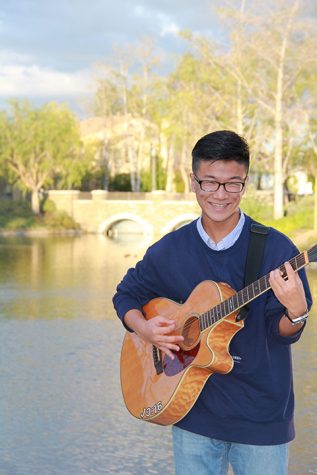 Arguably the most important element of a song is the lyrics, and for John Kim, they hit close to home. He describes the story behind his lyrics as "whatever I may be going through, and anything that is going on in my life." He tries to incorporate all goings-on, whether they are monumental or trivial. But a magician, or an artist, never reveals his secrets, and this includes the mystery subject of his latest release, "If I Fall." 
Kim explains that creating a soundtrack is not as easy as it sounds. There are several steps he takes before releasing his masterpieces to the public. "So first I usually start off with my melodies, the instruments, and then after that I lay my drums on top." He then mixes, masters, and adjusts volumes after laying the lyrics on top before releasing it.
The young musician takes advantage of the many applications available to him and just about anything he can get hold of. He uses programs like FL Studio and Pro Tools.
Kim also makes the most of what he can do to get his music out there. Unlike the well-known artists you listen to everyday, he doesn't have the advantage of their wide social media platforms with million of followers or radio show hosts announcing their music every ten minutes. Instead, Kim promotes his music through his friends on platforms like Instagram and Snapchat.
Just like any other high school student, Kim faces the same everyday challenge: homework. Whether it's for an AP or Honors class, he says that finding time to do what he loves has proved to be the hardest challenge so far. "[School] just keeps getting in my way… so I can't solidly focus on music."  
"
I really hope that everyone won't limit themselves because of what they have and what they don't have.
— John Kim
However, putting in extra effort to do what he loves is worth it to Kim. All of the positive feedback that he receives is part of the motivation that keeps him going. "It really pressures me to come up with something even better and to not disappoint some of the people who are expecting certain standards of me."
Although Kim's latest release was comprised of mostly rap verses, his music preference is the complete opposite. Kim reveals that his passion for music lies within the Christian genre. "The only reason that I listen to hip hop music is because that way I can notice the trend of what's going on in the hip hop genre right now so I can recreate that in my own way."
Kim closes the interview with a message for all aspiring artists who don't know where to start, telling us that "I really hope that everyone won't limit themselves because of what they have and what they don't have. They can push through those limits to create music and make other people happy." Make sure to keep an eye out for his songs to come.